These 3 Deals Show Just How Desperate Sears Holdings Is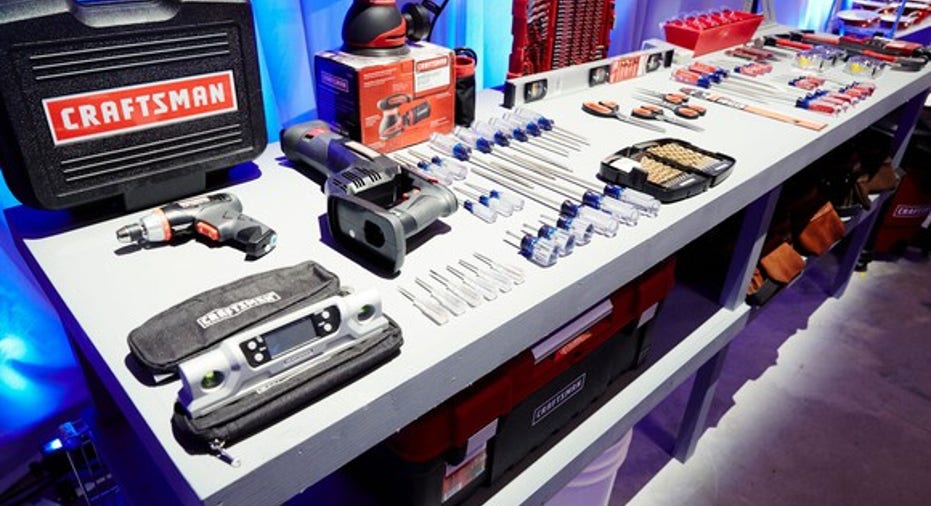 Sears has time and again had to resort to one-time infusions of cash simply to keep the lights on at its Sears and Kmart stores. Image source: Sears Holdings.
Three deals in a week show just how dire the position of Sears Holdings (NASDAQ: SHLD) really is. The first two were lifelines to keep the retailer going, but the last was it being thrown an anchor that only serves to weigh it down.
On Dec. 29, Sears announced it secured a standby letter of credit facility for up to $200 million that can be expanded up to $500 million if the lender approves.
On Jan. 4, Sears said it entered into a $500 million committed secured loan facility secured by mortgages on 46 properties.
On Jan. 5, Sears announced it was selling the Craftsman brand to Stanley Black & Decker (NYSE: SWK) for $900 million.
Too many trips to the well
Taken as a whole, it's a revealing look at the desperate straits Sears Holdings finds itself in. The retailer is securing new infusions of cash to basically keep the lights on while shedding one of the remaining jewels of its portfolio. Soon there will be nothing of value left.
The credit facility and the secured loan facility are both being offered by the ESL Investment hedge fund of chairman and CEO Eddie Lampert. That Sears time and again turns to its chief executive for funds to maintain its liquidity shows first, that it is simply burning through cash and its operations can no longer support it, but also that no other financial institution is willing to risk putting money on the line for the retailer.
Sears may say the loans show it "has numerous options to finance our business strategy," but really they indicate there is only one path open to it: continuously hitting up the deep pockets of its CEO.
Early in December the retailer reported third-quarter results showing why it needs to keep running to the well of short-term infusions of cash. It posted a much wider loss of $748 million than it had a year ago when it lost $454 million. At the same time, revenue fell $721 million to just over $5 billion. While much of that is the result of having fewer Sears and Kmart stores open, consumers are still swearing off shopping at its stores: Comparable-store sales tumbled another 7.4% for the period.
Image source: Sears Holdings.
No retooling for a recovery
The Craftsman tool brand sale, however, while long expected, is still indicative of an end that's fast approaching.
It's not a completely bad deal for Sears. It gets $525 million in cash from Stanley on the closing of the deal and another $250 million after three years. Sears also gets annual payments of 2.5% to 3.5% on whatever new sales Stanley can achieve for a period of three years, while also getting to keep selling Craftsman products in its own stores.
On the surface, that's a pretty nice arrangement, and Sears has hinted for a while at strategically selling Craftsman products -- and Kenmore and DieHard, too -- at third-party retailers. But not even Stanley has any confidence Sears will survive and says it specifically structured the deal to protect itself from any of Sears' financial woes. If Sears goes down, Stanley wants to make sure it's insulated from the damage.
Moreover, by having Stanley use its distribution channels to grow sales, Sears is tacitly admitting it's a failing strategy to sell them in its own stores and it's not even worried it will effectively be competing against itself. That's because it is so desperate for cash it needs to sell the brand instead of opening new distribution channels itself. It's more important for Sears to get cash into the bank right away than to incrementally grow sales beyond the confines of its stores.
Image source: Sears Holdings.
Making lemonade out oflemons
The sale to Stanley is probably the best Sears could hope for, and may indicate where it goes when it finally unloads both Kenmore and DieHard: haveWhirlpool or GE buy the appliance brand, but kick back a percentage of sales, and let Interstate or Exide buy the DieHard battery brand, but still be able to sell them at its auto centers...before it sells them, too.
The retailer has cast the die for how it can realize the remaining value from its brands, but doing so also leaves very little of worth left behind. That once more suggests it's only a matter of time before Sears Holdings reaches the end of its rope.
10 stocks we like better than Sears Holdings When investing geniuses David and Tom Gardner have a stock tip, it can pay to listen. After all, the newsletter they have run for over a decade, Motley Fool Stock Advisor, has tripled the market.*
David and Tom just revealed what they believe are the 10 best stocks for investors to buy right now... and Sears Holdings wasn't one of them! That's right -- they think these 10 stocks are even better buys.
Click here to learn about these picks!
*Stock Advisor returns as of January 4, 2017
Rich Duprey has no position in any stocks mentioned. The Motley Fool owns shares of General Electric. The Motley Fool has a disclosure policy.