These 2 Stocks Were Brexit-Proof Last Week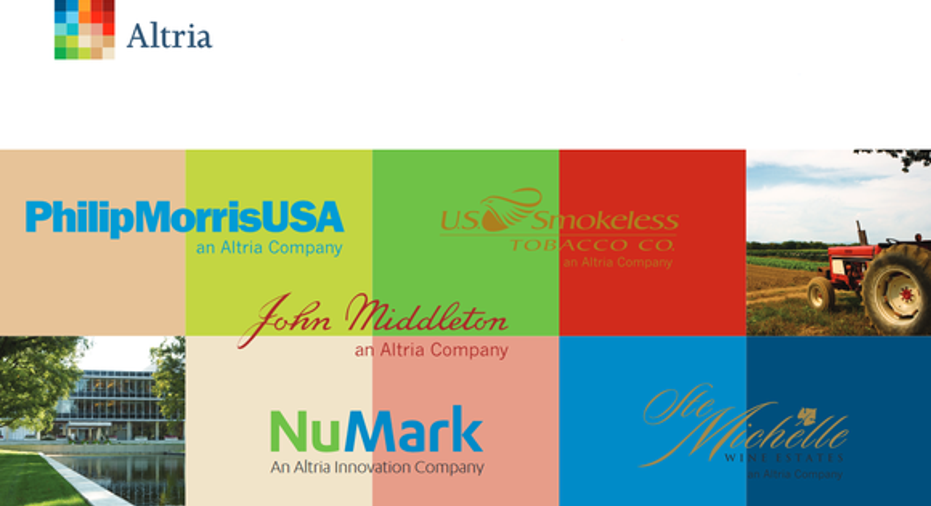 Image source: Altria Group.
The decision in last week's referendum in the U.K. to leave the European Union came as a shock to investors around the world, sending stock markets to big losses on Friday. Most investors had expected British voters to choose to remain in the EU, and the potential impact on the financial systems in the U.K. and across Europe is uncertain and hard to predict. Yet amid all the chaos in the stock market on Friday, one industry stood out as seemingly Brexit-proof, and that might lead investors to consider shares of Altria Group and Reynolds American as they look for ways to weather the coming European storm.
How Altria and Reynolds American avoided Friday's losses
The Brexit vote took no mercy on most investors on Friday. All 30 stocks in the Dow Jones Industrial Average closed down, and the vast majority of large-cap S&P 500 stocks took hits in the aftermath of the vote. But both of the two largest U.S. tobacco companies were among the few blue chip stock winners on Friday.
There are several reasons why investors chose to look at tobacco stocks as a potential safe haven in the European turmoil. Both Altria and Reynolds American have focused their attention on the domestic tobacco market, and both have taken steps to limit their international exposure. Altria's decision to spin off its international operations almost a decade ago appears prescient in hindsight, because the trend toward greater global regulation has come as a surprise to many investors, and the strong dollar has hampered profits for international tobacco operations. Reynolds American has decided to sell off the international rights to its highly popular Natural American Spirit ultra-premium cigarette line, taking advantage of a high valuation to provide much-needed cash and paying down some of the debt from its Lorillard acquisition.
In addition to their domestic focus, Reynolds American and Altria give investors one of the most important traits that stocks can offer in order to shelter their shareholders from volatility: solid dividend income. Even with the demands of dealing with the financial impact of a major acquisition, Reynolds American has remained committed to sustaining its payout to shareholders, and it currently boasts a dividend yield of 3.25%. Altria just barely ekes out a lead over Reynolds American in the dividend yield camp, with a current payout that represents almost 3.4% of its share price. In addition to their current dividends, both Altria and Reynolds American have made it a habit to increase their payouts regularly over time, rewarding long-term shareholders with even more income.
Dodging a British bullet
Interestingly, Altria also managed to avoid what could have been a source of potential exposure to the U.K. rout on Friday. Altria owns a substantial minority stake in London-based SABMiller, and given the mood surrounding British stocks, it would have been reasonable to expect the beer giant to lose ground on Friday. Yet SABMiller's London-listed shares actually rose on Friday, likely because investors still see the acquisition bid from Anheuser-Busch InBev going smoothly despite the Brexit vote. In addition, because Altria will take the majority of its compensation in the merger in the form of Anheuser-Busch stock, it won't even be affected as much by the drop in the value of the British pound as those SABMiller shareholders who are receiving cash.
Altria and Reynolds American aren't entirely free of risk. It's possible that Brexit will have substantial economic impacts that come across the Atlantic to affect the U.S., and anything that hits discretionary income in Americans' wallets could hurt the tobacco companies.
Nevertheless, if you're looking for investments that have as little exposure to Europe as possible, Altria and Reynolds American are natural candidates. With a history of low volatility, a reliable customer base, and solid dividend income, the two tobacco companies are as close to Brexit-proof as you're likely to find in today's stock market.
The article These 2 Stocks Were Brexit-Proof Last Week originally appeared on Fool.com.
Dan Caplinger has no position in any stocks mentioned. The Motley Fool has no position in any of the stocks mentioned. Try any of our Foolish newsletter services free for 30 days. We Fools may not all hold the same opinions, but we all believe that considering a diverse range of insights makes us better investors. The Motley Fool has a disclosure policy.
Copyright 1995 - 2016 The Motley Fool, LLC. All rights reserved. The Motley Fool has a disclosure policy.