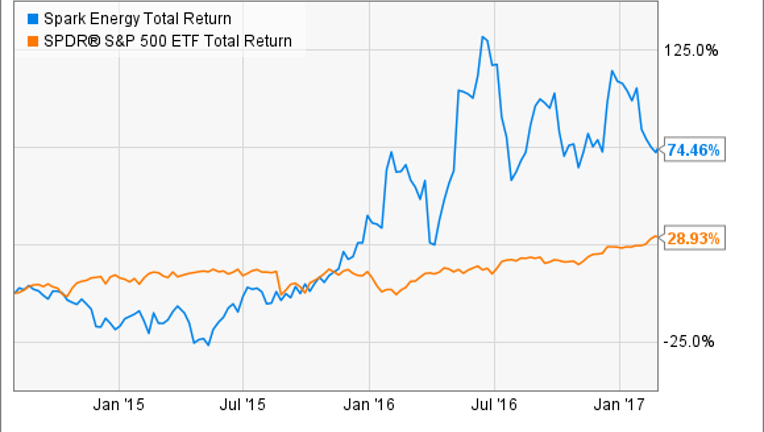 Many dividend investors search for companies that have fat yields and trade for an attractive valuation. Of course, companies with high dividend yields can be risky, so potential owners need to be quite picky about which stocks they choose to buy.
Let's take a closer look at two stocks -- Spark Energy (NASDAQ: SPKE) and GameStop (NYSE: GME)-- that both have above-average yields and low valuations. Is either stock worth buying?
Image source: Getty Images.
A different energy choice
Many consumers who live in deregulated energy markets might be surprised to learn they have a choice of electricity and gas providers.Spark Energy is one of the many independent retail energy-services companies in the country that offers a competing choice.
Spark Energy isn't an energy producer. It buys energy and gas on the wholesale market and resells it to consumers at retail prices.The company claims that switching to its service in many cases can helpits customers save money.
While persuading customers to make the switch can be tough, Spark has been in rapid growth mode over the past few years, thanks to its healthy appetite for acquisitions. Since its 2014 IPO, it has completed seven acquisitions, which has helped consistently drive its top line higher. When combined with the company's generous dividend policy -- Spark's current yield is 5.7% -- shareholders have seen significantvalue creation.
SPKE Total Return Price data by YCharts
Given that theretail energy-services market is highly fragmented, Spark appears to help plenty of room left to expand. With shares trading for about 9 times forward earnings, the numbers suggest that this could be a home-run investment in the making.
However, while all of Spark's numbers look great, there are a few warning signs. For one, companies that grow by acquisition are notoriouslydifficult to understand, since their financial statements are always changing. That makes them difficult to value, and it can be easy for management to hide internal problems. In addition, Spark has received a lot of terrible reviews on sites such asYelp and the Better Business Bureau, from customers who claim the company used high-pressure sales techniques to get them to switch and who then saw their energy bills rise. Finally, with more than 42% of the company's publicly available shares having been shorted, a lot of money managers are betting big against this company.
A retailer in transition
Just as in the DVD and music business, video-game consumers are gradually shifting away from buying physical products and looking toward digital channels to get their fix. That trend has been a thorn in the side of video-gameretailerGameStopover the past few years. The increasing popularity of digital games has created less of a need to visit one of the company's stores, putting downward pressure on its sales. Management has admitted that the trend is here to stay and has projected a slow but steady decline in its legacy business.
However, there are reasons to believe that the decline won't be as steep as you'd first expect. Cutting-edge video games for the PlayStation 4 or Xbox One can sometimes require up to 40 gigabytes of storage space to play, which is many multiples higher than video or music files. That's one reason digital penetration of high-quality video games still remains relatively low. In addition, digital games can't be resold the way physical games can. That provides an incentive for gamers to continue to visit GameStop's stores.
Meanwhile, GameStop is looking for other ways to drive sales growth. The company has created its owndigital gaming platform that currently rings up more than $1 billion in digital sales. Management is also making a move into thecollectible space through its acquisition of ThinkGeek, and sales are growing quickly. In fact, management believes that this business could hit $1 billion in revenue by 2019.
Finally, GameStop is pushing hard into the mobile and computing market with its Spring Mobile and Simply Macconcepts. These stores are leading authorized resellers of products fromAT&T andApple. Believe it or not, these new sales channels are expected to drive modestearningsgrowthover the next five years.
Still, many investors are worried that this strategy shift won't work in the long run and have priced GameStop's shares accordingly. The company is trading for less the ridiculously cheap price of 7 times forward earnings, and its dividend yield has been pushed above 5.6%. More than 27% of the company's publicly available stock has been sold sort, which tells you how little faith the markets have in this company.
Is either worth buying?
While Spark offers investors a high yield, the potential for growth, and a cheap valuation, I see too many warning signs to be willing to put money into the stock. GameStop, on the other hand, is also ahigh-risk bet, but the company is still highly profitable and appears to have a realistic plan in place for slowly turning its fortunes around. That makes me think GameStop might be the better bet for daring investors.
10 stocks we like better than GameStopWhen investing geniuses David and Tom Gardner have a stock tip, it can pay to listen. After all, the newsletter they have run for over a decade, Motley Fool Stock Advisor, has tripled the market.*
David and Tom just revealed what they believe are the 10 best stocks for investors to buy right now... and GameStop wasn't one of them! That's right -- they think these 10 stocks are even better buys.
Click here to learn about these picks!
*Stock Advisor returns as of February 6, 2017
Brian Feroldi owns shares of Apple. Brian Feroldi has the following options: short July 2017 $27 puts on GameStop. The Motley Fool owns shares of and recommends Apple. The Motley Fool has the following options: long January 2018 $90 calls on Apple, short January 2018 $95 calls on Apple, and short April 2017 $28 puts on GameStop. The Motley Fool recommends Yelp. The Motley Fool has a disclosure policy.