These 2 Factors Sent Bristol-Myers Squibb Co. Tumbling by 16% in January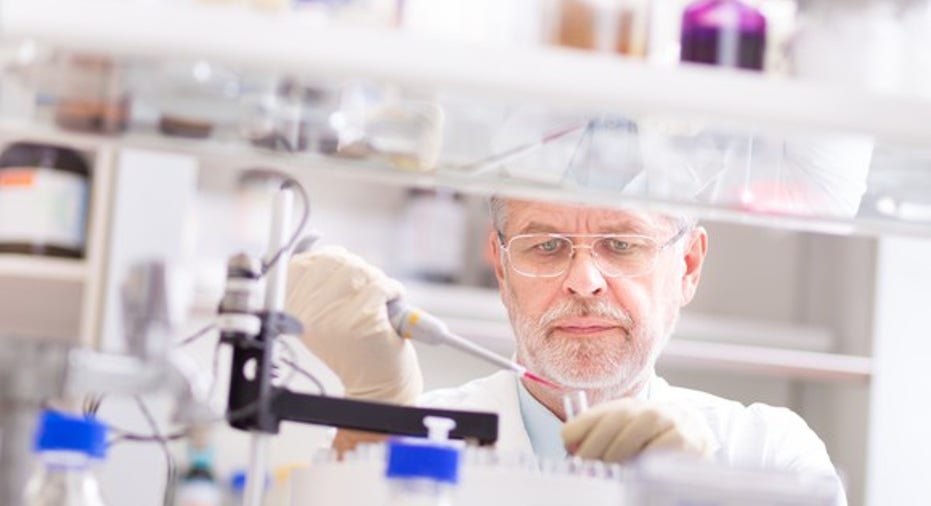 What happened
Shares of global drug giant Bristol-Myers Squibb (NYSE: BMY) were hammered in January, falling 16% according to data from S&P Global Market Intelligence. Once again, the reason for the company's weak share price can be traced solely to blockbuster cancer immunotherapy Opdivo.
So what
The worst of it for Bristol-Myers Squibb and its shareholders came on Jan. 20, when the company announced that it would not try for an accelerated approval in first-line non-small cell lung cancer (NSCLC) with its combination therapy of Opdivo and Yervoy. What made this development so surprising is that Bristol-Myers Squibb chose not to expound on its reasoning. It simply stated that the decision was made "based on a review of the data available at this time."
Image source: Getty Images.
Bristol-Myers Squibb currently has four lung cancer combination studies underway with Opdivo and Yervoy, and it's clear from the company's press release that something, most likely efficacy-based, didn't meet the mark in early-stage trials. While this doesn't mean the combination of Opdivo and Yervoy is a lost cause, it does put the company further behind Merck's (NYSE: MRK) cancer immunotherapy Keytruda, which shined in its phase 3 KEYNOTE-024 first-line NSCLC study. Keytruda wound up cutting the risk of disease progression or death by 50% in patients with at least 50% PD-L1 expression.
The other disappointment came on Jan. 26, when Bristol-Myers reported its fourth-quarter and full-year results. Despite revenue rising 22% during Q4 to $5.2 billion, the company's $0.63 in EPS fell shy of Wall Street's consensus by $0.04 per share.
The bigger issue, though, was the company's forward guidance. With Wall Street expecting $2.96 in EPS for fiscal 2017, and the company previously forecasting $2.85 to $3.05 in EPS, Bristol-Myers lowered expectations to a range of $2.70 to $2.90. The failure of Opdivo as a monotherapy in CheckMate-026 for first-line NSCLC, coupled with apparently disappointing combination data with Yervoy and the success of Keytruda, moved Bristol-Myers to soften its guidance.
Image source: Bristol-Myers Squibb.
Now what
It's been a dismal past couple of months for Bristol-Myers' shareholders, and it's always possible the company's share price could sink even further. However, this Fool believes that Bristol-Myers could be an intriguing bargain at these reduced levels.
Though there's little denying that Opdivo's peak sales potential has been negatively impacted by its failure in first-line NSCLC, it remains a foundational therapy in second-line NSCLC, as well as a key player in second-line renal cell carcinoma and metastatic melanoma. On Thursday, Feb. 2, Opdivo added yet another approved indication when the Food and Drug Administration expanded Opdivo's use to treat advanced urothelial carcinoma, the most common type of bladder cancer. Opdivo may have disappointed in multiple first-line NSCLC attempts, but it's still a pivotal drug that has big dollar implications for Bristol-Myers Squibb.
Investors would also be wise not to overlook the company's remaining product portfolio. For instance, oral blood-thinning drug Eliquis grew by 57% to $948 million during Q4. Eliquis, which was developed in partnership with Pfizer, could still see significant growth via label expansion.
Sporting a reasonably low PEG ratio of 1.2, Bristol-Myers should be on the radar for both growth and value investors.
10 stocks we like better than Bristol-Myers Squibb When investing geniuses David and Tom Gardner have a stock tip, it can pay to listen. After all, the newsletter they have run for over a decade, Motley Fool Stock Advisor, has tripled the market.*
David and Tom just revealed what they believe are the 10 best stocks for investors to buy right now... and Bristol-Myers Squibb wasn't one of them! That's right -- they think these 10 stocks are even better buys.
Click here to learn about these picks!
*Stock Advisor returns as of January 4, 2017
Sean Williams has no position in any stocks mentioned. The Motley Fool has no position in any of the stocks mentioned. The Motley Fool has a disclosure policy.