These 2 Biotechs Could Vanish by 2018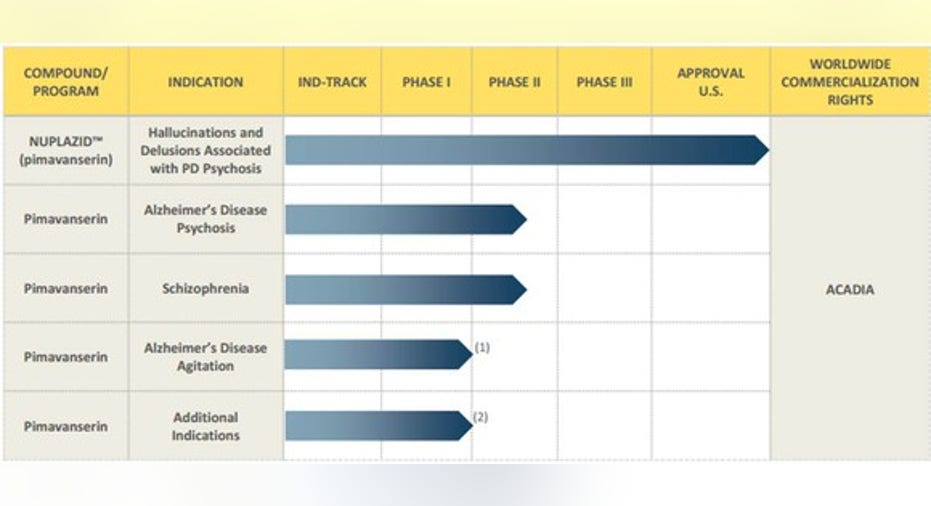 Investors hoping to suss out the next Amgen or Gilead Sciences -- that is, companies that start small but grow into multi-billion dollar entities -- can be in for rough ride. After all, most early life cycle biotechs tend to meet one of two less glamorous fates: bankruptcy or buyout. Armed with this insight, let's take a look at two high-profile biotech companies that appear destined to vanish from the public markets within the next year or two.
Image source: Getty Images.
Nuplazid's commercial launch would be better served by a big pharma
Acadia Pharmaceuticals (NASDAQ: ACAD) has officially launched its FDA-approved Parkinson's disease psychosis (PDP) drug Nuplazid (pimavanserin) in the United States. As a result, investors are eagerly awaiting the drug's initial sales data to be announced during the company's upcoming third-quarter earnings release in early November. Despite Nuplazid's multi-billion dollar sales projections, though, Acadia's stock has steadily declined since the drug hit the market earlier this year:
The overarching concern seems to be Acadia's lack of experience in terms of handling a commercial launch. Nuplazid, after all, is the company's maiden voyage into the complex world of pharmaceutical sales, and the biotech is up against a host of bigger competitors that sell a variety of products commonly used off-label to treat PDP.
That said, Nuplazid's estimated target market of 400,000 Parkinson's patients in just the U.S., combined with its annual wholesale price of$23,400, gives it a real shot at eventually reaching blockbuster status. However, it might take a company with deeper ties to the Parkinson's disease market and a more robust commercial infrastructure to turn these lofty sales projections into reality. So, if Nuplazid gets off to a slower than expected start and Acadia's valuation continues to trend lower as a result, this mid-cap biotech might prove to be a particularly compelling buyout target.
And perhaps as an added buyout trigger, Acadia is close to releasing the results of a mid-stage study assessing pimavanserin inAlzheimer's disease psychosis (ADP) -- an indication that could easily bring in another billion or so in sales. In fact, pimavanserin's overall clinical program has the potential to make it one of the top-selling drugs in the world well before it loses patent protection in the U.S. in 2028:
Image source: Acadia Pharmaceuticals.
As drugs with mega-blockbuster potential and over a decade of market exclusivity ahead are exceedingly rare, it's hard to imagine Acadia existing beyond 2018 as an independent entity, especially in this M&A-rich environment. Indeed, Nuplazid's commercial launch would probably have to defy most expectations by a wide margin to the downside in order to deter possible buyers.
MannKind's death spiral is nearly complete
MannKind Corp. (NASDAQ: MNKD) is quickly running out of cash, and sales of its inhaled insulin product Afrezza have continued to underwhelm this year, despite the company's innovative efforts to reenergize its launch following Sanofi's decision to return the drug's commercial rights. Making matters worse, the biotech recently received aNASDAQ de-listing notice, perhaps necessitating a sizable reverse split (when a company reduces its share count by several fold to up its price per share) to meet the exchange's listing requirements.
Cutting to the chase, this struggling biotech has been averaging a quarterly cash burn rate of $21 million over the last year -- and that's before the company took on Afrezza's commercialization, meaning that MannKind probably has less than two quarters remaining in terms of a rock solid cash runway. Now,MannKind does have some additional financing options available to extend its runway, such as its $50 million or so in at-the-market (ATM) stock offerings, as well as a $30 million loan agreement with The Mann Group. But there's no guarantee that the company will be able to access the entirety of these remaining funds. After all, it's not exactly feasible to tap a $50 million ATM facility with a share price below a buck.
The bottom line is that without a white knightriding in to save the day sometime soon, MannKind probably won't be able to postpone a dreaded bankruptcy filing that much longer.
Key takeaways
While the biotech industry is rife with jaw-dropping growth opportunities, it also contains a fair number of potential landmines. Acadia, for example, made it through the perils of clinical trials and a regulatory review to reach the commercial phase of its life cycle, only to be met with doubt about its ability to properly execute Nuplazid's commercial launch. MannKind, for its part, appeared primed to prove its detractors wrong following the somewhat unexpected approval of Afrezza, but then ran into the harsh reality of commercializing a novel pharma product. Acadia and MannKind thus clearly illustrate the substantial risks associated with investing in early life cycle biotechs and are a good reminder that it's not always smooth sailing after FDA approval.
Even with these risks in mind, though, Acadia does look like a worthwhile buy right now in light of Nuplazid's commercial prospects -- even if they aren't realized immediately out of the gate. MannKind, by contrast, doesn't appear to have the necessary elements in place to reverse course, meaning that investors would probably be wise to avoid this falling knife.
A secret billion-dollar stock opportunity The world's biggest tech company forgot to show you something, but a few Wall Street analysts and the Fool didn't miss a beat: There's a small company that's powering their brand-new gadgets and the coming revolution in technology. And we think its stock price has nearly unlimited room to run for early in-the-know investors! To be one of them, just click here.
George Budwell has no position in any stocks mentioned. The Motley Fool owns shares of and recommends Gilead Sciences. The Motley Fool has the following options: short October 2016 $85 calls on Gilead Sciences. Try any of our Foolish newsletter services free for 30 days. We Fools may not all hold the same opinions, but we all believe that considering a diverse range of insights makes us better investors. The Motley Fool has a disclosure policy.