There's Only 1 Thing Not to Like About Northrop Grumman's Earnings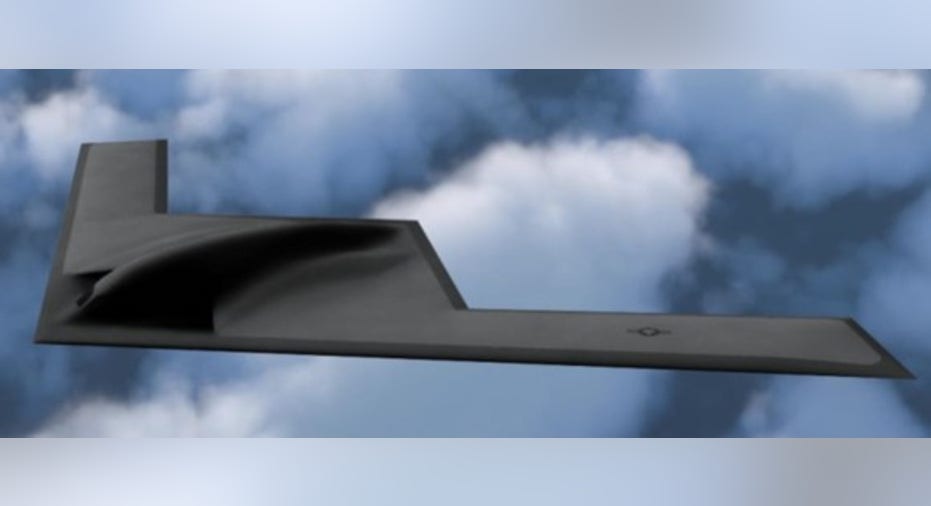 Northrop Grumman (NYSE: NOC) reported its fiscal Q1 2017 earnings on Wednesday, and the results were simply superb. Seriously, folks, you'd have to be a real nitpicker to find anything at all to not like about this report -- and I was, and I did, and I'll tell you all about it in a minute.
But first, the good news.
Northrop Grumman holds the contract to build the B-21 stealth bomber -- but what's holding its stock price up? Image source: Northrop Grumman.
What Northrop Grumman said
First-quarter earnings were, as I mentioned, fantastic. Over the three reported months of Q1 2017, Northrop:
Increased its sales by 5% relative to Q1 2016. Sales were $6.3 billion in Q1 2017.
Widened its operating profit margin by 90 basis points, to 13.3%.
Grew its net profit by 15%, to $640 million.
Reduced its share count, concentrating those profits among fewer shares outstanding, with the result that earnings per share, diluted -- $3.63 -- increased 20% year over year.
Getting granular
Digging into the details, we see that Northrop Grumman grew its revenue in both of its two largest business divisions, with aerospace systems growing sales by 13%, and mission systems growing 2%. Only the company's smallest division, technology services, saw revenue decline. And even there, sales declined by only 2% -- a mere $20 million -- and Northrop managed to grow its operating profits regardless.
And now for the bad news.
Honey, who shrunk the cash?
After perusing Northrop Grumman's entire report, I really find only one thing objectionable in the news -- the fact that while profitable, and growing its profits in GAAP terms, Northrop's actual generation of free cash flow declined significantly relative to what we saw in last year's Q1.
Cash from operations generated at the company sank steeply into the red at negative-$439 million, which was much worse than last year's cash consumption of $60 million. Even with Northrop spending less money on capex in Q1 2017 than it did in Q1 2016, negative free cash flow nearly doubled year over year, to $655 million.
Hope springs eternal
That said, this is a situation Northrop promises to reverse in short order. Updating its guidance for the rest of this fiscal year, Northrop doubled down on its previous promise to book $25 billion in sales this year, and to achieve 11% operating profit margin thereon. In fact, with a lower expected tax rate, Northrop increased its guidance for full-year earnings and now anticipates reporting per-share profit of between $11.80 and $12.10 by year end.
As regards free cash flow, the company is sticking with its previous promise to generate between $1.8 billion and $2 billion in positive cash profit this year.
The upshot for investors
After seeing the significant cash consumption in Q1, that's good to hear. That said, it does remind me of the other nitpick I have with Northrop Grumman stock this quarter: the stock's price.
Assume Northrop Grumman succeeds in maxing out its guided earnings ($12.10 per share) and hitting the top of its guidance range for free cash flow as well ($2 billion). Weighed against the company's current $248 stock price and $43.4 billion market capitalization, that works out to a P/E ratio of 20.5 for the stock, and a price-to-free cash flow ratio of 21.7.
As good as Northrop's news was on Wednesday, and as superb as its numbers look, I still think those are crazy-high prices to pay for a stock that -- according to most analysts polled by S&P Global Market Intelligence -- will be incapable of sustaining a growth rate greater than 8% annually over the next five years. And given that Northrop Grumman's stock price didn't budget a whit after reporting such fantastic earnings yesterday, I kind of wonder if other investors are beginning to wonder whether Northrop stock has become overpriced, too.
10 stocks we like better than Northrop GrummanWhen investing geniuses David and Tom Gardner have a stock tip, it can pay to listen. After all, the newsletter they have run for over a decade, Motley Fool Stock Advisor, has tripled the market.*
David and Tom just revealed what they believe are the 10 best stocks for investors to buy right now... and Northrop Grumman wasn't one of them! That's right -- they think these 10 stocks are even better buys.
Click here to learn about these picks!
*Stock Advisor returns as of April 3, 2017
Rich Smith has no position in any stocks mentioned. The Motley Fool has no position in any of the stocks mentioned. The Motley Fool has a disclosure policy.