The Worst Verizon Communications Inc. Headlines in 2015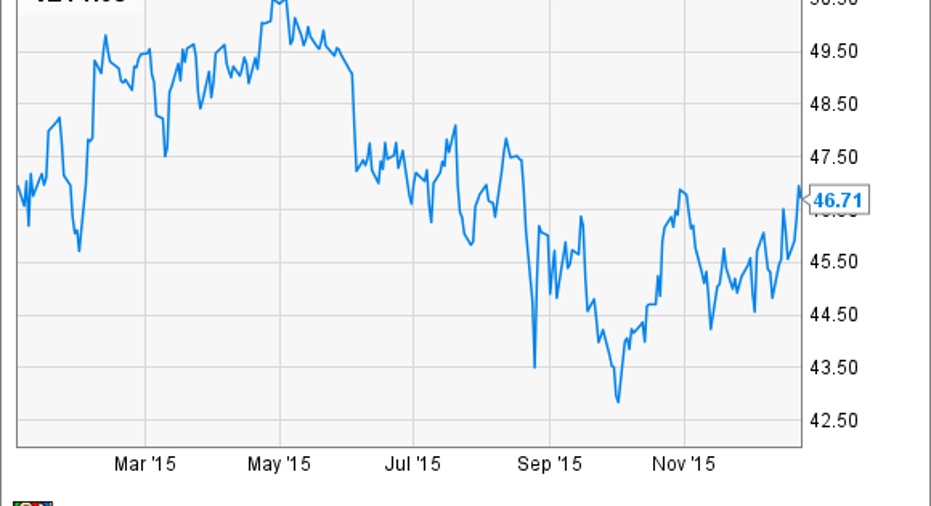 Operating in multiple industries undergoing upheaval,Verizon Communicationsstill managed to hold its own in 2015.
It's fair to say that while it was not a year of tremendous growth, it was one in which the company could be called resilient. In its wireless business, Verizon fended off a strong push from T-Mobile , which used lower prices, no contracts, and an improving network to try to win customers. In the pay-television space the company -- like the rest of the industry -- showed that while cord-cutting may be coming, it's not really here yet. And, where people dropping cable may become a problem, those same people will need broadband connections, which should keep that business steady for Verizon.
Still, despite generally weathering the storm, Verizon did see its stock price fall and it did suffer through its share of bad news during the past 12 months. It wasn't a bad year, but it was one that generated a few headlines the company would probably prefer to forget.
Verizon saw a stock dip and then a bit of a recovery, but it was still down for the year as of Dec. 27. Source. YCharts.
Verizon gets finedIn May, the Federal Communications Commission ordered Verizon and Sprint to pay settlements totaling $158 million for billing customers for third-party texting services without their knowledge, Mashable reported. Verizon was saddled with $90 million in penalties while Sprint has to pay $68 million.
Most of the money -- $120 million -- was put into a fund to reimburse subscribers who were charged for premium texting services they did not sign up for, The practice, called "cramming," added as much as $14 per month to people's bills, with Verizon and Sprint pocketing 30% and 35% of the revenue, the technology news site reported.
"Consumers rightfully expect their monthly phone bills will reflect only those services that they've purchased," Travis LeBlanc, chief of the FCC's Enforcement Bureau, said in a statement. "Today's settlements put in place strong protections that will prevent consumers from being victimized by these kinds of practices in the future."
Verizon really wants people off its unlimited plansIt's never good news when a company tries to do something subtly, but people clearly notice what's happening. That's effectively what happened when Verizon stopped throttling the speeds of its customers who still have grandfathered unlimited plans.
That reverses the company's previous stance, where it slowed data speeds for certain unlimited customers when they crossed into the top 5% of data users. That type of action -- which is similar to what T-Mobile and Sprint do -- generated a pretty major public backlash over the idea that unlimited should actually mean without limits.
"For a customer who signed up for unlimited, they're going to get unlimited," CFO Fran Shammo told CNET. "But we are increasing the price. These customers are consuming a lot of data. But we're not in the habit of throttling customers."
They were in the habit, but people noticed, so Verizon decided to change its plans and instead raised prices by $20 per month for its remaining unlimited users. Verizon has not sold unlimited plans for years and this type of action makes it very clear it wants people who still have them to give them up.
Consumer Reports picks T-MobileVerizon is not the cheapest wireless service. It does have the strongest network, according the most recent RootMetrics report, which has been Verizon's calling card when it comes to selling its service. Essentially, the company has marketed the idea that people should pay more to be with Verizon because it's worth it.
That's an argument people have largely bought, but it became a harder one to make when in early DecemberConsumer Reportsdeclared T-Mobile the top wireless carrier based on a reader survey.
The gap between the new leader and Verizon was not great. T-Mobile scored a 73 out of 100 while Verizon got a 70, but the upstart's first win in the survey's five-year history may have opened a door that could greatly damage Verizon.
If T-Mobile is good enough, if not better, according to Consumer Reports readers, then why should people pay more for Verizon?
This survey alone may not be enough to sway most consumers, but it's an important chink in the armor. Add in the fact that all the major wireless carriers have improving networks -- with the gap between first and worst on the RootMetrics report shrinking -- and it's easy to see a world where Verizon has to cut prices to remain competitive.
The article The Worst Verizon Communications Inc. Headlines in 2015 originally appeared on Fool.com.
Daniel Kline has no position in any stocks mentioned. The Motley Fool recommends Verizon Communications. Try any of our Foolish newsletter services free for 30 days. We Fools may not all hold the same opinions, but we all believe that considering a diverse range of insights makes us better investors. The Motley Fool has a disclosure policy.
Copyright 1995 - 2015 The Motley Fool, LLC. All rights reserved. The Motley Fool has a disclosure policy.