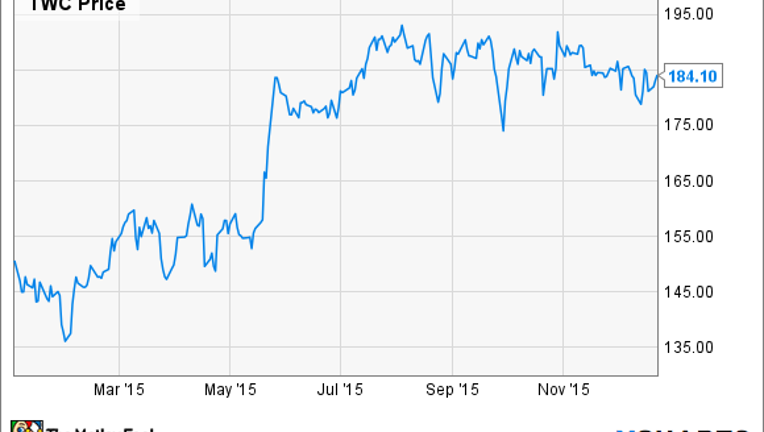 Time Warner Cable entered the year with its management in lame-duck mode.
The company started 2015 in a merger agreement with Comcast that dated back to February 2014. During the protracted period, as federal regulators examined that agreement, it was very clear that Comcast was the senior partner. It wasn't quite announced, but once the deal had been completed, TWC's culture, management, and brand would probably slowly disappear.
It was often called a $45 billion merger, but it was really a buyout. During the entire 14-month review period, all Time Warner Cable had to do was keep its head down. Comcast and its actions were under a Federal Communications Commission spotlight, but in many ways what TWC did had no bearing, because its days were numbered.
That largely kept the company out of the news during the early part of the year, except for speculation on the merger. That, of course, changed when the FCC said no.
FCC kills Comcast dealEven thoughthe company ultimately was able to bounce back from the FCC's forcing Comcast to drop its acquisition bid, at the time the news broke, it felt like a big defeat for the company. It's not so much that there weren't going to be other suitors for TWC, but Comcast was a good fit, and the FCC had generally capitulated on mergers in recent years.
"Today, we move on," said Comcast CEO Brian Roberts in statement released April 24, the day the deal was ended. "Of course, we would have liked to bring our great products to new cities, but we structured this deal so that if the government didn't agree, we could walk away."
Time Warner Cable CEO Robert Marcus issued a similar statement that day, but it was what FCC Chairman Tom Wheeler said in his statement that stuck with TWC and Comcast.
"Comcast and Time Warner Cable's decision to end Comcast's proposed acquisition of Time Warner Cable is in the best interests of consumers," Wheeler said. "The proposed transaction would have created a company with the most broadband and the video subscribers in the nation alongside the ownership of significant programming interests."
TWC stock bounced around due to its failed merger then its new merger. Source: YCharts.com.
Customer-service woes continueAfter the FCC forced the termination of the Comcast deal, Time Warner Cable made an even bigger deal to be bought byCharter Communications . In this case, perhaps because the new purchaser doesn't carry Comcast's negative public image, both companies involved in the deal appeared to be under the FCC microscope.
That made it especially bad news for Time Warner Cable, when it got swept up into a new customer-service scandal that forced its CEO to admit, "We can do better." It was as if the public and the media realized that the Charter deal could take a long time to complete, so TWC no longer got a pass on its actions simply because at some point in the future it might cease to be.
This renewed scrutiny finally forced the company to address its customer-service woes well after it apologized, but it made no real changes, after it was widelyreported that some of its workers were changing customers' names on bills to derogatory terms.
When it finally acknowledged the problem in October, about eight months after the name-changing incident, Marcus attempted to do so with some humor.
"We've seen where we're ranked in customer satisfaction surveys, and we're familiar with the perennial jabs from the folks at Saturday Night Live," said Marcus in a press release. "We're telling our customers how we've made profound changes over the last two years to better respect their time, provide more value for what they pay us, and deliver the kind of experience anyone would expect from a leading entertainment and technology company. The many changes we've made are just the beginning of the new TWC service experience."
That's of course better than saying "we're on our best behavior because it appears the FCC is watching," but at least it's something.
The big headline in 2016The only real news expected from TWC in the coming year is the approval of its deal with Charter. Though many of the same reasons the FCC forced the end of the Comcast deal apply here, most analysts believe that this merger will be approved, perhaps with some conditions attached.
Until that happens, the company really just needs to stay out of the news. This is a clear case where no news is good news, and the less the company can do to attract FCC attention the better.
The new year should bring TWC what it thought it was going to get last year -- the end of Time Warner Cable. Once that happens, Marcus and his team can exhale and head off into the sunset, pockets loaded with cash, customer-service lessons likely not learned.
http://www.fool.com/investing/general/2015/10/18/time-warner-cable-admits-its-customer-service-faul.aspx
The article The Worst Time Warner Cable Inc. Headlines in 2015 originally appeared on Fool.com.
Daniel Kline has no position in any stocks mentioned. He does not like when the TV news tracks Santa. The Motley Fool has no position in any of the stocks mentioned. Try any of our Foolish newsletter services free for 30 days. We Fools may not all hold the same opinions, but we all believe that considering a diverse range of insights makes us better investors. The Motley Fool has a disclosure policy.
Copyright 1995 - 2015 The Motley Fool, LLC. All rights reserved. The Motley Fool has a disclosure policy.