The Worst Soda Stocks of 2016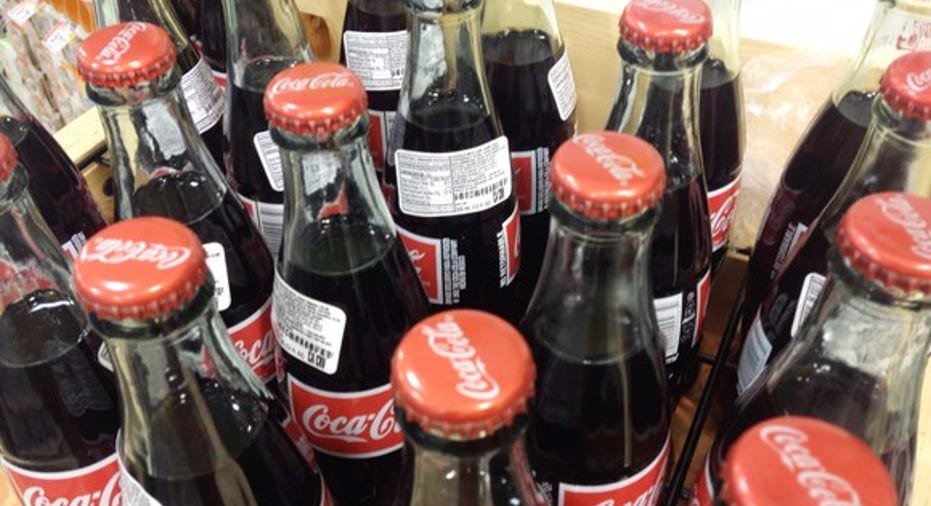 The soda industry has been challenged in recent years as Americans are increasingly turning away from sugary beverages. Total consumption has declined every year since 2004 in the U.S., and per-capita consumption is now at a 30-year low. Diet sodas have also fallen out of favor as health-conscious consumers have become wary of artificial ingredients like sweeteners.
Image source: The Motley Fool.
Not surprisingly, the soda giants' performance was middling in 2016.
Company
Market Cap
Stock Performance
SodaStream International

(NASDAQ: SODA)

$845.4M
144.1%
National Beverage

(NASDAQ: FIZZ)

$2.4B
13.8%
PepsiCo, Inc.

(NYSE: PEP)

$150.4B
5%
Dr Pepper Snapple

(NYSE: DPS)

$16.7B
-2.2%
Coca-Cola

(NYSE: KO)

$179.4B
-3%
Source: Yahoo! Finance
As you can see from the chart above, SodaStream was the winner in the group as the company benefited from a pivot to a sparkling water brand as well as the opening of a new factory, moves that helped profits grow sharply during the year. National Beverage, which owns the La Croix sparkling water brand, may also have benefited from a similar trend as consumers moved away from sodas and towards alternate beverages like sparkling water.
However, the three traditional industry giants PepsiCo, Dr Pepper Snapple, and Coca-Cola fared worse as all underperformed the broad market and both Dr Pepper Snapple and Coke lost a few points over the year. Notably, those stocks, especially Coke and Pepsi, have missed out on the post-election rally, which has favored macroeconomically sensitive sectors like financials and industrials. As Coke and Pepsi are defensive, dividend-paying stocks, investors tend to look to them to safeguard assets in a down market.
All three companies have taken steps away from sugary beverages in recent years, investing in newer, healthier drinks, and in Pepsi's case, growing its food divisions, Frito-Lay and Quaker.
However, those moves have had mixed results in offsetting the headwinds from soda consumption. Let's take a closer at look at Coca-Cola and Dr Pepper Snapple's struggles this year.
Still the real thing?
Coca-Cola continued to gain market share from its rivals during 2016, but that was not enough to overcome challenges from structural changes, a stronger dollar, and slowing growth in worldwide soda consumption. Thus far this year, overall revenue has fallen 5% due to currency fluctuations and its decision to refranchise its North American bottlers, however, organic revenue has grown by a respectable 4%.
In addition to diversifying into still-beverage brands like Fuze tea, Gold Peak tea, Zico coconut water, and taking a stake in energy-drink makerMonster Beverage(NASDAQ: MNST), the company has also been able to squeeze out profit growth by selling Coke in smaller bottles, borrowing a page from tobacco companies that have been able to boost profits despite falling consumption by raising prices.
Coke also announced that COO James Quincey would take over for Muhtar Kent as CEO next year as Quincey has prepared for the job by running operations in Europe and Mexico. Considering the industrywide challenges, Coca-Cola's performance in 2016 was decent as the organic, adjusted revenue and profits continued to grow, but the trend in the market favoring cyclical stocks could make 2017 another tough year for Coke stock.
Shaking it up again
Dr Pepper Snapple made its boldest move in years just last month when it snatched up Bai Brands for $1.7 billion. Bai sells naturally flavored low-calorie water drinks, making a big push with the "none of this makes sense" ad campaign this year. Prior to purchasing Bai, Dr Pepper Snapple had already been its distributor in the Northeast, where most of its sales come from. The company hopes to expand distribution as part of the usual acquisition playbook for such deals.
Outside of the Bai deal, Dr Pepper Snapple has put up modest growth this year with an increase in core EPS of 11%, a 1% increase in sales volume, and a 4% increase in revenue. The difference speaks to Dr Pepper Snapple's ability to drive profit growth from small increases in volume sales, by raising prices and controlling costs.
Management also raised its full-year EPS guidance in the most recent report to $4.32-$4.40, a sign that performance is topping expectations. With that guidance, the company is set to increase per-share profits 10% from last year, solid growth considering the industry challenges. Over a longer time frame, Dr Pepper Snapple has significantly outperformed Coke and Pepsi as its shares have more than doubled over the last five years.
Looking ahead to 2017, the company expects $425 million in incremental sales from Bai but a dilutive effect of $0.03 on EPS due to expanded marketing costs. Otherwise, the company should continue to grow at a similar pace, which could boost the stock as its P/E has now fallen under 20.
10 stocks we like better than Coca-Cola When investing geniuses David and Tom Gardner have a stock tip, it can pay to listen. After all, the newsletter they have run for over a decade, Motley Fool Stock Advisor, has tripled the market.*
David and Tom just revealed what they believe are the 10 best stocks for investors to buy right now and Coca-Cola wasn't one of them! That's right -- they think these 10 stocks are even better buys.
Click here to learn about these picks!
*Stock Advisor returns as of Nov. 7, 2016
Jeremy Bowman owns shares of SodaStream. The Motley Fool owns shares of and recommends Monster Beverage and PepsiCo. The Motley Fool owns shares of SodaStream. The Motley Fool recommends Coca-Cola. The Motley Fool has a disclosure policy.