The Worst Performing Stock of 2016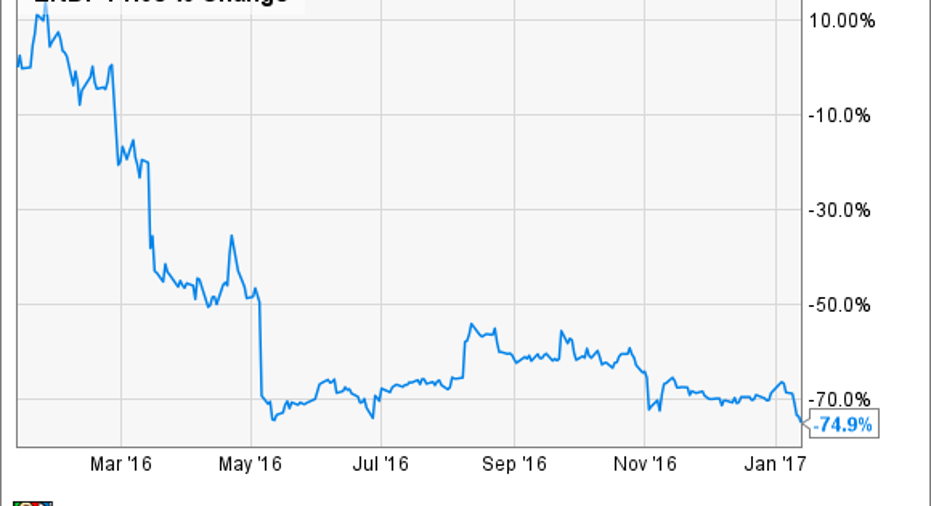 Image source: Pixabay.
While 2016 was good to some companies and bad to others, only one can claim the (infamous) prize of worst performer in the S&P 500. For 2016, that award goes to Endo Pharmaceuticals (NASDAQ: ENDP). Already on a downward streak headed into 2016, Endo finished the year down a whopping 75% from where it began the year.
Does Endo, currently trading at only 3 times adjusted current-year earnings, now offer too much of a value opportunity to ignore? Or will this potential turnaround turn aground? It's time for a deeper dive.
An overview of Endo Pharmaceuticals
Endo Pharmaceuticals, previously well known as a branded pain medication specialist, is a large pharmaceutical company composed of both branded and generic segments. Two years ago, with the company's U.S. branded segment facing the prospect of low growth and increasing generic competition, Endo sought to drive more aggressive growth through acquisitions and international expansion. Endo took on substantial quantities of debt to fuel the acquisition of several companies -- the largest of which, Par Pharmaceuticals, made Endo the fourth-largest player in the U.S. generics pharmaceuticals space.
However, this M&A activity could not have come at a worse time. Caught in the crosshairs of a flurry of negative events -- from the implosion of M&A drug giant Valeant Pharmaceuticalsto negative press surrounding the pharmaceutical industry as a whole -- Endo's share price took a nosedive. Shares again took a beating in May of last year, when management lowered guidance for the fiscal year, citing "new rivals on the market, greater-than-expected generics price erosion, and regulatory delays."
However, in recent months, Endo has taken several positive steps to correct its past mistakes. In September, then-CEO Rajiv De Silva, who had also been COO of Valeant Pharmaceuticals, stepped down from his position at Endo and was replaced by Paul Campanelli, the former CEO of Par Pharmaceuticals.
In addition, Endo announced last month that it would be cutting ties with BioDelivery Sciencesand its inside-the-cheek pain drug, Belbuca. Campanelli cited "the opioid market and Endo's strategic priorities have evolved" as his reason for making this switch. While this represents a directional shift away from Endo's legacy as a pain specialist, I believe this gives Endo more room to focus on its core growth assets and moves it out of the spotlight of the growing opioid controversy in the United States.
Righting the ship
Beneath the surface of controversial headlines, Endo has been growing. While the numbers are below analyst expectations, the acquisition of Par Pharma has been driving revenue expansion.
Data source: Endo Pharmaceuticals. Numbers in millions.
On Endo's third-quarter earnings call, Campanelli reaffirmed full-year revenue guidance of $3.87 billion to $4.03 billion and adjusted EPS of $4.50 to $4.80.
Endo's main growth asset is Xiaflex, an injectable medication indicated for treatment of Peyronie's disease and Dupuytren's contracture -- both undertreated connective-tissue disorders. Endo management believes there is a substantial opportunity remaining in both of these indications, with an 85%-90% untreated population in Peyronie's disease and an estimated 65%-70% untreated population for Dupuytren's contracture. Xiaflex has generated $134 million in sales for the first nine months of 2016, and management projects continued low-double-digit growth going forward.
Endo also released news that Xiaflex had met both its primary and secondary endpoints in a phase 2 trial for Xiaflex for cellulite back in November. Following a meeting with the FDA, Endo expects to move into phase 3 trials in June of this year. As cellulite affects an estimated 85%-98% of all U.S. women, this could potentially be a massive indication.
Will Endo endure?
While there's no denying that Endo has made some serious missteps over the past year, the company has also been taking effective actions in an effort to course-correct. By replacing its CEO, distancing itself from Valeant, and focusing on core growth assets, Endo is well positioned to mount a substantial recovery. Currently trading at less than sales and 3 times projected 2016 earnings, Endo Pharmaceuticals now offers substantial value for the risk-tolerant investor.
10 stocks we like better than Endo International When investing geniuses David and Tom Gardner have a stock tip, it can pay to listen. After all, the newsletter they have run for over a decade, Motley Fool Stock Advisor, has tripled the market.*
David and Tom just revealed what they believe are the 10 best stocks for investors to buy right now... and Endo International wasn't one of them! That's right -- they think these 10 stocks are even better buys.
Click here to learn about these picks!
*Stock Advisor returns as of January 4, 2017
David Liang has no position in any stocks mentioned. The Motley Fool owns shares of and recommends Valeant Pharmaceuticals. The Motley Fool has a disclosure policy.