The Worst Organovo Holdings, Inc. Headlines in 2015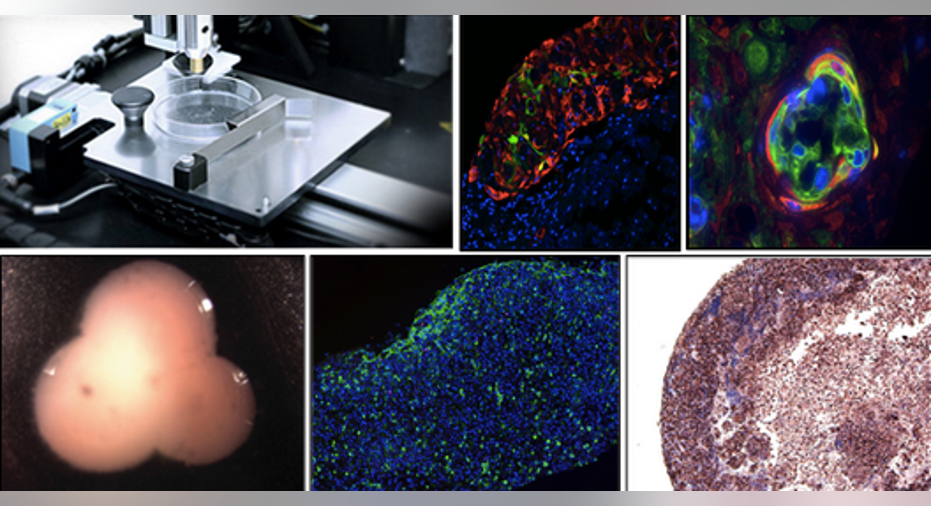 Image source: Organovo.
Good riddance to 2015. That's likely the sentiment for many shareholders of Organovo Holdings . The 3D bioprinting pioneer's stock lost over 60% of its value during the year. Here are three of the most disappointing Organovo headlines from 2015 that explain what happened.
1.Spooked marketOn March 13, Organovo issued a "market update" after its shares had dropped 25% in just six days. The company also updated the frequently asked questions (FAQ) section of its website. The topics addressed in the market update and website change shed some light on what was going on with Organovo's stock. In a nutshell, investors were spooked.
Some were likely worried about Organovo's financial position. In response, the company underscored its financial strength by noting that it had no debt and over $50 million in cash. While Organovo filed with the SEC to raise up to $190 million over an unspecified period, the company stated that it had sufficient capital to execute on its plans for two years and would only raise additional capital if market conditions were favorable.
Organovo apparently also felt that some investors were concerned about negative articles about the company. In its website FAQ update, Organovo attributed some of the negativity to competitors, short-sellers, and a "lack of factual accuracy."
The company's moves seemed to temporarily calm investors. However, Organovo's shares resumed their downward move soon afterward.
2.DilutionIt took only three months for Organovo to determine that market conditions were favorable enough to raise more capital. On June 17, the company announced another public offering of its stock. Shares opened 15% lower the next day -- and kept falling throughout much of the summer.
The good news was that the move generated over $46 million in additional cash for Organovo.The bad news was that the secondary offering also diluted existing shares, which led to the immediate plunge in share prices.
3.Keeping secretsMany investors are excited about the potential for Organovo's exVive3D, a bioprinted human liver tissue. It's understandable that these investors want to know as much as they can about how things are going for exVive3D. It's also understandable why many were disappointed with Organovo's announcement on Aug. 10 that it would only provide contract booking updates on an annual basis instead of quarterly.
Organovo's position was that customers can back out of contracts and that revenue reflected in contract bookings can be recognized over multiple quarters. Investors, however, have inquiring minds. The prospect of having to wait a full year to get an update on bookings wasn't a great way for Organovo to make shareholders happy.
Happy New Year?Despite a dismal stock performance in 2015, Organovo investors have reason to think that 2016 could prove to be much better. A presentation made on April Fool's Day of 2015 underscores why.
Organovo announced on April 1 thatexVive3D was able to detect toxicity of diabetes drugRezulin very quickly. Understanding the history of Rezulin explains why this was and is such a big deal.
Rezulin was linked to 63 deaths after it was approved in 1997. The drug was yanked from the U.S. market in 2000 by Warner Lamber. Pfizer bought Warner Lambert soon thereafter and ended up paying $750 million to resolve around 35,000 claims related to Rezulin.
Pfizer forked out a fortune because the dangers for liver failure weren't clearly identified early enough with Rezulin. HadexVive3D been available in 1997 or earlier, the toxicity could have been discovered earlier, saving millions of dollars and (more importantly) human lives. If Organovo can convince prospective customers that using its bioprinted human liver tissue can help avoid scenarios like Pfizer encountered, 2016 should be a much happier year for Organovo than 2015 was.
The article The Worst Organovo Holdings, Inc. Headlines in 2015 originally appeared on Fool.com.
Keith Speights has no position in any stocks mentioned. The Motley Fool has no position in any of the stocks mentioned. Try any of our Foolish newsletter services free for 30 days. We Fools may not all hold the same opinions, but we all believe that considering a diverse range of insights makes us better investors. The Motley Fool has a disclosure policy.
Copyright 1995 - 2016 The Motley Fool, LLC. All rights reserved. The Motley Fool has a disclosure policy.