The Worst Obamacare Stocks of 2015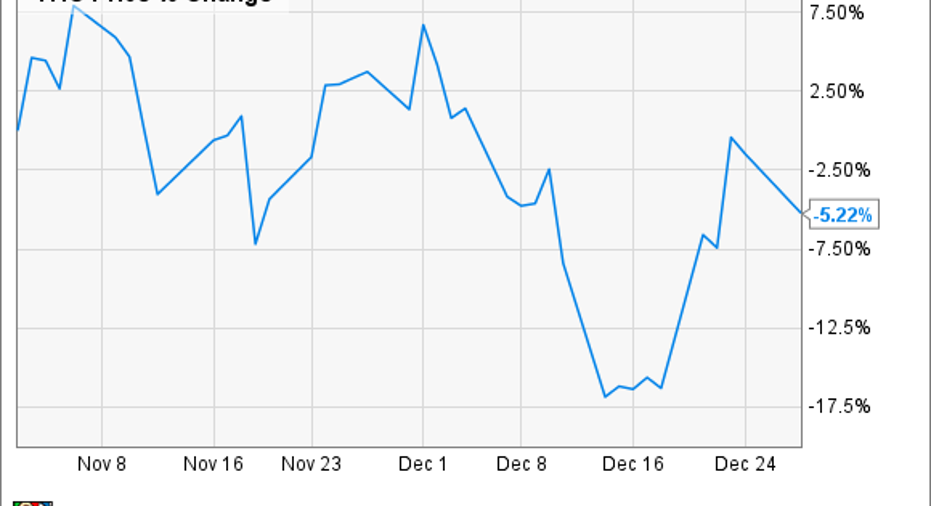 Source: Flickr via user Daniel Borman.
The Affordable Care Act, or Obamacare, has had a mixed impact across the varied healthcare landscape since its implementation in 2013.
Before 2015, for instance, hospital stocks pushed higher as many low-income individuals gained access to health insurance, helping to lower the number of uninsured patients walking through the door. Some hospital operators also reported a surge in the number of patients seeking care for chronic ailments in 2014, presumably because of the broader coverage Obamacare offered.
As a result, the Health Care Select Sector SPDR ETF made a beeline northward from 2013 to the start of 2015, with this closely watched ETF outperforming even the unusually strong S&P 500 during this period:
Those heady days, however, appear to be over. Obamacare has had some major unintended consequences on medical-services companies this year, especially in the realm of acute healthcare providers, resulting in a massive trend reversal for top names in the industry, such as HCA Holdings and Tenet Healthcare Corp.
According to data provided by S&P Capital IQ, HCA and Tenet have markedly underperformed the broader healthcare services industry in 2015, making them some of the worst Obamacare stocks this year:
With this in mind, let's look at why these healthcare services companies have faltered of late and consider if they may be setting up to rebound next year.
Obamacare has been weighing on HCA's bottom lineHCA, the largest for-profit hospital operator in the U.S., missed third-quarter earnings estimates this year because of higher-than-expected costs and an unfavorable payer mix, according to the company's management. A good chunk of the company's rising costs during its most recent quarter appears to be directly associated with the ongoing rollout of Obamacare.
Specifically, HCA's management said labor costs soared during the three-month period because of the need for more contract labor to service the higher patient volume. As contract labor tends to be more expensive, though, the company's operating margins took a hit during the quarter.
Perhaps even more worrisome, however, is the 13.6% increase in uninsured patients HCA treated in its facilities from a year ago, amounting to roughly 4,400 admissions of so-called "self-pay" patients during the period. Although management said some of this rise in the number of uninsured stemmed from issues with Medicaid conversions at the state level, they did note that the non-payment of premiums among some patients previously registered under Obamacare exchanges probably played a role as well.
On the bright side, HCA's stock now looks relatively cheap following this pullback, based on simple valuation metrics such as its forward P/E ratio of 11.9. That said, HCA's balance sheet sports nearly $30 billion in debt, which is higher than its current market cap of around $27.7 billion.
Tenet's leverage has investors concernedWhile Tenet has seen steady growth in terms of its bottom and top lines this year, the company's massive debt-to-equity ratio of 546%, resulting from its aggressive debt-funded acquisition strategy, has weighed on its share price.
With $14.8 billion in debt on its books at last count, investors were hoping the company would start to de-lever in the second half of 2015. However, the volatile conditions in both the equity and debt markets persuaded management to up the share buyback program by $500 million in the third quarter instead.
The main problem is that Tenet's hefty interest payments have been dampening its overall financial performance this year, partially offsetting the rising revenues from its growing outpatient business segment. And with Obamacare's ability to lower the financial burden of the uninsured in question, the market didn't take kindly to management's decision regarding its debt, sending the company's shares down another 5% in the fourth quarter:
Like HCA, though, Tenet does sport a reasonable forward P/E ratio of around 14, implying that its stock may be nearing a bottom. However, the market clearly isn't willing to pay much of a premium for highly leveraged medical-services companies right now because of the uncertainty over Obamacare's long-term future, making it hard to have any real confidence that Tenet's stock may be ready to rebound.
Can these hospital operators reverse course in 2016?The burning question moving forward is Obamacare's impact on the profitability of hospital operators such as HCA and Tenet. More patients might sound good in theory, but rising costs resulting from staffing problems can't be overcome overnight. After all, you can't force higher-ed institutions to graduate more allied health students to meet the increased demand.
The spike in the number of uninsured patients visiting emergency rooms in the third quarter relative to a year ago is also a key issue investors need to keep a close eye on going forward. If Obamacare truly can't provide affordable insurance coverage to a wider segment of the American population, then it ultimately won't help hospital operators lower costs to improve their operating margins.
Taken together, these two issues appear to have investors in a cautious mood when it comes to top dogs in the healthcare services industry, especially in light of their less than stellar balance sheets. As such, these two stocks may end up struggling next year, despite their comparatively low forward P/E ratios.
The article The Worst Obamacare Stocks of 2015 originally appeared on Fool.com.
George Budwell has no position in any stocks mentioned. The Motley Fool has no position in any of the stocks mentioned. Try any of our Foolish newsletter services free for 30 days. We Fools may not all hold the same opinions, but we all believe that considering a diverse range of insights makes us better investors. The Motley Fool has a disclosure policy.
Copyright 1995 - 2015 The Motley Fool, LLC. All rights reserved. The Motley Fool has a disclosure policy.