The Worst Mistake Twilio Inc. Investors Could Make Right Now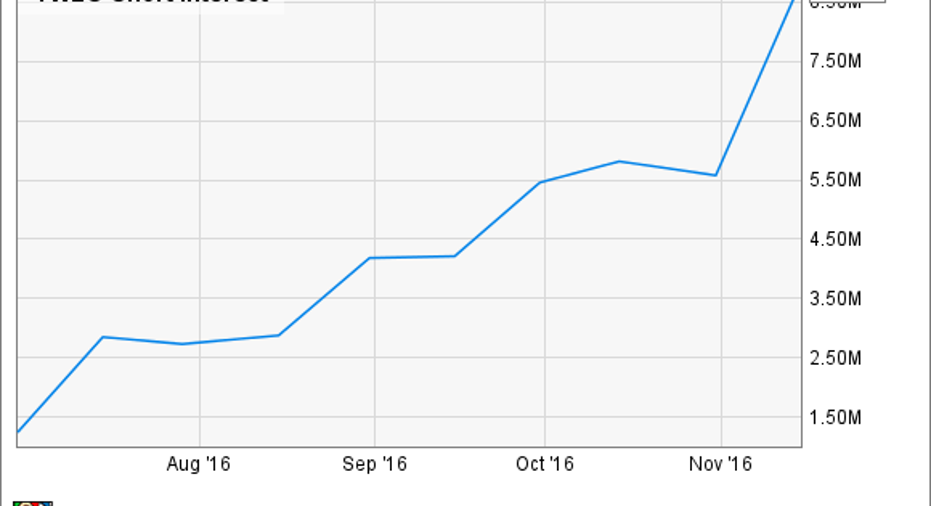 Twilio (NYSE: TWLO) took investors on a gut-churning ride this year, surging from its IPO price of $15 in June to almost $70 before plummeting back to the low $30s. Interest in the cloud platform provider initially surged on its "best in breed" reputation for linking popular apps like Facebook (NASDAQ: FB) Messenger, WhatsApp, and Uber to users' phone numbers and SMS messages.
Image source: Getty Images.
But that enthusiasm faded when Twilio's price-to-sales ratio rose to the mid-20s and the company announced a secondary offering at $40 per share. The bears then pounced on Twilio and sent it tumbling. Despite all that negativity, I recently started a small position in Twilio for five main reasons -- its growing customer base, robust revenue growth, narrowing losses, lower valuations, and its widening moat.
However, I believe that the worst mistake that Twilio investors could make today is to establish a full position and assume that the stock can't fall much further. Let's discuss three reasons that the stock could still fall, and why better opportunities to accumulate shares might still be ahead.
1. The upcoming lockup expiration
Twilio's 180-day lockup period will end on Dec. 20. When that happens, insiders sitting on some big gains can finally sell their shares on the open market. As that date approaches, insider sales, exacerbated by surging short interest, could cause the stock to drop to new lows.
Source:YCharts
2. Its lofty valuation
Twilio has fallen nearly 50% over the past three months, but the stock's P/S ratio of 11 remains very high relative to the ratios of other companies with comparable growth rates. Twilio currently expects its revenue torise up to 62% this year, compared to 88% growth in 2015.
Chinese classifieds site Wubatrades at just 4 times sales, but analysts expect it to report 60% sales growth this year. Momo, also known as "China's Tinder", trades at 11 times sales like Twilio -- but analysts expect it to post 271% sales growth this year.
Based on those comparisons, it wouldn't be surprising if Twilio gets cut in half during a big market downturn. Moreover, the recent secondary offering and the company's stock-based compensation will further dilute shares and inflate its valuations.
3. The development of rival platforms
Twilio is heavily dependent on Facebook. In its S-1 filing, itdisclosed that Facebook's WhatsApp accounted for nearly a fifth of its revenue in 2015. That percentage dropped to 10% during the first ninemonths of 2016, but Twilio also recently integrated its platform into Facebook Messenger -- thus increasing its overall dependence on Facebook.
The problem is that Twilio doesn't hold any long-term contracts with Facebook. Therefore, if Facebook deems it more cost-effective to build its own Twilio-like service on top of its own cloud infrastructure, it could abruptly drop Twilio and offer that rival service (along with integration with Facebook's other services) to app developers.
Another potential challenger is Amazon's (NASDAQ: AMZN) AWS, the biggest cloud infrastructure platform in the world. Since many developers already use AWS to host their apps, it would be logical for AWS to add a Twilio-like service to its platform. If Facebook, Amazon, or other rivals even hint at those moves, Twilio stock will be badly battered.
The key takeaway
I personally hope Twilio doesn't crash and burn, but I believe that investors should understand the bearish arguments against the stock. If Twilio simply falls on valuation, short interest, and lockup expiration fears, I'll definitely add shares to my current position. But if Facebook, Amazon, or other cloud giants introduce rival technologies which could render Twilio redundant, I'll carefully reevaluate my thesis on the stock.
10 stocks we like better than Amazon.com When investing geniuses David and Tom Gardner have a stock tip, it can pay to listen. After all, the newsletter they have run for over a decade, Motley Fool Stock Advisor, has tripled the market.*
David and Tom just revealed what they believe are the 10 best stocks for investors to buy right now... and Amazon.com wasn't one of them! That's right -- they think these 10 stocks are even better buys.
Click here to learn about these picks!
*Stock Advisor returns as of Nov. 7, 2016
Leo Sun owns shares of Amazon.com and Twilio Inc. The Motley Fool owns shares of and recommends Amazon.com and Facebook. Try any of our Foolish newsletter services free for 30 days. We Fools may not all hold the same opinions, but we all believe that considering a diverse range of insights makes us better investors. The Motley Fool has a disclosure policy.