The Worst Mistake Boardwalk Pipeline Partners, LP Investors Can Make Right Now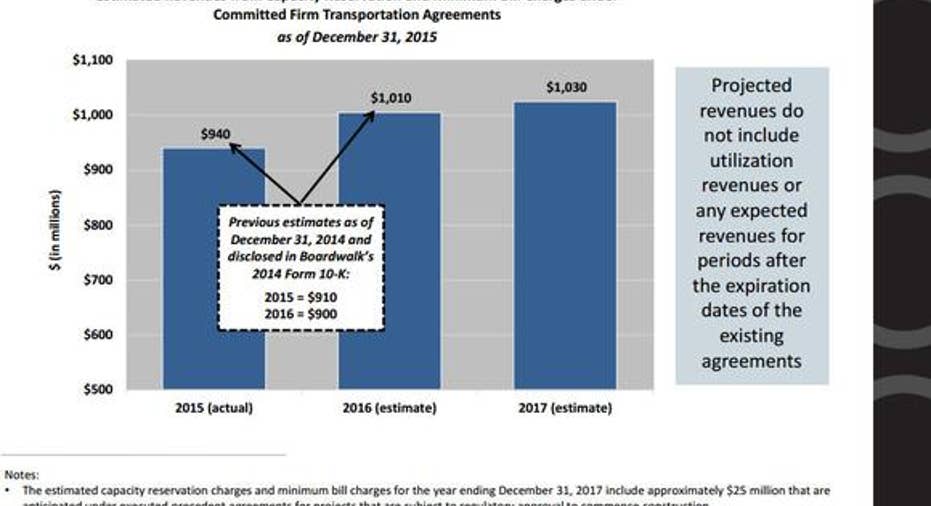 Two years ago,Boardwalk Pipeline Partners made the tough decision to slash its payout by 80%. With industry conditions deteriorating and its balance sheet weakening, the company needed that cash to reduce debt and fund some growth projects it had in the pipeline. Some of those growth projects are expected to start bearing fruit this year. However, it would be a mistake for investors to start banking on the company finally restarting distribution growth anytime soon. An even worse mistake would be to double down right now in hopes of cashing in on news of a distribution increase.
Cash flow will go up, but so will its cash needsBoardwalk Pipeline Partners is in the process of investing $1.6 billion in primarily fee-based growth projects, which are expected to deliver a meaningful boost to the revenue it earns from fees. The chart below shows an estimated $70 million year-over-year increase to go along with another $20 million increase next year:
Image source: Boardwalk Pipeline Partners investor presentation.
Typically a master limited partnership would then funnel this increased cash flow to its investors via a higher distribution. Rival MPLX LP , for example, plans to spend up to $1.2 billion on growth projects this year, which is expected to enable the company to boost its payout 12% to 15% this year and deliver double-digit distribution growth in 2017. In fact, MPLX recently announced its 13th straight distribution increase, boosting its payout 1% over last quarter and 23% above the year-ago rate. However, a distribution increase is not likely to happen at Boardwalk Pipeline Partners because it needs that extra cash to fund the rest of its investment needs, with the company stating that it intends to use its internally generated cash flow to fund its current slate of growth projects, as opposed to issuing equity or debt to fund this capex.
That's important to note because the bulk of the company's capital projects are still under construction and therefore consuming cash instead of producing cash flow. For example, its largest project, the $720 million Coastal Bend Header Project isn't expected to go into service until 2018, while the $310 million Northern Supply Access Project isn't expected to go into service until the first half of next year. In other words, the company has a lot of capital to spend over the next couple of years, likely using its internally generated cash flow to fund this growth.
Don't forget about debtIn addition to that, Boardwalk Pipeline Partners initially cut its distribution because its leverage had grown well above its target 4.0 times debt-to-EBITDA. In fact, as of the end of last year, that ratio was still elevated at 4.8 times, that's is a bit higher than MPLX LP, which had a debt-to-EBITDA ratio of 4.6 times last year. While Boardwalk's ratio is heading in the right direction after it improved from an alarming 5.4 times in 2014, it's still too high.
One reason that ratio did come down is that the company used some of its retained cash flow to pay off a net $218 million of long-term debt. However, given that the ratio is still above the company's target range, it will likely continue to use some of its retained cash flow this year to further reduce debt, especially considering that it has a number of debt maturities on the horizon. In 2016, for example, it has a $250 million maturity to contend with in November, while it has another $575 million in maturities to address in 2017. While it can try to refinance these maturities with new long-term debt, that's getting harder to do because credit is starting to tighten within the energy sector, especially for MLPs. It will therefore likely want to conserve as much cash as it can to ensure that it can address these maturities when they come due, leaving it very unlikely that Boardwalk will increase its distribution in the near term.
Investor takeawayBoardwalk Pipeline Partners has a lot of cash needs in the near term. Not only are two of its largest projects not expected to start delivering cash flow for more than a year, but it has a number of upcoming debt maturities to contend with. Because of this, investors would be making a big mistake to double down right now in a bet to capture upside under the assumption that the company will boost its payout this year.
The article The Worst Mistake Boardwalk Pipeline Partners, LP Investors Can Make Right Now originally appeared on Fool.com.
Matt DiLallo has no position in any stocks mentioned. The Motley Fool has no position in any of the stocks mentioned. Try any of our Foolish newsletter services free for 30 days. We Fools may not all hold the same opinions, but we all believe that considering a diverse range of insights makes us better investors. The Motley Fool has a disclosure policy.
Copyright 1995 - 2016 The Motley Fool, LLC. All rights reserved. The Motley Fool has a disclosure policy.