The Worst Mistake Baytex Energy Corp. Investors Can Make Right Now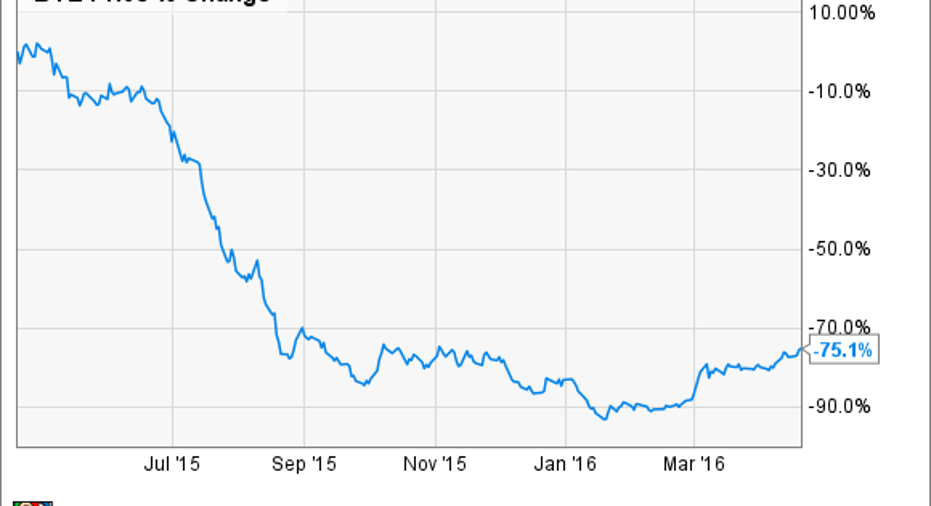 Shares of Baytex Energy have been crushed over the past year, down more than 75%.
That said, shares have come up considerably off their bottom, and are up more than 30% since the start of the year. Some investors might see this as the beginning stages of a recovery and be tempted to double down. That, however, is the worst mistake investors could make right now, because this driller is far from being out of the woods just yet. Instead, the company is facing two big problems: Weak credit and even weaker oil and gas prices.
Credit is on thin iceBaytex Energy's credit is quite worrisome at the moment. The company currently has $1.2 billion in debt, which is a heavy weight to bear. It has become such a concern that one of the company's credit rating agencies just downgraded its credit rating from Caa1 to Caa2. That not only pushed the company's credit even further below investment grade, but it signaled a very elevated credit risk. That's because while a Caa1 rating suggests a company has substantial risk, a Caa2 implies that its credit is extremely speculative. Furthermore, it puts it just one notch away from a Caa3 rating, which warns that a default is imminent. In other words, the company is currently very financially vulnerable and needs more favorable conditions to be able to meet its financial commitments.
Contrast that with Encana , which recently had its own credit rating downgraded, though from Baa2 to Ba2. While that pushed Encana's credit rating below investment grade, its credit still suggests that it is less vulnerable than lower-rated companies like Baytex Energy at being unable to meet its current financial obligations.
Image source: Copyright Encana Corporation. All rights reserved.
Having said all that, Baxtex Energy's latest downgrade was a direct effect of an agreement the company reached with its banks to amend its credit facility. As part of that agreement, the company had the borrowing base on that facility reduced to $575 million, while Baytex Energy also gave a first priority of itsassets to its banking group in any future bankruptcy in exchange for eliminating future borrowing base reviews. Furthermore, the leverage and interest rate coverage covenants were relaxed to give the company more financial breathing room. As a result, its liquidity has improved, which "give[s] the company ample headroom through 2017" according to its rating agency.
It's barely back to break-evenDespite having more breathing room on its credit, Baytex Energy still has a pretty significant uphill climb. That's because oil prices are so weak right now that the company has had to shut-in 7,500 barrels per day of low- or negative-margin heavy oil production. That's a whopping 9% of production based on last year's average rate.
Not only is some of its legacy production uneconomic at current prices, but two of its three core plays currently have below breakeven-level economics at the current oil price. As the slide below notes, both its Lloydminster and Peace River plays need oil in the low to mid-$40s to break even, which is at least 10% higher than the current oil price.
Image source: Baytex Energy Investor Presentation.
Because of these challenged economics, Baytex Energy has deferred investment in both plays this year, canceling plans to drill 12 Peace River and 24 Lloydminster wells. As a result of that and the aforementioned production shut-ins, the company's 2016 production is expected to decline by slightly more than 10% year over year.
Needless to say, the company needs a much higher oil price in order to not only be able to restart some of its legacy wells, but to start drilling economic wells in all of its key plays to both maintain and grow production. There's no guarantee that oil will improve to the more sustainable level that Baytex Energy needs to start creating value for investors again.
Investor takeawayWith its credit still very tight, and a huge chunk of its wells and drilling locations currently below break-even, now is notthe time to double down on Baytex Energy's stock. The company still faces a very real risk that it might not make it out of the downturn if oil prices take another dive down and stay there for a while. Instead, investors are better off putting their investment dollars elsewhere, at least until there's a bit more clarity on both oil prices and credit.
The article The Worst Mistake Baytex Energy Corp. Investors Can Make Right Now originally appeared on Fool.com.
Matt DiLallo has no position in any stocks mentioned. The Motley Fool has no position in any of the stocks mentioned. Try any of our Foolish newsletter services free for 30 days. We Fools may not all hold the same opinions, but we all believe that considering a diverse range of insights makes us better investors. The Motley Fool has a disclosure policy.
Copyright 1995 - 2016 The Motley Fool, LLC. All rights reserved. The Motley Fool has a disclosure policy.