The Worst Internet of Things Stocks of 2015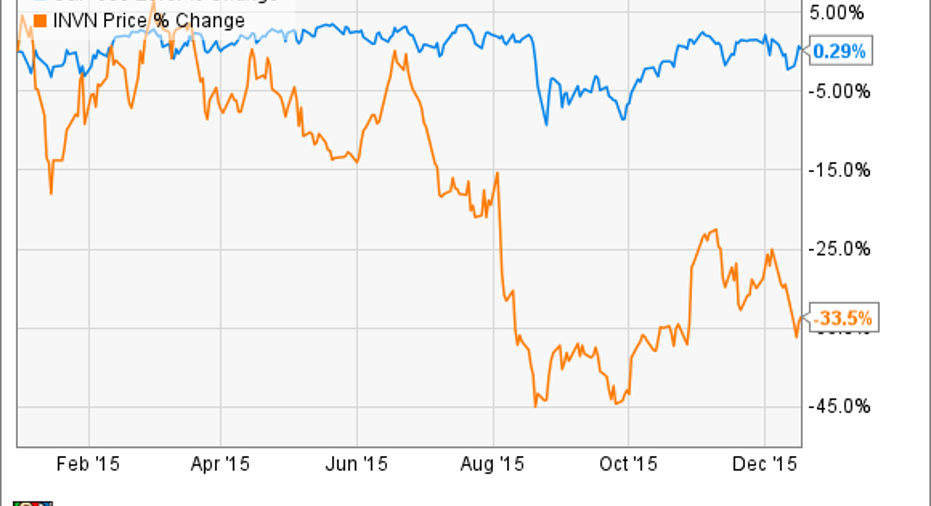 Over the next five years, Cisco Systems estimates that nearly 50 billion things will be connected to the Internet, allowing for an unprecedented amount of data collection and analysis, as well as new automation processes. By 2020, IDC says the Internet of Things (IoT) will be worth $7 trillion.But while the Internet of Things brings lots of potential, it also brings a lot of volatility -- and that was felt by many IoT investors this year.
Let's take a quick look at some IoT stocks that were hit hard this year, why it happened, and if these companies can get things back on the right track.
Sierra Wireless: Down 65% year to dateFirst up is Sierra Wireless , the Internet of Things pure-play that uses wireless modules to connect Tesla's vehicles to the Internet so that the company can send out wireless updates. Sierra's machine-to-machine modules are also used in a host of other devices, and the company is currently the No. 1 wireless embedded module maker in the world.
But Sierra has suffered a series of setbacks this year. The company posted a few disappointing earnings results, along with lowering its revenue guidance for 2016. Both spooked investors and caused the stock price to plummet over the past year.
Source: YCharts.
Despite the drop, Sierra still maintains its lead in the wireless embedded module market, which is expected to be worth $214 billion by 2020. Right now, the company needs to focus on driving more revenue from its higher-margin enterprise solutions business. Its OEM solutions segment brings in 83% of revenue, but margins are around 29%. Meanwhile, enterprise solutions revenue is 13%, but has gross margins of about 50%. If it can start adding more enterprise revenue, then the company could get back on the right track, but investors could be waiting around a while to see that happen (if ever).
InvenSense: Down 33% year to date InvenSense's main products are its gyroscopes, accelerometers, compasses, and microphones for mobile and Internet of Things devices. Versions of its micro electro-mechanical systems (MEMS) sensors can be found in theiPhone 6s and 6s Plus, as well as Samsung's mobile devices.
Most of InvenSense's stock price drop came back in August, when the company delivered a fairly solid quarter, but lowered guidance. Investors didn't like that and pushed the stock down. The company cited macro issues with customers in the U.S. and China as part of the reason, along with pricing demands that large companies place on InvenSense. "Our success with large customers on one hand also comes with a price, and that is that they do get volume discounts, and that's certainly a factor creeping into the guidance," InvenSense CFO Mark Dentinger said on the August earnings call.
Source: YCharts.
The bright spot for InvenSense is that the company is growing its "other" revenue segment, which has jumped from 13% of total revenue to 20% in the past quarter, and improved 91% year-over-year. InvenSense will still need to keep an eye on relying too heavily on large companies like Apple and Samsung, but its new pursuits in the "Other" category help give InvenSense an opportunity to turn its stock price around.
IBM: Down 14% year to date IBM may not be at the top of your Internet of Things stock list, but the company has made some big moves into the IoT space lately.
Earlier this year, IBM said it would spend $3 billion over the next four years on Internet of Things innovations, and it already seems to be getting a quick start. The company is building a new cloud-based open platform for businesses to create their own IoT apps, along with data collection analytics tools.
IBM also recently purchased the digital assets (websites, apps and data sets) of The Weather Channel's parent company, The Weather Company, that it says will improve its Watson computer weather-related IoT capabilities. And earlier this month the company announced a new Internet of Things headquarters in Munich, as it prepares to integrate Watson's machine learning capabilities even further into its analytics software.
Unfortunately for IBM, its stock price hasn't directly correlated with the company's new innovative moves this year.
Source: YCharts.
The company's revenue has fallen for the past 14 quarters. Additionally, IBM's management continues to lower the earnings target for the next year.
But IBM's focus on Internet of Things solutions shows that the company knows it needs to exit legacy technologies and embrace the IoT's potential. It's too early to know if IBM will emerge as a dominant Internet of Things force, but the company is on the right path with its recent moves.
While all of these stocks tumbled this year, it's worth remembering that the Internet of Things is just getting started, and companies that position themselves well in the space now could have much to look forward to in the near future.
The article The Worst Internet of Things Stocks of 2015 originally appeared on Fool.com.
Chris Neiger has no position in any stocks mentioned. The Motley Fool owns shares of and recommends Apple, InvenSense, Sierra Wireless, and Tesla Motors. The Motley Fool recommends Cisco Systems. Try any of our Foolish newsletter services free for 30 days. We Fools may not all hold the same opinions, but we all believe that considering a diverse range of insights makes us better investors. The Motley Fool has a disclosure policy.
Copyright 1995 - 2015 The Motley Fool, LLC. All rights reserved. The Motley Fool has a disclosure policy.