The Worst High-Yield Dividend Stocks of 2016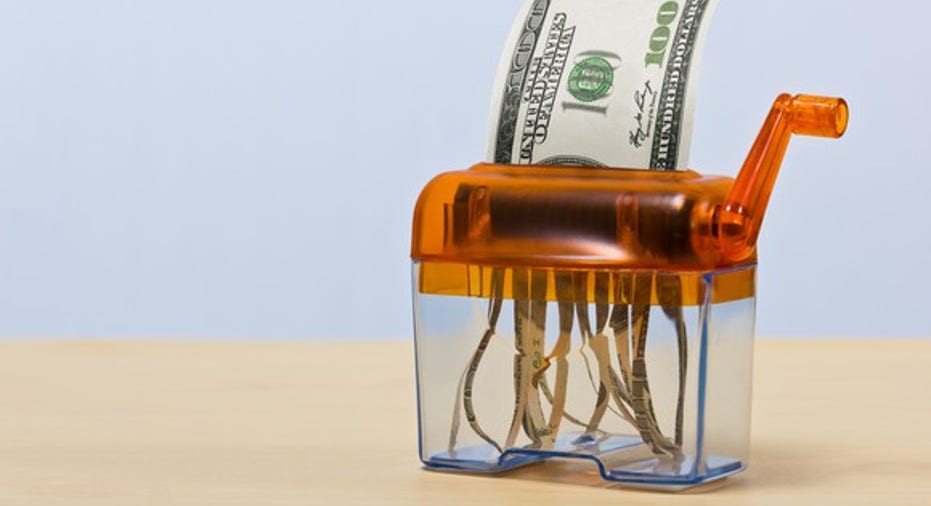 Just because a company has a dividend does not always mean that the company is a desirable investment. While every company can hit rough patches, companies with dividends, especially high-yield dividends, can see their share prices drop big time if there is a whiff of trouble that could lead to an eventual cut to its payout. 2016 had its fair share of lousy dividend stocks, but here are the five that were real stinkers this past year, why they did so poorly, and whether they present any kind of investment opportunity for investors that want to scrape the bottom of the value barrel.
Image source: Getty Images.
The unlucky five
Data source: S&P Global Market Intelligence. YTD = year to date.
With the exception of StoneMor Partners, all of these companies are deeply tied to the oil and gas industry in some way or another. While the decline in oil and gas prices and the reverberations it has sent through the entire industry did likely have an impact on the commodity companies on this list, there were bigger issues that caused their share prices to crater.
An oversupplied market hitting at just the wrong time
In December 2015, Teekay Tankers announced a new dividend policy in which it would pay out 30% to 50% of its quarterly adjusted net income, with a minimum dividend payment floor of $0.03 per share. At the time of the announcement, it looked like investors were going to cash in big time, as the new policy led to a 400% increase in its dividend from the prior quarter.
The problem for the company, though, was that the market for oil tankers deteriorated throughout this past year. Several new oil tankers came online this year while overall oil demand wasn't as robust as anticipated, which led to an oversupply of tankers. As a result, the company's dividend payment dwindled in each proceeding quarter until Teekay Tankers' most recent dividend was back at its $0.03-per-share floor.
Not all news was bad news this past year, though. While the operating environment has been tough for the company, its dividend policy did free up some cash that allowed Teekay Tankers to reduce its total debt load by 17% in 2016 to $966 million. The company is far from out of the woods, but it's encouraging to see the company clean up its balance sheet in the middle of such a tough year.
A high place from which to fall
Alon USA Partners is an interesting case. Typically, a master limited partnership subsidiary of a refining company would own logistics and storage assets. Instead, parent company Alon USA Energy (NYSE: ALJ) spun off one of its refineries and some wholesale marketing assets into the partnership. Since refining is such a volatile business, the company was set up as a variable rate partnership, so its payout changes from quarter to quarter based on business performance.
2015 was a great year for refining in general: The fall of crude oil prices from 2014 through the beginning of 2016 led to higher refining margins and, as a result, high payouts to investors under this variable rate structure. After oil prices started to bottom out in the first quarter of this year, though, so went refining margins. As a result, Alon wasn't able to generate enough cash for a distribution in the first quarter.
To add insult to injury, the parent company has been offered a buyout from refining company Delek US Holdings. Delek already owns 48% of parent company Alon, so it won't be a surprise if the deal goes through. The problem, though, is that it casts a lot of uncertainty over Alon Partners' future.
Death of a (funeral home) salesman
I'll admit that I was completely wrong on this stock. StoneMor's business of funeral homes and burial services is one of those businesses with a pretty built-in demand. Unfortunately, the company's sales team wasn't up to snuff and it has been a drag on StoneMor's results for several quarters. I personally thought that these issues were temporary and that it would be able to overcome them without a large cut to its payout. That certainly wasn't the case, as the company announced back in October that it was slashing its payout in half, and it even hinted at another cut in the coming quarters because it needs to basically retrain and use recruiting agencies to find new talent.
If this were the only issue, then it may not be too much of a problem as the company brings on new people to fill its sales needs. Longer-term, though, the trend away from traditional burial in lieu of cremation could be a big profit-killer; margins for cremations are considerably lower. It's worth at least watching this stock over the coming quarters to see if it can start to turn things around, but for the time being, watching may be the only thing to do.
Too many bad decisions led to too much debt
The seeds of Calumet's eventual payout suspension and sharp share-price decline were planted years ago. Back in 2012, the company went on a spending spree and loaded up on debt to make several acquisitions. Unfortunately, those acquisitions didn't quite pan out as planned, and the company has been saddled with a high debt load and a bunch of under-performing assets for years. It all came to a tipping point this year as refining margins started to decline and the company's debt load continued to build. This led to the suspension of the dividend.
CEO Timothy Go, who took the reins at the beginning of the year, has implemented a plan that has the potential to turn the company around. He wants to focus small capital spending on efficiency programs at its existing facilities to increase returns, and has even started to shed some of the company's bad investments. The company is still burning cash and taking on debt, and investors should still probably stay away until further progress is made, but it is progressing nonetheless.
Another bad decision blows up
FerrellGas Partners faced pretty much the exact same problem this past year. Acquisitions made by its CEO didn't pan out at all, and as a result, the company was in breach of certain debt covenants. Profitability suffered from its poor acquisitions and a warm winter that really put the screws on the propane distribution business to the point that to cover its cash needs, it was forced to make a distribution cut when it announced earnings in September. At that time, its CEO was let go and former CEO and executive chairman James Ferrell took the helm on an interim basis.
When the cut was initially announced, management thought that the new payout would be in the $1 range, which was around a 50% cut. This past month, though, FerrellGas Partners announced that its new payout would be $0.40 per share, and Wall Street punished the stock.
Like Calumet, slashing the divided was the right thing to do in the long run. Both have some real financial house-cleaning to do before they should consider paying investors. FerrellGas is also stuck with undesirable assets that will drag on profitability as it tries to shed itself of these poor investment decisions. It will likely be a while before things turn around, but as long as the company can have some favorable weather -- cold winters, hot summers -- then it could help the company get back on the right track.
What a Fool believes
Every company mentioned here is flawed in one way or another, and as a result they may not necessarily make the best investments right now. Teekay Tankers seems to be in the best shape of all of these companies, and its flexible dividend policy should help it weather the current storm facing oil tankers. That being said, there are lots more decent high-yield investing opportunities worth pursuing today than the ones that are on the 2016 scrap pile.
10 stocks we like better than Calumet Specialty Products Partners When investing geniuses David and Tom Gardner have a stock tip, it can pay to listen. After all, the newsletter they have run for over a decade, Motley Fool Stock Advisor, has tripled the market.*
David and Tom just revealed what they believe are the 10 best stocks for investors to buy right now... and Calumet Specialty Products Partners wasn't one of them! That's right -- they think these 10 stocks are even better buys.
Click here to learn about these picks!
*Stock Advisor returns as of Nov. 7, 2016
Tyler Crowe has no position in any stocks mentioned.You can follow himat Fool.comor on Twitter@TylerCroweFool.
The Motley Fool has no position in any of the stocks mentioned. Try any of our Foolish newsletter services free for 30 days. We Fools may not all hold the same opinions, but we all believe that considering a diverse range of insights makes us better investors. The Motley Fool has a disclosure policy.