The Worst Frontier Communications Corporation Headlines in 2015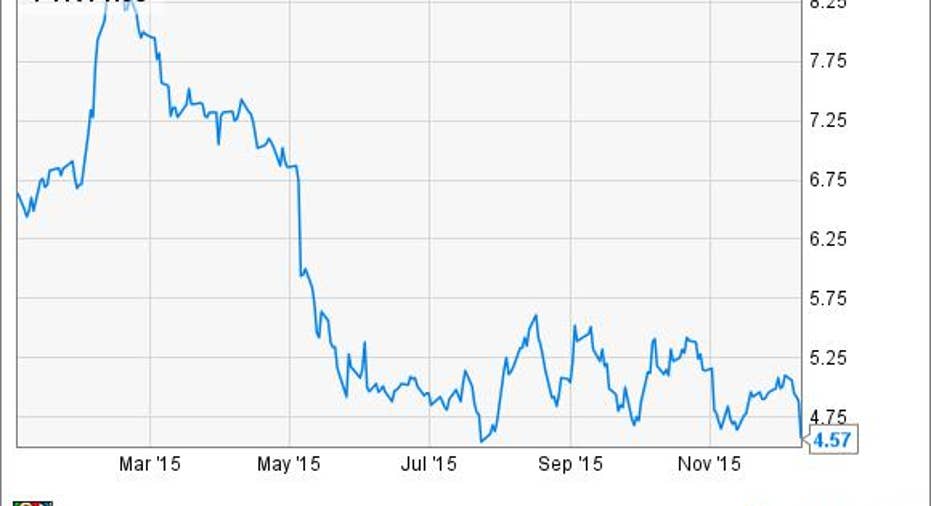 In many ways, 2015 was supposed to be the year Frontier Communications became a bigger player in pay television and broadband.
That, however, did not happen, and the past year was a frustrating one for the company and its investors. Frontier stock closed at a high for the year of $8.42 on Feb. 17 before beginning a mostly steady drop to sit at $4.57 as of its close on Dec. 11, which is near its low for the year.
The seeds of the company's 2015 problems actually were planted a little bit before the year started. Frontier's problems began with the trouble it had integrating its $2 billion purchase of assets from AT&T . That deal was supposed to be the beginning of great things for the brand, but things did not go as planned.
After a somewhat promising start to the year, Frontier stock fell and stayed down. Source: YCharts.com.
What happened?Frontier closed its deal to buy AT&T's wireline business in its home state of Connecticut in late October 2014. That deal gave Frontier approximately 415,000 data, 900,000 voice, and 180,000 video residential connections in the state along with AT&T's local business connections and existing carrier wholesale relationships, according to a press release.
It was a deal that gave the company not only the new customers it paid for, but also access to grow its audience in the state. That still might happen, but it did not take place in 2015 because of how the company closed its 2014. In some ways, it was a literal headline in The Hartford Courant in December, 2014 "What Went Wrong When Frontier Bought Out AT&T?" that set the tone for the company's poor 2015.
That story detailed the massive amount of consumer complaints Frontier generated in the brief, just-over-a-month period it had owned the former AT&T assets. In that time, CT's Public Utilities Regulatory Authority received more quality-of-service complaints about Frontier (124) than the combined totals this year of every cable provider in the state, according to the paper.
And, while it can be argued that by the end of 2015, Frontier finally had its Connecticut operation back on track, its botched 2014 start clearly fed its poor results this past year.
Growth was tinyOne of the expectations when Frontier bought the AT&T assets was that it would lead to subscriber growth. That simply did not happen.
In its second quarter, which covered the period ending June 30, the company reported a net loss of 0.6% of its residential customers after posting a 0.4% loss in the first quarter. Frontier also lost 0.6% of its business customers in Q2, following a 1.2% drop in Q1. It did manage to add broadband customers -- 29,200 in Q2 and 17,100 in Q1 -- but the numbers across the board were disappointing.
Q3 was not any better. Frontier lost another 0.9% of its residential subscriber base and 1.7% of its business customers, according to its earnings release. The company did add another 27,220 broadband customers, but that was not enough to counteract its losses.
It's all about the numbersThe recurring headline for Frontier all year long was that its stock price fell because the company has so far proven unable to grow its subscriber base despite adding a major new territory in Connecticut.There is, however hope for the future as the company has perhaps stabilized in Connecticut, and it has received the final regulatory approval it needed to add another major set of properties.
In February, Frontier made a deal to acquire Verizon's wireline operations that provide services to residential, commercial, and wholesale customers in California, Florida, and Texas, for $10.54 billion in cash. Upon close of the deal, which is now expected to happen in March 2016, Frontier will add roughly 3.7 million voice connections, 2.2 million broadband connections, and 1.2 million FiOSvideo connections.
Given what the company has learned from its mistakes in Connecticut, that deal could be the one that sets Frontier on a path toward growth. In 2015, the short-term headlines were largely negative for Frontier, but its latest purchase may make its lousy year an anomaly.
The article The Worst Frontier Communications Corporation Headlines in 2015 originally appeared on Fool.com.
Daniel Kline has no position in any stocks mentioned. He is a recent and relatively happy Frontier customer. The Motley Fool recommends Verizon Communications. Try any of our Foolish newsletter services free for 30 days. We Fools may not all hold the same opinions, but we all believe that considering a diverse range of insights makes us better investors. The Motley Fool has a disclosure policy.
Copyright 1995 - 2015 The Motley Fool, LLC. All rights reserved. The Motley Fool has a disclosure policy.