The Worst FedEx Corporation Headlines in 2015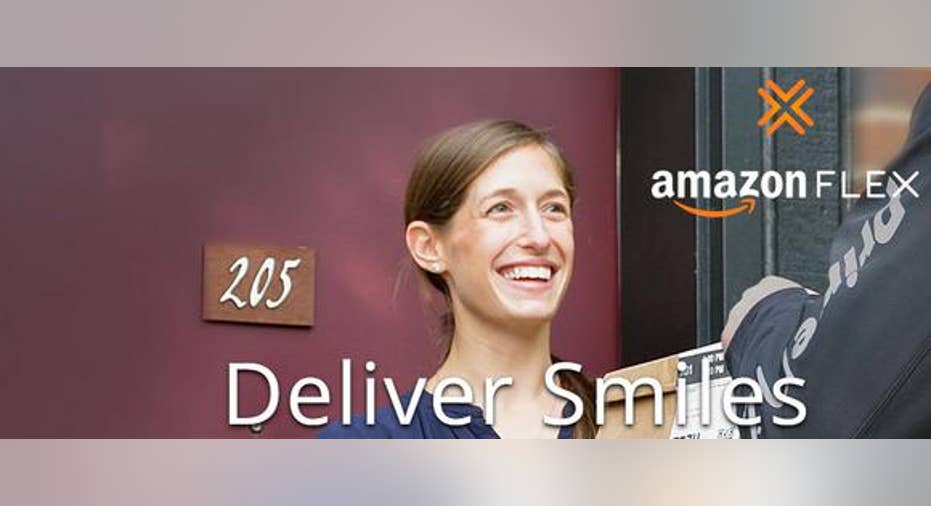 FedEx Corporation underperformed and underwhelmed investors in 2015. While the company made some smart moves, FedEx enjoyed its fair share of less-than-positive headlines. Here are three of the corporation's worst moments this year.
1. Disruption destruction?
Source: Amazon.com
FedEx Corporation often plays second logistics fiddle to United Parcel Service, . In the delivery business, scale makes all the difference. Customers want worldwide shipping at the cheapest possible price -- something that becomes easier alongside economies of scale.
But as we've seen with the taxi business, scale is no match for the sharing economy and disruptors like Uber and Lyft. To cut shipping costs, online retailers have increasingly been experimenting with a variety of FedEx Corporation, United Parcel Service, and USPS alternatives. Earlier this year, Amazon.com announced "Flex," an app-based platform that allows ordinary drivers to deliver Amazon.com packages. If you're at least 21 years old, have a driver's license, and can pass a background check, you can sign up for Flex and earn $18 to $25 an hour in 14 cities (soon 17) delivering Amazon Prime Now (2-hour delivery) packages.
2. Invisible e-commerce?FedEx found its way to fame via the strategic vision of founder and current Chairman, President and CEO Fred Smith. At the time of the company's beginnings in 1971, Smith had already envisioned overnight delivery -- an unfathomable undertaking for the time. Today, its express business continues to pull in the most revenue and operating income of any segment -- $6.6 billion and $622 million, respectively, at last quarterly count.
But FedEx's most profitable segment might also be its most fragile. The e-commerce explosion has been a major boon to FedEx Corporation sales, but online retailers like Amazon.com are becoming increasingly fed up with the shipping status quo. In Q3 2015 Amazon.com spent just over $2.7 billion to deliver its items into the hands of its customers.
The aforementioned Flex app may be one way around FedEx, but Amazon.com is taking more pragmatic steps to reduce or cut out its dependence on FedEx. Most importantly, it's built out its fulfillment center infrastructure to make its own "Point A" business much closer to "Point B" customers. Currently, the online retailer has centers in 28 states. That means delivery corporations are looped in for fewer transcontinental express shipments than before, cutting out a sizable chunk of reliable revenue.
Source: Amazon.com; states with fulfillment centers shaded dark grey
3. Quarterly crunchFedEx recognizes the need to adapt its business model. In many ways, 2015 has been a rebuild year as the corporation concentrated on strategic acquisitions, doubled down on e-commerce-related systems and infrastructure, and dived headfirst into a cost-cutting profit improvement program.
But even with subdued expectations, its earnings reports have disappointed investors for three of the past five quarters. While FedEx pulled through last week with $2.58 EPS (earnings-per-share), $0.07 above expectations, it kept its fiscal 2016 EPS guidance at the same downgraded range it noted in its previous quarterly report.
Conservative estimates aren't necessarily a bad thing. Given its recent disappointing results, FedEx Corporation may be right in its attempt to recalibrate analyst expectations. But its most recent reports all point to larger issues that every investor needs to be aware of: an unsteady U.S. economy, weaker global trade, and higher operating costs for some segments.
Looking AheadBad headlines can be symptoms of a larger disease. But in FedEx's case, it's plowing ahead with new strategies to combat many of 2015's worst moments. Investors will need to keep a close watch on FedEx Corporation's coming quarter and year to see whether those strategies will ultimately pay off for their profits and your portfolio. If not, 2015's worst headlines may pale in comparison to 2016's.
The article The Worst FedEx Corporation Headlines in 2015 originally appeared on Fool.com.
Justin Loiseau owns shares of Amazon.com and United Parcel Service and loves getting packages in the mail. The Motley Fool owns shares of and recommends Amazon.com. The Motley Fool recommends FedEx and United Parcel Service. Try any of our Foolish newsletter services free for 30 days. We Fools may not all hold the same opinions, but we all believe that considering a diverse range of insights makes us better investors. The Motley Fool has a disclosure policy.
Copyright 1995 - 2015 The Motley Fool, LLC. All rights reserved. The Motley Fool has a disclosure policy.