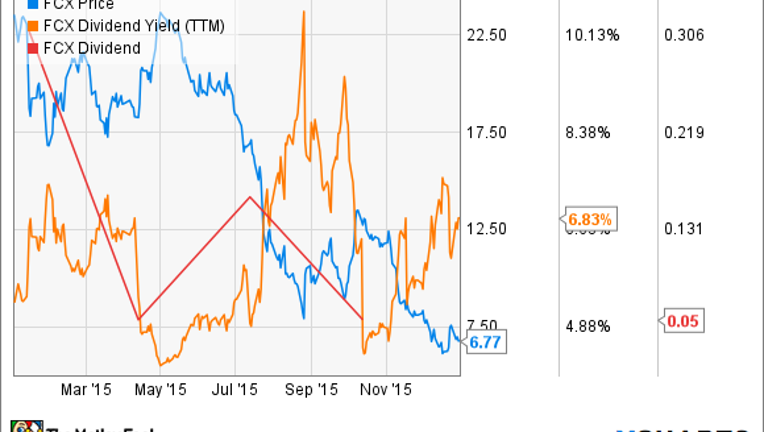 John D. Rockefeller, the first billionaire ever, famously said: "Do you know the only thing that gives me pleasure? It's to see my dividends coming in." But while Rockefeller's portfolio helped make him the richest person on Earth, not all dividend stocks are created equal. To learn more, let's look back at two of the worst dividend stocks of 2015 and see whether there are any Rockefeller lessons for 2016.
Which were the worst?To find the worst offenders, we first have to limit our search to reasonable dividend stock investments -- companies with a share price over $5 (to avoid penny stocks), a market capitalization over $300 million (to avoid erratic trading), and a dividend yield over 3% (for comparison, the current average S&P 500 dividend yield is 2.1%). And now, the pathetic pair:
Freeport-McMoRan
For every $100 of Freeport-McMoRan stock investors held on Jan. 1, 2015, they ended the year with just $30 to their name. It's a story that mimics a similar decline in Freeport-McMoRan's own assets. If Freeport-McMoRan were only known as the world's second-largest copper producer, things would be bad enough -- copper prices dropped 18% in 2015. But the corporation also made an ill-timed $20 billion investment in oil and gas in 2013 -- an investment that fellow Fool Matthew DiLallo believes may now be worth just $3 billion,
Source: Freeport-McMoRan.
On the dividend front, Freeport-McMoRan pulled the rip cord and, after reducing its dividend throughout the year, suspended it entirely in December. The 6.9% yield is only a ghost of its dividend past. Instead, Freeport-McMoRan will save itself $240 million per year to "further enhance FCX's liquidity during this period of weak market conditions."
To top off an already erratic year, the company's dividend wasn't the only disappearing act. On Dec. 28, Freeport-McMoran announced that co-founder, former CEO, and Chairman James "Jim Bob" Moffett will step down from his position to "become a consultant" to the board. Whether Moffett was a fall guy or an actual failure remains to be seen, but it's been no secret that activist investor Carl Icahn, alongside affiliated entities such as Icahn Partners , has been pushing for change. With two seats on the board and the nerve-wracking title of single-largest shareholder, Icahn and Icahn Partners are hoping 2016 looks a lot better than 2015 did.
Teekay Corporation
Teekay Corporation is an oil and gas shipping company. With about 7,000 employees and a fleet of around 240 tankers to its name, the sharp decline in oil and gas prices over 2015 has left investors wondering what those assets are worth.
For most of 2015, Teekay's stock price teetered lower alongside the oil and gas industry. In some ways, the company even enjoys some protection from day-to-day fluctuations. In the same way Levi Strauss made a fortune off selling blue jeans to gold-rush junkies, Teekay Corporation offers a service to those are directly exposed to plummeting energy prices.
Source: Teekay Corporation.
But with no end in sight for the oil and gas industry, Teekay Corporation announced a massive 90% dividend cut in December meant to conserve capital. With a 75% dividend increase earlier that year and a solid yield up until that point, the move spooked investors. Shareholders abandoned ship, and Teekay's stock price sank 65% in December alone. With a year-end dividend yield of 18%, Teekay is far from a steady dividend stock.
Investor takeawayThere are two major takeaways from this tale of two of the worst dividend stocks of 2015. First, dividend stock investors need to focus on more than dividends. For better or worse, a corporation can change its entire distribution strategy from one quarter to the next, doling out every last bit of its earnings or slamming the dividend door in investors' faces. Freeport-McMoRan and Teekay Corporation both delivered devastating blows to investors only interested in dividends. But for value or turnaround investors such as Carl Icahn, 2015 may have ended on a surprisingly positive note.
Second, rather than focus only on dividends, investors need to assess the overall fundamentals of a company. Examining a dividend stock's corporate management, its financial books, and its own asset diversification is a simple step to look beyond stock market numbers. For dividend stock investors who counterbalanced their Freeport-McMoRan and Teekay Corporation stocks with non-energy investments, the demise of these dividends didn't hurt as much as for "all-in" energy portfolio investors.
Freeport-McMoRan and Teekay Corporation may end up being the best dividend stocks of 2016. But for now, investors should take these hard-learned lessons to heart and keep a careful eye on their dividend stock portfolios.
The article The Worst Dividend Stocks of 2015 originally appeared on Fool.com.
Justin Loiseau has no position in any stocks mentioned and thankfully still gets pleasure out of other things besides seeing his dividends come in. The Motley Fool owns shares of Freeport-McMoRan Copper & Gold,. Try any of our Foolish newsletter services free for 30 days. We Fools may not all hold the same opinions, but we all believe that considering a diverse range of insights makes us better investors. The Motley Fool has a disclosure policy.
Copyright 1995 - 2016 The Motley Fool, LLC. All rights reserved. The Motley Fool has a disclosure policy.