The Worst Beer Stocks of 2016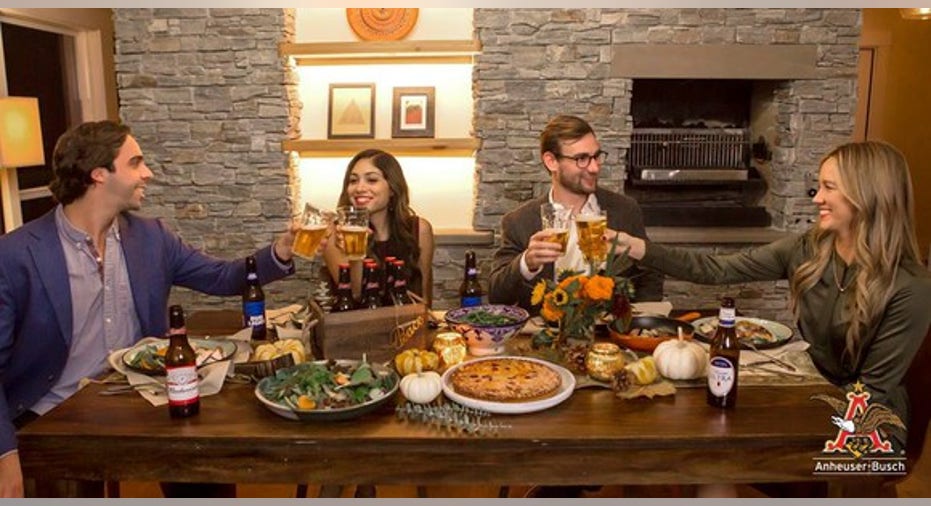 There wasn't much worth celebrating this year for the biggest brewers, even as the smallest craft brewers seemed to hold their own. Image source: Anheuser-Busch InBev.
This year is turning out for beer stocks pretty much like the industry itself: The biggest brewers are falling while the smallest are growing. Craft Brew Alliance (NASDAQ: BREW), the owner of popular craft-beer brands such as Kona, Redhook, and Widmer Brothers, is enjoying a banner year, with its stock soaring 86%, while the biggest brewer of them all, Anheuser-Busch InBev (NYSE: BUD), is down almost 15% year to date.
That mirrors much of what's occurring in the broader beer market, where overall sales are flat or falling while those of the smallest craft brewers continue rising by double-digit rates. Still, considering A-B InBev became the macro-est of all breweries after buying SABMiller, which gave it a 45% share of the U.S. beer market and 28% of the global market,as well as making a dozen or so craft-brewery acquisitions over the past year or so, how did it become the worst beer stock of 2016?
How Anheuser-Busch failed where others succeeded
The brewer's malaise really is a tale of the industry. As mass-produced beer continues falling out of favor with drinkers who are looking for true craft flavor, Anheuser-Busch volume production is dropping, down 1.4% globally over the first nine months of 2016 to 340.8 million hectoliters (about 9 billion gallons or about 290 million barrels), and off 1.1% in North America. In the third quarter, however, the decline accelerated, dropping 2.4% year over year.
It may be surprising, then, that Boston Beer (NYSE: SAM) has similarly suffered in 2016, as depletions -- sales to distributors and retailers, an industry-accepted proxy for consumer demand -- have declined sharply this year, also accelerating in the third quarter. It may be considered a craft beer like Craft Brew Alliance, but as the largest in the niche, second only to Yuengling yet still considered the face of the industry because of the advocacy work of founder Jim Koch on behalf of small brewers, Boston Beer's flagship Samuel Adams brand is no longer viewed as a small batch beer by those who matter most: drinkers.
Shares of Boston Beer are down 14.3%, almost as much as Anheuser-Busch InBev.
Image source: Getty Images.
Why competitors succeeded in 2016
So if big brewers are out of fashion, why is Molson Coors (NYSE: TAP) winning? Its stock is up 6% so far this year, and that's because it was the big winner in A-B's acquisition of Miller. Although its sales, volumes, and adjusted profits have all been lower, just like Anheuser-Busch, it now has a clear path to growth in North America. The big beer merger wasn't about the U.S. markets, but rather international ones, particularly Africa and Latin America. By acquiring Miller, Anheuser-Busch now has a presence in Africa where it had none before, and it can now begin shoring up its flagging business in Latin America by adding Miller's beers to its own.
And A-B had to agree to sell to Molson its stake in the MillerCoors joint venture. Although the JV's own sales to retailers and wholesalers were down last quarter, both Miller Lite and Coors Light gained market share in the period, the eighth straight quarter Coors Light has done so.
Equally important is the cross-selling that the acquisition will allow Molson Coors to perform north of the border. Canada can now start receiving Miller products that were previously off limits, while Canadian beers, particularly its craft beers, will get more play here in the bigger U.S. market.
Image source: Miller Genuine Draft.
What to look for in 2017
Keep on eye on the dichotomy of the beer market. Craft-beer growth is slowing, inclusive of brands such as Samuel Adams, New Belgium Brewing, and others. It will be important to see if there really are just too many craft beers to choose from these days, an excess of choice that dilutes everyone, or if it's just a symptom of bigness.
As has been noted elsewhere, there are more craft breweries in operation in the U.S. today than at any time before in the country's history, and more still are planning to come online. There is just so much shelf space available to beer, craft or otherwise, in the stores, and only so many taps that bars and restaurants can install. The industry may be butting up against a ceiling now.
Even so, watch Anheuser-Busch's moves in the space. Although it agreed to give the Justice Department prior approval of any acquisition it makes to get its Miller merger done, that hasn't stopped it from announcing more deals. First, it said it was buying the biggest distributors to the home-brew market, and then it announced it was buying yet another craft brewer, Texas-based Karbach Brewing.
Ultimately, it will be beer drinker preferences for flavor and style that determine which way the beer market heads in 2017, just as they did in 2016.
10 stocks we like better than Anheuser-Busch InBev NV When investing geniuses David and Tom Gardner have a stock tip, it can pay to listen. After all, the newsletter they have run for over a decade, Motley Fool Stock Advisor, has tripled the market.*
David and Tom just revealed what they believe are the 10 best stocks for investors to buy right now... and Anheuser-Busch InBev NV wasn't one of them! That's right -- they think these 10 stocks are even better buys.
Click here to learn about these picks!
*Stock Advisor returns as of November 7, 2016
Rich Duprey has no position in any stocks mentioned. The Motley Fool owns shares of and recommends Anheuser-Busch InBev NV and Boston Beer. Try any of our Foolish newsletter services free for 30 days. We Fools may not all hold the same opinions, but we all believe that considering a diverse range of insights makes us better investors. The Motley Fool has a disclosure policy.