The Worst Alliance Resource Partners LP Headlines in 2015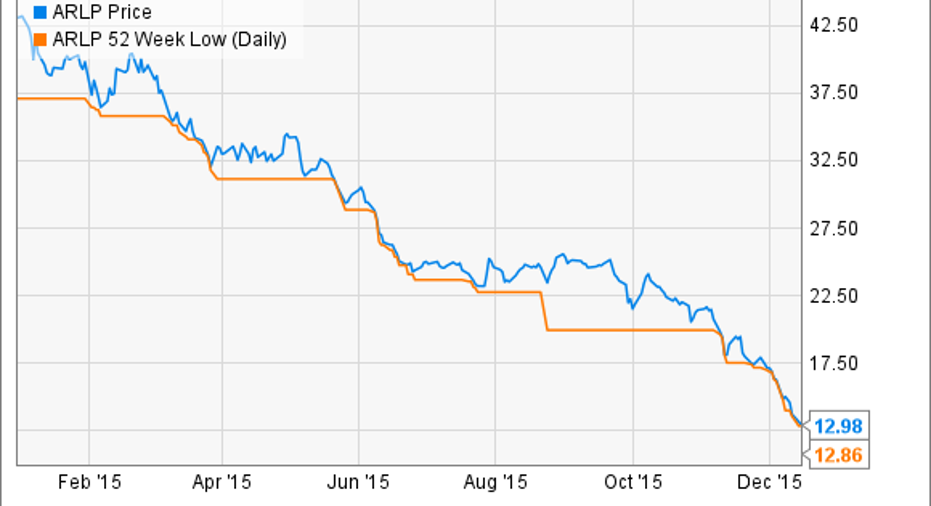 Alliance Resource Partners had been able to outrun the coal industry downturn for so long that it seemed unitholders would miss out on all the pain hitting the miner's competitors. But that started to change around the middle of 2014. Which is why the worst headlines in 2015 are more a cumulative thing than a series of discrete events.
Growing at others' expenseThe coal market has been in the doldrums for a number of years, hit by a dirty image and low natural gas prices, the fuel's prime competitor for electricity generation. For example, Peabody Energy saw its top line peak in 2012, with drops each year since. For reference, 2011 was the last year the company turned a profit. It's been bad at Peabody, but this miner has actually held up better than some peers, which have succumbed to bankruptcy.
Alliance, on the other hand, has seen its sales head higher each year and has remained profitable throughout the downturn. The difference? Alliance's business is focused on the Illinois Basin, a region that's been taking market share from other coal areas. So Alliance has been able to increase the amount of coal it mines while competitors have been forced to scale back their operations.
Doing better by selling more coal. Source: Alliance Resource Partners.
No wonder Alliance held up better than peers for so long. Only in late 2014 investors started to catch on that even Alliance couldn't outrun falling coal prices forever. And the shares started to tank. That's the setup, which was vindicated when CEO Joseph Craft basically explained during the third quarter of 2015 that Alliance would start pulling back on its coal production because of the difficult market.
A daily delugeBut it's the change in investor perception in 2014 that's really behind what can only be considered a deluge of bad news. That news all revolved around the same topic: new 52-week lows.
The bad headlines started early in the year, with the shares hitting a 52 week low in February. There have been brief respites along the way, but the trend has been all downhill this year. The partnership's 52-week lows have gone from around $37 a unit at the start of the year to around $13 more recently. That's a massive fall for a miner that had, for so long, been able to buck the industry downtrend.
But there wasn't one headline. It was headline after headline. New 52-week low after new 52-week low. It wasn't like a gunshot for unitholders; it was like a thousand paper cuts. Neither one is good, but it's hard to stick around when every day brings another piece of bad news.
The capstoneAnd then there was this: "Alliance Resource Partners, L.P. Reports Quarterly Financial and Operating Results; Declares Quarterly Cash Distribution of $0.675 Per Unit." At first glance there's nothing that bad in this corporate news release -- it's pretty standard fare -- unless you know that this was the first time since mid-2008 that the quarterly distribution wasn't increased.
A thousand paper cuts and then a slap in the face that says, "Yes, it really is that bad." Ouch. But to be fair, Alliance was able to cover that distribution by 1.66 times. That gives it a lot of wiggle room to maintain the current distribution even if it can't raise it. And frankly, even if a cut does come along, the yield is a massive 20% or so. The market is, basically, pricing in the worst.
You can't blame Mr. Market for having a negative view of Alliance after the deluge of bad headlines, but that doesn't mean it's a bad partnership. In fact, Alliance is still the cleanest shirt in a dirty industry and, for contrarian investors, worth a deeper dive. But only if you can look past all the bad news.
The article The Worst Alliance Resource Partners LP Headlines in 2015 originally appeared on Fool.com.
Reuben Brewer has no position in any stocks mentioned. The Motley Fool recommends Alliance Resource Partners. Try any of our Foolish newsletter services free for 30 days. We Fools may not all hold the same opinions, but we all believe that considering a diverse range of insights makes us better investors. The Motley Fool has a disclosure policy.
Copyright 1995 - 2015 The Motley Fool, LLC. All rights reserved. The Motley Fool has a disclosure policy.