The Worst 3D Printing Stocks of 2015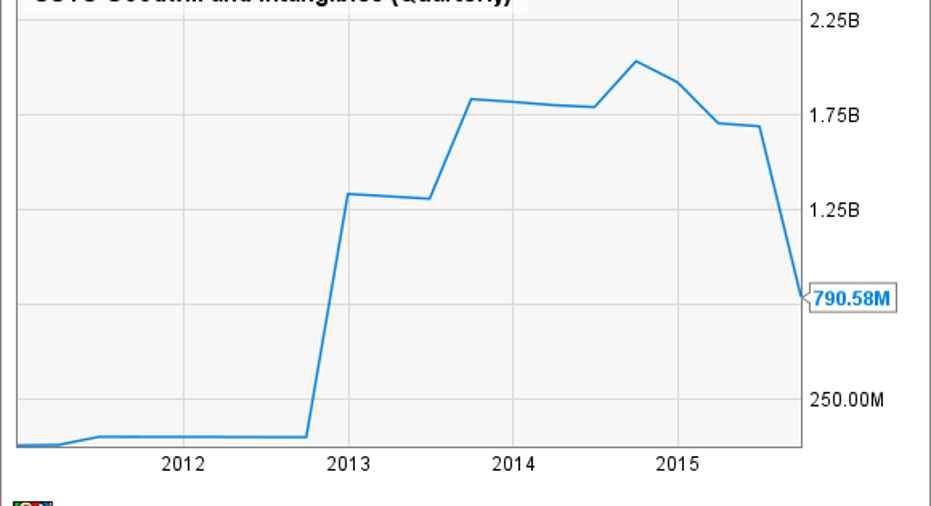 Following 2014 weak performance, 2015 marked the second consecutive down year for 3D printing stocks. In 2015, the sector experienced a series a missteps as the industry's growth slowed, which led investors to turn more sour on its prospects and the technology's long-term potential. All but one pure-play 3D printing stock suffered a down year, with the worst being 3D Systems and Stratasys -- the two largest companies by revenue. It hasn't been pretty:
The year the industry took pauseThe growth of the 3D printing industry in recent years has been stunning, expanding in excess of 30% per year. In 2014, the 3D printing industry generated about $4.1 billion in worldwide revenue, representing an annual increase of 35.2%. Wohlers Report 2015, a leading 3D printing insights report, believes the industry will continue this trajectory, growing over 31% per year through 2020 to eventually generate more than $21 billion in annual revenue.
However, in 2015, 3D Systems and Stratasys reported a notable slowdown in spending across their customer bases, which raised major concerns about whether the industry could continue growing at such a high growth rate. The slowdown most affected 3D Systems' and Stratasys' 3D printer sales, which raised further questions about the long-term merit of their razor-and-blade models. After all, 3D printer sales feed into the repeated sales of high-margin consumables over a printer's lifetime.
Data sources: 3D Systems and Stratasys.
Stratasys' working theory is that slowdown was caused by the rapid expansion the industry experienced in 2013 and 2014, which created an oversupply of capacity in the marketplace and prompted customers to slow their purchases this year. As excess capacity is utilized, Stratasys' assumption is that customers will return to the marketplace with more vigor.
Currently, Stratasys and 3D Systems remain unclear when demand will pick back up and have both suspended issuing guidance until there's more visibility.
Internal struggles3D Systems and Stratasys also faced internal struggles in 2015. 3D Systems experienced issues around product quality and efficiency, while Stratasysdealt with performance issues related to its MakerBot unit and assets connected to its 2012 merger with Objet.
For 3D Systems, the issues were driven by the myriad problems brought on by its hyper-aggressive acquisition strategy, which has essentially diverted management's focus away from effectively running its operations. The company took what's likely its first of many corrective measures on Monday, announcing that it will be exiting the consumer 3D printing business, discontinuing its entry-level Cube 3D printer, and shutting down its consumer 3D printing web presence. The exit is anticipated to hurt its revenue by less than 2% and will result in a $19 million to $25 million inventory loss.
Although shares of 3D Systems initially sold off on this news, it's an encouraging sign that management is willing to trim the fat in areas where the opportunity hasn't proven to substantial enough to drive meaningful results.
Meanwhile, Stratasys' performance woes resulted in significant write downs nearly 60% -- of its goodwill and intangible assets, a clear indication that management misjudged the growth it thought it could it produce to justify the high premiums it paid for the MakerBot acquisition and merger with Objet. It also implies that management isn't very effective at allocating capital in general.
SSYS Goodwill and Intangibles (Quarterly) data by YCharts.
Expect more restructuringLooking back at 2015, it's clear that a combination of poor execution and an industry slowdown took their toll on shares of 3D Systems and Stratasys, which in turn, hurt investor confidence. Undoubtedly, both management teams will have to work hard to restore investor confidence, and are currently in the process of conducting a major review of their respective businesses. In the year ahead, investors should expect to see more restructuring efforts -- and hopefully improved results -- from these fallen 3D printing giants.
The article The Worst 3D Printing Stocks of 2015 originally appeared on Fool.com.
Steve Heller owns shares of 3D Systems, ExOne, and Arcam. The Motley Fool recommends 3D Systems and Stratasys. Try any of our Foolish newsletter services free for 30 days. We Fools may not all hold the same opinions, but we all believe that considering a diverse range of insights makes us better investors. The Motley Fool has a disclosure policy.
Copyright 1995 - 2015 The Motley Fool, LLC. All rights reserved. The Motley Fool has a disclosure policy.