The Weird Twist in Macau's 4-Month Winning Streak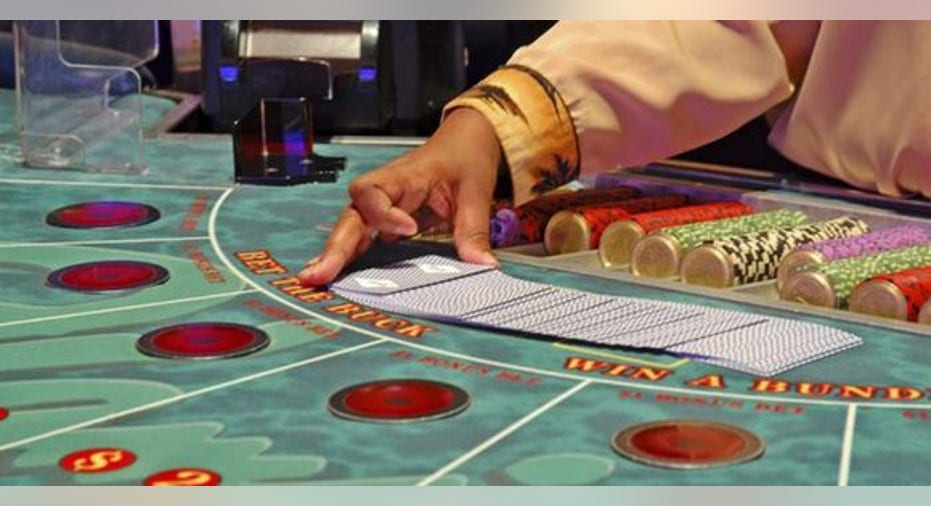 The high rollers have made a comeback to Macau's casinos, which may not be the good news it would appear to be. Image source: Getty Images.
Despite posting its fourth consecutive monthly increase in gaming revenues, Macau casinos are not beating analyst expectations, as anticipated. The hot streak has caught people by surprise because of the way it was achieved, and it has implications that ensure the future remains uncertain.
The big upset in November came as the Chinese enclave's gaming regulator said monthly gross revenues rose more than 14% to 18.8 billion patacas, the local currency. That's the strongest year-over-year increase since February 2014, when gross revenues surged 40% and marked the high point in what would eventually become a 26-month rout.
Data source: MacauGaming Inspection and Coordination Bureau.
It also comes as the casinos themselves largely beat earnings expectations. Both Las Vegas Sands (NYSE: LVS), which generated 57% of its third-quarter revenue from its Macau operations and opened the new Parisian resort in September, and Melco Crown Entertainment (NASDAQ: MPEL)posted better-than-expected earnings and revenues.Wynn Resorts (NASDAQ: WYNN) lagged on both countsdespite opening the new Palace in August.
Only a matter of time
Analysts have been anticipating that the enclave, the only place in China where gambling is legal, would mount a comeback. A crackdown on corruption by Beijing had driven VIP gamblers from the peninsula as tightened controls on money flowing into the district made them wary. Also, Macau was under orders to transform itself from a destination that relied heavily on high rollers for profit -- at Macau's peak they accounted for 87% of total gaming revenues -- to one that would be something of a tourist destination, similar to Las Vegas.
The Palace, the Parisian, Melco's Studio City, andGalaxy Entertainment's expansion project were geared more toward mass-market audiences, offering them luxury shopping opportunities, non-gaming entertainment, and even theme-park attractions -- this appears to be paying off. The first uptick in gaming revenues took place immediately after Wynn opened the Palace, followed by the Parisian, and then the National Golden Day holiday week that brought millions of new visitors to Macau.
Gaming revenues have been growing ever since, culminating in the huge gains in November. Except for one thing. The increases aren't being driven by the mass-market audience, as expected, but rather by the return of the VIP gambler. An estimated 2.7 million tourists visited Macau last month, which helped drive the story that the mass market is reviving the district. However, a Deutsche Bank analyst believes VIP gross gaming revenues grew 20% for the month.
The executive director of Macau's largest casino operator,SJM Holdings, also said she saw an improvement in the VIP market, even though there was no "special uptick" in her own operation's VIP business.
Image source: Caesars Entertainment.
A wave of high rollers
It's difficult to get a sense of where the VIP market is at any point in time since Macau's gaming bureau only publishes such data on a quarterly basis, though analysts believe Macau is beginning to see the high rollers returning to the enclave. This is despite the continued corruption crackdown and the recent arrests of 18 employees of Australia's Crown Resorts for improperly promoting their casinos.
While gambling is legal in Macau, casino operators are not allowed to mention it in their marketing materials to the Chinese mainland, despite relying on this market for the majority of their revenues. Although it's still uncertain what Crown's employees actually did that ran afoul of the law, it's believed they were promoting gambling at the resort operator's other properties. Macau operators are well-versed in the intricacies of China's regulations, and they only promote non-gaming activities to entice customers to their resorts. The Australian executives may not have been so nuanced.
A recovery still waiting on certainty
With VIP gaming leading the way back, there are still some risks for the casinos. Despite the big numbers, VIPs revenues are viewed as more volatile and less profitable, and therefore of lower quality. Mass-market audiences -- who make the most of Macau's non-gaming entertainment -- carry better margins and are more stable. While the growth of that market is encouraging, higher VIP numbers may continue to make the recovery less certain than it otherwise would have been.
Macau's return is much more believable now than it has been at any time over the past two-plus years, but it's still not out of the woods, and jittery VIPs could still upset the plans of the region's casino operators.
10 stocks we like better than Wynn Resorts When investing geniuses David and Tom Gardner have a stock tip, it can pay to listen. After all, the newsletter they have run for over a decade, Motley Fool Stock Advisor, has tripled the market.*
David and Tom just revealed what they believe are the 10 best stocks for investors to buy right now...and Wynn Resorts wasn't one of them! That's right -- they think these 10 stocks are even better buys.
Click here to learn about these picks!
*Stock Advisor returns as of Nov. 7, 2016.
Rich Duprey has no position in any stocks mentioned. The Motley Fool has no position in any of the stocks mentioned. Try any of our Foolish newsletter services free for 30 days. We Fools may not all hold the same opinions, but we all believe that considering a diverse range of insights makes us better investors. The Motley Fool has a disclosure policy.