The Weak Oil Market Continues to Batter MRC Global Inc.'s Earnings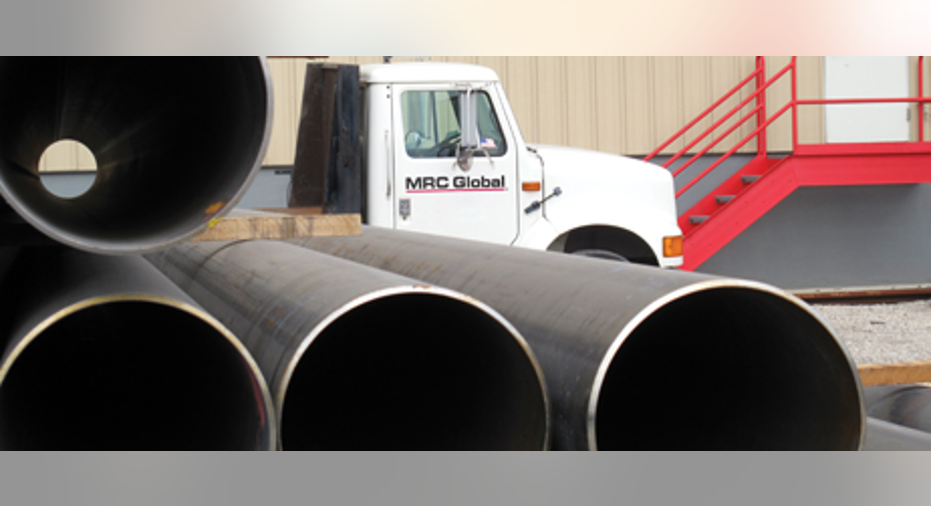 Image source: MRC Global.
The oil market went from bad to worse during the first quarter, after the price of crude dropped below $30 a barrel and stayed there most of the quarter. That had a big impact on oilfield activity levels and the need for the equipment that MRC Global distributes to the sector, causing a big slide in its financial results during the quarter.
MRC Global results: The raw numbers
| Metric | Q1 2016 Actuals | Q1 2015 Actuals | Growth (YOY) |
| --- | --- | --- | --- |
| Revenue | $783 million | $1.3 billion | (39%) |
| Adjusted net income | ($14.0 million) | $29 million | N/M |
| Adjusted EPS | ($0.14) | $0.28 | N/M |
Data source: MRC Global.
What happened with MRC Global this quarter?MRC Global was hit hard by the oil market downturn this quarter.
MRC Global's revenue dropped 19% from just the prior quarter, pushing its year-over-year decline to 39%. Sales were awful no matter how they were categorized.
Sales by segment were led by a 38% year-over-year decline in revenue in the U.S., which slumped to $606 million. That was followed by a 46% decline in sales in Canada, which fell to just $64 million in part because of a $7 million negative impact from the weaker Canadian dollar. Finally, International sales dropped 44% to $113 million, with foreign currencies hitting sales overseas by $8 million.
Meanwhile, looking at sales by sector also showed that results were weak across the board. Upstream sales were hardest hit, plunging 58% to $231 million, though that was partially due to the sale of the company's U.S. oil country tubular goods product line. If adjusted for that divestiture, upstream revenue would have been down only 39%. Meanwhile, midstream sales slumped 27% to $278 million after sales to transmission customers plunged 44%. Finally, downstream sales dropped 25% to $274 million because of lower project activity.
Profitability plunged because of a combination of those weak sales and a highercost of sales resulting from the use of the last-in, first-out ("LIFO") method of inventory cost accounting.
That said, while the company reported an operating loss, its underlying business was profitable during the quarter. Adjusted EBITDA came in a $19 million, while cash flow from operations was $58 million. Both, however, were significantly less than the prior quarter.
What management had to sayCEO Andrew Lane, discussing the company's results, said:
The first quarter was quite challenging for the oilfield equipment space. National Oilwell Varco CEO Clay Williams said it best when he noted, "Oil prices and oilfield activity continued to plummet during the first quarter of 2016, causing our customers to cut spending to bare minimum levels." This bare-bones spending level is forcing National Oilwell Varco and MRC Global to intensely focus on keeping their costs in check to maintain a strong balance sheet so that both can get through the teeth of this down cycle.
Looking forward While we don't yet know how much longer this down cycle will last, National Oilwell Varco's CEO did remind investors that "better days lie ahead." That's simply because oil companies can't spend at their current rate forever and still meet global oil demand. This outlook thus provides hope that all the scrimping and saving that MRC Global is doing right now will pay off when conditions finally do improve in the future.
The article The Weak Oil Market Continues to Batter MRC Global Inc.'s Earnings originally appeared on Fool.com.
Matt DiLallo owns shares of National Oilwell Varco. The Motley Fool owns shares of and recommends National Oilwell Varco. The Motley Fool recommends MRC Global. Try any of our Foolish newsletter services free for 30 days. We Fools may not all hold the same opinions, but we all believe that considering a diverse range of insights makes us better investors. The Motley Fool has a disclosure policy.
Copyright 1995 - 2016 The Motley Fool, LLC. All rights reserved. The Motley Fool has a disclosure policy.