The Trade Desk Stock Climbs After Quarterly Results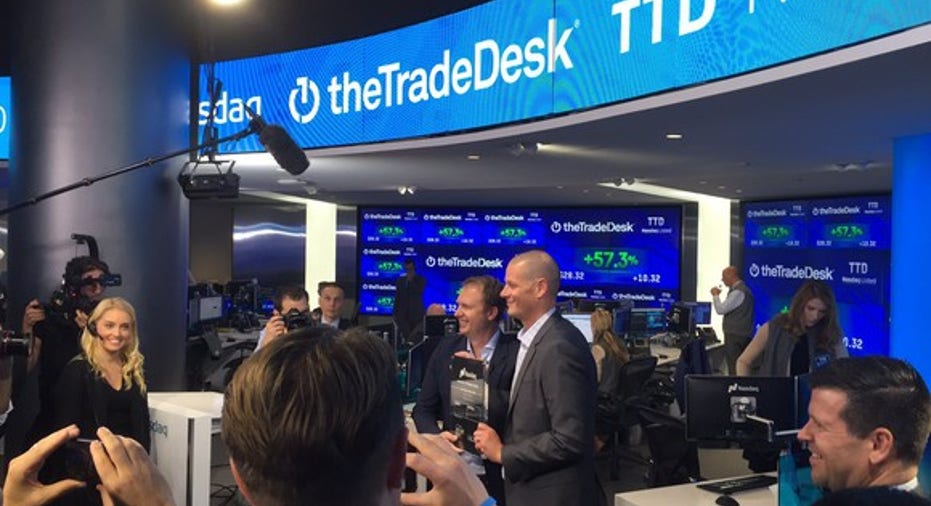 The machines are taking over Mad Men's turf, andThe Trade Desk (NASDAQ: TTD)investors are cashing in. Shares of the pioneer in programmatic advertising moved sharply higher in Thursday after-hours trading after posting blowout financial results.
Revenue clocked in at $53.4 million, 76% ahead of the prior year's first quarter. Adjusted earnings per share doubled to $0.18 a share. Back in February The Trade Desk was forecasting revenue of $43 million, a year-over-year growth of just 41%. It didn't put out a profit estimate, but it was targeting adjusted EBITDA to come in between a deficit of $2 million and a gain of $2 million. The Trade Desk wound up scoring $6.3 million in adjusted EBITDA.
Image source: The Trade Desk.
The medium is the message
The Trade Desk has been a market darling since going public at $18 in September. It has now surpassed expectations in all three of its quarterly reports since hitting the market.
Programmatic advertising -- where software chooses how marketing budgets are allocated -- is here to stay. Programmatic advertising is naturally expanding at a faster clip than traditional agency-based allocations, but The Trade Desk's 76% top-line surge shows that it's gaining market share even in its own niche.
The Trade Desk is making major headway in mobile, which now accounts for more than a third of the gross spend. Its mobile video business more than tripled for the quarter and its connected TV spots nearly tripled. Mobile in-app ad spend rose by nearly 150%.
We've seen year-over-year revenue growth of 84%, 70%, and now 76% through The Trade Desk's first three quarterly reports as a public company. Clients hopping on the platform tend to stick around, as the customer retention rate has clocked in north of 95% for 13 consecutive quarters.
The Big Data-fueled platform is naturally jacking up its guidance for all of 2017. It now sees $291 million in revenue, up from the $270 million it was projecting three months ago. Its adjusted EBITDA goal is being bumped from $72 million to $78 million.
The Trade Desk is also initiating guidance for the current quarter, targeting revenue of $67 million and adjusted EBITDA of $14.5 million. Bulls will argue that it's probably another conservative forecast. Late last year, it was eyeing $62 million in revenue during the seasonally potent fourth quarter, and it cranked out $72.4 million on the top line. We've now gone through back-to-back quarters where revenue comes in $10.4 million on top of its guidance. Whether The Trade Desk is intentionally lowballing its outlook or business just keeps improving, both scenarios are favorable.
10 stocks we like better than The Trade DeskWhen investing geniuses David and Tom Gardner have a stock tip, it can pay to listen. After all, the newsletter they have run for over a decade, Motley Fool Stock Advisor, has tripled the market.*
David and Tom just revealed what they believe are the 10 best stocks for investors to buy right now... and The Trade Desk wasn't one of them! That's right -- they think these 10 stocks are even better buys.
Click here to learn about these picks!
*Stock Advisor returns as of May 1, 2017
Rick Munarriz has no position in any stocks mentioned. The Motley Fool recommends The Trade Desk. The Motley Fool has a disclosure policy.