The Top 5 Best Performing Biotech Stocks of 2015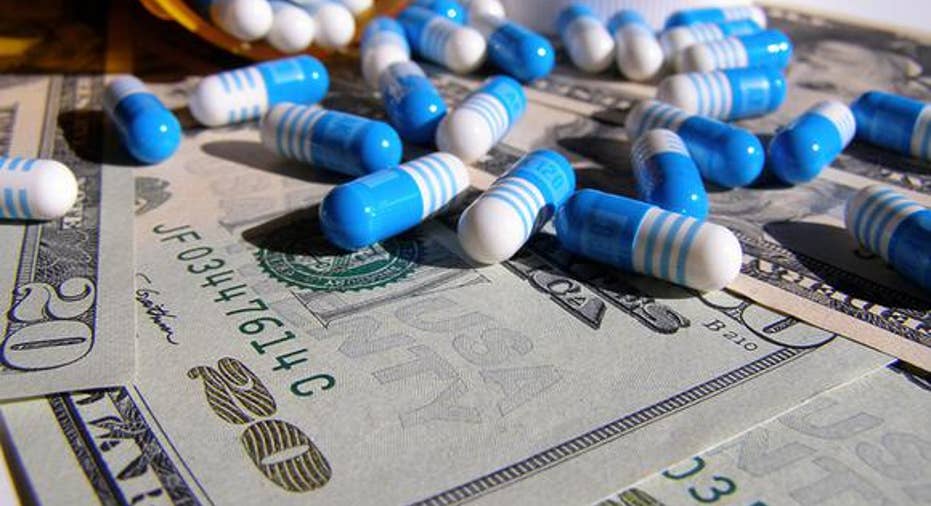 Source: Flickr user stockmonkeys.com
The 2015 return of 12.3% for the NASDAQ Biotechnology Index ETF makes the biotech sector one of the market's best-performing baskets this year, and the returns of the five best biotech stocks in the space were downright mind-boggling. All five of these biotech companies boast billion-dollar market caps, and each has seen its shares post eye-popping returns of nearly 200% or more this year. Let's find out why.
No. 1: Eagle Pharmaceuticals -- up 476%Investor enthusiasm for Eagle Pharmaceuticals stems from the licensing of its bendamustine rapid infusion product, Bendeka, toTeva Pharmaceutical earlier this year.
In that deal, Teva Pharmaceutical paid Eagle $30 million up front and agreed to pay up to $90 million in milestones and double-digit royalties on Bendeka sales. Teva Pharmaceutical licensed Bendeka to protect market share for its own bendamustine drug, Treanda, which posted sales of $767 million in 2014. Since the FDA approved Bendeka earlier this month, Eagle Pharmaceuticals expects that Teva Pharmaceuticals will begin transitioning current Treanda patients to Eagle Pharmaceuticals' formulation in 2016.
Investor interest in the company could also be tied to the FDA approval of the company's ready-to-use bivalirudin, a formulation ofThe Medicines Company's $600 million-per-year Angiomax. Eagle Pharmaceuticals filed for FDA approval of that drug last May, and the agency should make its decision in March.
Because Eagle Pharmaceuticals already markets one drug, Ryanodex, and it could soon have two new revenue streams flowing in, investor optimism could be warranted -- especially since industry watchers think the company could deliver EPS of $6.46 next year.
Source: Exelixis
No. 2: Exelixis -- up 292%A key failure of a late-stage drug for prostate cancer made Exelixis one of the worst-performing biotech stocks in 2014, but the company's fortunes -- and its stock price -- improved markedly in 2015.
Specifically, the company won FDA approval this past fall for Cotellic, a drug for the treatment of melanoma that is licensed to cancer goliath Roche Holdings. Cotellic is approved for use alongside Roche's Zelboraf, a $107 million-per-quarter therapy. Because the FDA has recently approved competing melanoma therapies marketed byBristol-Myers SquibbandMerck & Co., Roche would seem to have plenty of incentive to drive sales of Cotellic higher in the coming year in order to protect its market share. If so, then Exelixis will benefit, because it splits profit on Cotellic in the U.S. with Roche.
Exelixis also successfully completed its late-stage trial of a reformulation of Cometriq for use in kidney cancer this year. In phase 3, Cometriq reduced the risk of death by 42% versus Novartis' Afinitor, a commonly used kidney cancer drug with sales of $1.5 billion last year.
Earlier this month, the company announced that it has filed for FDA approval of this kidney cancer drug, and that should mean the FDA will make a decision on it in 2016. If the FDA approves Cometriq, then Exelixis could exit 2016 with two new revenue-generating products on the market. However, competition in these cancer indications is fierce, and it's uncertain whether these drugs will be a commercial success, so investors might want to approach this stock cautiously from here.
No. 3: Prothena Corporation plc -- up 236%Prothena Corp was spun out of Elan plc back in 2012 and it's working on monoclonal antibodies for the treatment of central nervous system diseases. This year, it delivered early-stage data on its Parkinson's disease drug, PRX-002, that has investors hoping it will mark a major advance in this tough-to-treat indication.
Although the cause of Parkinson's disease is a mystery, PRX-002 attempts to improve symptoms by reducing an unnatural buildup of alpha-synuclein, a protein associated with the disease. This spring, Prothena and co-developer Roche reported that patients receiving PRX-002 saw their alpha-synuclein levels fall by as much as 96%, which was statistically significant relative to placebo.
Roche has agreed to pay Prothena up to $555 million in milestones and 30% royalties on U.S. sales if PRX-002 delivers results in larger, later-stage trials that show it's both effective and safe. With a big patient population and a significant unmet need for new therapies, PRX-002's potential has investors dreaming of future blockbuster sales.
This is an intriguing story, but Prothena is an extremely high-risk stock. Historically, the vast majority of drugs fail in clinical trials, and there's no guarantee that this drug won't also end up on the cutting room floor.
Source: Anacor Pharmaceuticals,
No. 4: Anacor Pharmaceuticals -- up 248%Anacor Pharmaceuticals' toenail-fungus-fighting drug Kerydin won FDA approval in July 2014, and in Q3 sales of Kerydin, which is marketed by Novartis, totaled $40 million, resulting in $19.1 million in net profit for Anacor Pharmaceuticals. Overall, Anacor Pharmaceuticals' total profit-sharing and commercialization agreement revenue for Kerydin grew 18% from Q2 to Q3, suggesting that demand for the drug continues to grow.
However, Kerydin isn't the only reason why Anacor Pharmaceuticals is a top stock this year. In July, the company's shares soared 92% after management released trial results for crisaborole, a therapy for the treatment of mild to moderate eczema. In trials, crisaborole, a PDE-4 inhibiting topical ointment, met all its primary and secondary endpoints for statistical significance, and that has management planning to file for FDA approval in Q1 2016. If crisaborole's eventually approved, then it could become a top seller, because eczema affects as many as 31 million Americans. Based on the stock's performance, it would seem industry watchers agree.
No. 5: Heron Therapeutics -- up 179%Shares in Heron Therapeutics soared after Sustol, the company's lead drug candidate, delivered positive results in a phase 3 study.
Sustol is an extended-release formulation of existing anti-vomiting and anti-nausea medication used to treat chemotherapy patients, and it has already failed to win FDA approval twice. However, on Jan. 17 the FDA is expected to announce whether the third time is a charm for the company, and if Sustol gets the go-ahead, then Heron will compete in a billion-dollar indication that has some industry watchers thinking Sustol's peak sales could approach $400 million someday.
Adding to investor interest is Heron Therapeutics' next drug candidate, HTX-011, a phase 2 medication for post-surgical pain within the first 24 hours following abunionectomy.
Competitor Pacira Pharmaceuticals' successful trials of its own pain medication in bunionectomies and hemorrhoidectomiesled to use in other surgeries, and it's possible that has investors thinking HTX-011 could eventually be used in various other procedures, too. If so, then a positive late-stage study could position the company to compete for share in a post-operative pain market valued at over $11 billion annually.
The article The Top 5 Best Performing Biotech Stocks of 2015 originally appeared on Fool.com.
Todd Campbell owns shares of Prothena. Todd owns E.B. Capital Markets, LLC. E.B. Capital's clients may have positions in the companies mentioned. The Motley Fool recommends Exelixis and Teva Pharmaceutical Industries. Try any of our Foolish newsletter services free for 30 days. We Fools may not all hold the same opinions, but we all believe that considering a diverse range of insights makes us better investors. The Motley Fool has a disclosure policy.
Copyright 1995 - 2016 The Motley Fool, LLC. All rights reserved. The Motley Fool has a disclosure policy.