The Top 2 Airline Stocks of 2015 Could Soar Again in 2016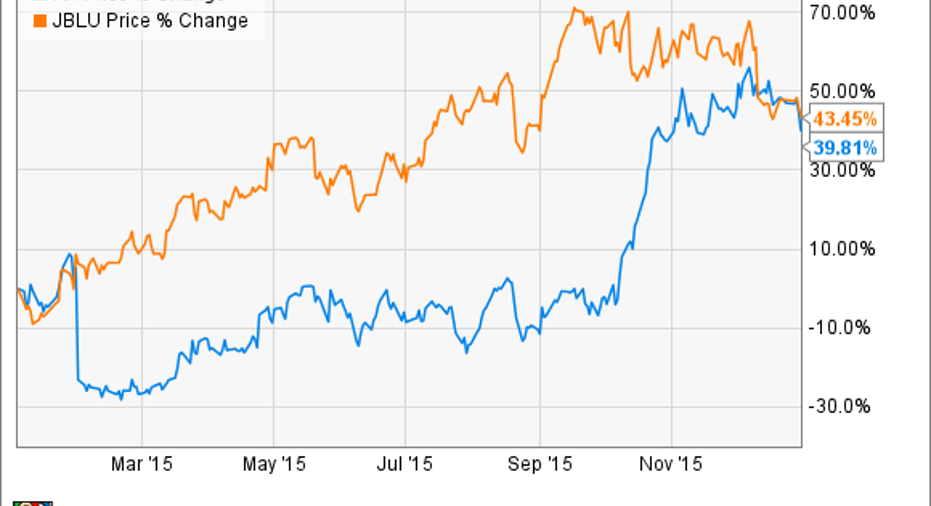 Airline stocks surged in 2013 and 2014, but hit hard times in 2015, even as most U.S. airlines posted record profits. However, a few airlines escaped the carnage. Among mainline U.S.-based carriers, JetBlue Airways and Hawaiian Holdings led the pack with share price gains of 40% or more.
JetBlue Airways and Hawaiian Holdings 2015 Stock Performance. Data by YCharts.
While JetBlue and Hawaiian Holdings posted strong gains in 2015, both stocks ended the year on a sour note -- and then plunged again to begin 2016. This dip has created a great buying opportunity for both stocks.
Profit will soar again at JetBlueAfter more than doubling its profit in 2015, JetBlue is on pace for another year of strong earnings growth in 2016. First, JetBlue could potentially save more than $300 million on fuel costs in 2016 compared to last year, due to cheaper oil prices and a lack of hedging losses.
Second, several of JetBlue's long-planned profit improvement initiatives will come to fruition in 2016. Most notably, this will be the first full year that JetBlue benefits from its new first bag charge.
Other key revenue initiatives include a new co-branded credit card that will launch within the next few months and the expansion of JetBlue's premium Mint transcontinental service. Together, these three factors could add $200 million-$250 million in incremental revenue for JetBlue in 2016.
JetBlue's highly successful Mint premium service will expand again in 2016. Image source: JetBlue Airways.
Thus, if fuel prices remain relatively low during 2016, JetBlue is likely to post strong profit growth, even allowing for some pressure on airfares. Indeed, earnings per share could quite plausibly soar another 30% to 40% this year.
Since hitting a multiyear high of $27.36 in September, JetBlue stock has slumped more than 20% to about $21.60 as of late morning on Tuesday. This puts the stock at just 11 times expected 2015 earnings per share and only 8 or 9 times JetBlue's likely 2016 EPS. Considering JetBlue's ample long-term growth opportunities, that looks like a great bargain.
Hawaiian Holdings also poised for more EPS growthLike JetBlue, Hawaiian Airlines will benefit from significant fuel cost savings in 2016. The carrier is on pace to end 2015 with an average fuel price of about $2.00/gallon. At its investor day last month, the company projected that 2016 fuel prices would average $1.65 to $1.75 per gallon. This estimate now looks very conservative, because the price of jet fuel has dropped by about $0.25/gallon since Hawaiian compiled its projections.
Hawaiian Airlines doesn't have as many distinct revenue growth drivers in place for 2016 as JetBlue. However, it is expecting to benefit from a more benign competitive capacity growth environment this year than in 2015. That should help it keep unit revenue roughly flat and bring a lot of its fuel cost savings to the bottom line.
Hawaiian Airlines is also poised for big EPS growth in 2016. Image source: The Motley Fool.
Furthermore, Hawaiian's EPS growth will significantly outpace its net income growth in 2016 due to a double-digit reduction in its share count.
This favorable outlook had caused Hawaiian Holdings stock to soar to an all-time high around $40 last month, but it has since plummeted more than 20%. That leaves it with a similar valuation to JetBlue: a little more than 10 times projected 2015 EPS and about nine times forward earnings.
Hawaiian Holdings also has ample profit growth opportunities ahead, driven by the arrival of a new fleet of A321neo narrowbodies beginning next year. This will allow the carrier to right-size its capacity on certain West Coast routes and to add some new West Coast-Hawaii routes.
In short, JetBlue Airways and Hawaiian Holdings are well-positioned to post strong EPS growth next year and beyond. While both stocks were top performers in 2015, they still look quite cheap, paving the way for further gains this year.
The article The Top 2 Airline Stocks of 2015 Could Soar Again in 2016 originally appeared on Fool.com.
Adam Levine-Weinberg owns shares of Hawaiian Holdings, and is long January 2017 $17 calls on JetBlue Airways and short April 2016 $38 calls on Hawaiian Holdings, The Motley Fool has no position in any of the stocks mentioned. Try any of our Foolish newsletter services free for 30 days. We Fools may not all hold the same opinions, but we all believe that considering a diverse range of insights makes us better investors. The Motley Fool has a disclosure policy.
Copyright 1995 - 2016 The Motley Fool, LLC. All rights reserved. The Motley Fool has a disclosure policy.