The Top 10 Theme Parks in the World by Attendance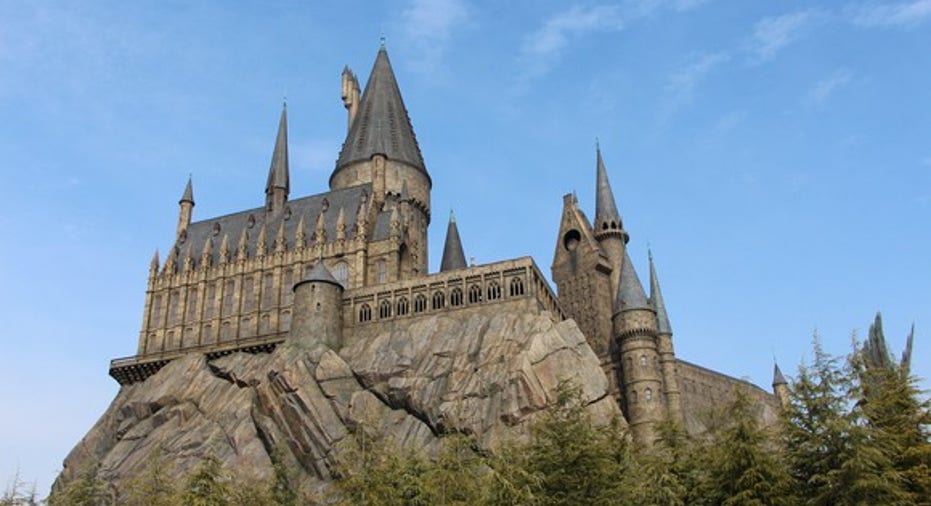 Kids on a Disneyland carousel. Image source: Getty Images.
The theme park industry is enjoying a golden age. According to a market report from engineering firm AECOM and the Themed Entertainment Association, attendance at the top 25 amusement parks worldwide grew 5.4% in 2015, with even stronger gains among the top 10 destinations.
Eight of those top 10 performers come from the Walt Disney (NYSE: DIS) portfolio of entertainment resorts. The other two are managed by Comcast (NASDAQ: CMCSA) division NBCUniversal. Let's have a closer look at these all-American world leaders.
Image source: Universal Studios.
10. Universal Studios Florida in Orlando, Florida
The park saw 9.6 million visitors in 2015, a 16% increase from 8.3 million the year before. The breakneck growth was powered by a 25-year anniversary, amid strong traction for the recently introduced Wizarding World of Harry Potter section. The Islands of Adventure sister park just missed this top-10 countdown with 8% growth and a 12th-place finish. Comcast's management gave some of the credit for this strong performance to record-level attendance at the Halloween Horror Nights event throughout October.
Sunset over Disneyland Paris. Image source: Pixabay.
9. Disneyland Paris in Paris, France
The most visited theme park in Europe marks the first Disney name in this rundown. The park closed for three days in November 2015 as France mourned the lives lost in that month's terror attacks, but attendance still rose 4.2%, to 10.4 million visitors.
Image source: Disney.
8. Disney's Hollywood Studios in Orlando, Florida
Disney's movie-themed park saw a 5% attendance bump in 2015, landing at 10.8 million visitors. The park is adding brand-new areas themed around the Toy Story and Star Wars story worlds, and these projects were just getting started in 2015. Several classic attractions had to go away in order to make room for the new zones, but curious guests kept on coming.
Image source: Pixabay.
7. Disney's Animal Kingdom in Orlando, Florida
The animal-themed park down the road also boosted its 2015 attendance by 5%, stopping at 10.9 million visitors. The difference between the two sister parks' foot traffic is a mere rounding error. The park is adding new attractions based on the Avatar movie, and when 2016 attendance figures are published, we might see a bump due to the pop-culture value of Animal Kingdom's Harambe Village section. That name has been in place since the park opened in 1998.
Image source: Pixabay.
6. EPCOT in Orlando, Florida
With a mere 3% year-over-year gain, EPCOT saw 11.8 million visitors in 2015. The park was constructing a new boat ride themed around 2013 blockbuster Frozen, leaving the Norwegian pavilion without a ride attraction. The popular Soarin' attraction was also getting an upgrade. The curtain raised on both of these updates in 2016, and we should see accelerated attendance gains for that period. But in 2015, EPCOT sat at the back of the attendance-growth line among Disney's American parks.
Image source: Tokyo Disney.
5. Tokyo DisneySea in Tokyo, Japan
We're leaving America for a while. Disney's Japanese park with a nautical exploration theme saw attendance drop 3.5%, to 13.6 million visitors. The next name on our list may have stolen some attention away from this unique park.
Image source: Pixabay.
4. Universal Studios Japan in Osaka, Japan
We're still in Japan but also back to Comcast's Universal Studios. For the second year in a row, the company's Asian flagship delivered more than 16% annual attendance growth and 13.9 million visitors, thanks to intense interest in the newly opened Harry Potter section. The popularity of the lightning-scarred wizard only keeps rising. Striking while the iron is hot, Comcast is adding more Harry Potter attractions to its Hollywood-based park as well. The company is also buying more land for further development, and is making theme park investments a business priority.
Image source: Disneyland Tokyo.
3. Tokyo Disneyland in Tokyo, Japan
OK, let's go back to the House of Mouse. The last Japanese name here saw 4% lower attendance at 16.6 million visitors, and I would once again point to Universal's Harry Potter section stealing Disney's thunder in Tokyo.
Image source: Disney.
2. Disneyland in Anaheim, California
And we're back on American soil. This classic park saw attendance rising 9% in 2015, to 18.3 million visitors. The park is building a Star Wars section to match the one at Hollywood Studios, but that work had not yet started to disrupt normal operations in 2015. A 60-year-anniversary celebration helped increase interest in Disney's oldest parkand also provided a natural boost to Disneyland's public profile.
Image source: Disney.
1. Magic Kingdom in Orlando, Florida
No surprises: Walt Disney World's flagship delivered another first-place performance in 2015. Attendance rose 6%, to 20.5 million visitors. It was the world's most visited park for the 10th year running, and its American winning streak extended to at least 15 years. The park is not currently undergoing any major construction or revision projects.
Image source: TEA/AECOM.
The heart of any major theme park must be the theme itself. Disney has proven the worth of its massive cultural cachet over the years, extending from the silver screen into brilliantly managed theme parks, cruise ships, and resorts. Take away the Mickey Mouse magic, and the entertainment empire would fall apart in a hurry.
Comcast is following Disney's blueprint by exploiting its Harry Potter license to the hilt. That intellectual property win has become the basis for fantastic attendance growth in Orlando and Osaka, and should extend to the more recent Wizarding World expansion in Hollywood as well.
Disney isn't taking the Universal Studios challenge sitting down, of course. The House of Mouse is flexing its Star Wars muscles right now, and that effort will start to pay off when the new Lucasfilm-themed areas of Disneyland and Hollywood Studios open their doors in 2019.
Both companies raised their ticket prices recently, preparing to take profitable advantage of investments made over the past few years. And so the duel between the world's largest theme park operators continues, worlds apart from other challengers.
10 stocks we like better than Walt DisneyWhen investing geniuses David and Tom Gardner have a stock tip, it can pay to listen. After all, the newsletter they have run for over a decade, Motley Fool Stock Advisor, has tripled the market.*
David and Tom just revealed what they believe are the 10 best stocks for investors to buy right now... and Walt Disney wasn't one of them! That's right -- they think these 10 stocks are even better buys.
Click here to learn about these picks!
*Stock Advisor returns as of February 6, 2017
Anders Bylund owns shares of Walt Disney. The Motley Fool owns shares of and recommends Walt Disney. The Motley Fool has a disclosure policy.