The Sluggish Container Sector Continues to Weigh on Textainer Group Holdings Limited's Earnings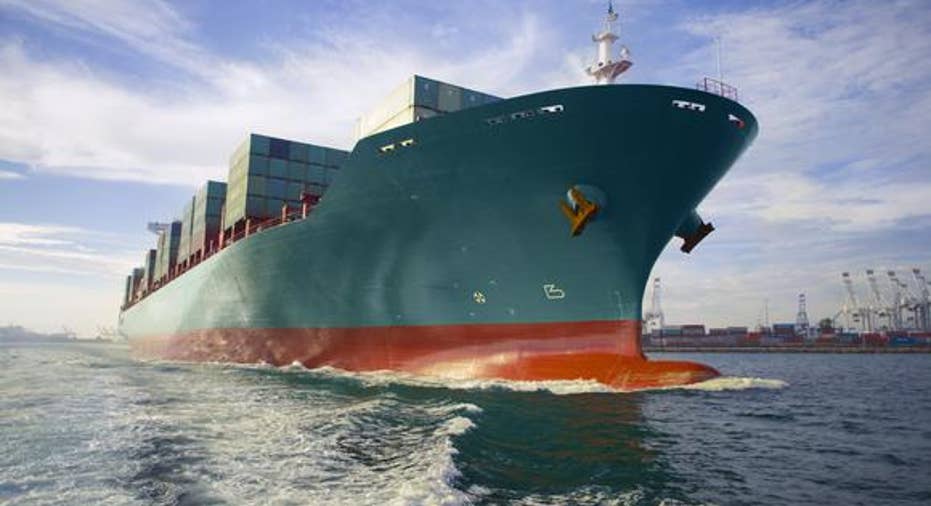 The challenges within the container leasing industry continued during the first quarter, weighing heavily on Textainer Group Holdings' first-quarter results. That said, the company is "staring to see some bright spots," which has it cautiously optimistic for the future.
A look at the numbersThe container leasing industry is currently being pressured by two factors: Slower trade growth and slumping steel prices. While the global economy, as measured by GDP, grew 3.1% over the past year, trade growth was less than 1%. That slower trade growth is impacting Textainer's maturing leases, with the company either unable to secure new leases for the 8.5% of its leases that mature in 2016 or being forced to accept weaker lease rates. This is impacting both utilization, which is down 0.5% since the start of the year to 94.1%, and lease rental income, which is down 5.6% from the year-ago quarter.
The other big factor impacting Textainer at the moment is lower steel prices, which have declined 40% over the past year. That is putting pressure on both new and used containers andweighing on the proceeds the company receives from trading and selling containers.
Overall, revenue is down 7.4% due to the impact these factors are having on the company's revenue sources:
| Sources of Revenue | Q1 2016 Actuals | Q1 2015 Actuals | Growth (YOY) |
| --- | --- | --- | --- |
| Lease rental income | $122.1 million | $129.2 million | -5.6% |
| Management fees | $3.3 million | $4.0 million | -16.8% |
| Trading container sales proceeds | $1.9 million | $4.8 million | -60.6% |
| Gains on sale of containers, net | $1.6 million | $1.1 million | 53.8% |
Data source: Textainer Group Holdings Limited.
These factors are also putting a lot of downward pressure on Textainer's earnings, with its adjusted net income plunging more than 84% to just $6.4 million, or $0.11 per share. That said, income from operations is holding up a bit better, only down 20.7% to $70.6 million.
A look at the outlookWhile the first quarter was tough, Textainer does have some good news. According to CEO Phillip Brewer, "we are starting to see some bright spots." In particular, Brewer noted that trade is projected to grow by 1.5% to 2.5% in 2016, much stronger than last year's meager sub-1% growth. In fact, while demand for containers was low to start the year, Brewer noted that demand has "increased over the last two months above the levels we saw last year, with a noticeable jump in April."
Further, he pointed out that the price of steel has started to rise and is up $150 per ton over the past few weeks. That's likely in response to the U.S. imposing new tariffs on steel-producing nations that were dumping steel on the U.S. market at unfairly low prices. This improvement in the steel price should lead to an increase in container prices in the near term.
Finally, Brewer noted that there's expected to be minimal growth in the world's container fleet this year, which should lead to higher container prices. In fact, the company is seeing small competitors exit the market, with the company recently purchasing the outstanding leases and containers from a financial investor that decided to exit the container leasing market.
Those positives aside, Brewer did caution:
In other words, expect some more choppy seas ahead for the sector. However, once the sector gets past this current weak spot, an increase in trade and container demand should have a very quick impact on the market. It's a rebound Textainer stands ready to profit from.
The article The Sluggish Container Sector Continues to Weigh on Textainer Group Holdings Limited's Earnings originally appeared on Fool.com.
Matt DiLallo owns shares of Textainer Group. The Motley Fool owns shares of and recommends Textainer Group. Try any of our Foolish newsletter services free for 30 days. We Fools may not all hold the same opinions, but we all believe that considering a diverse range of insights makes us better investors. The Motley Fool has a disclosure policy.
Copyright 1995 - 2016 The Motley Fool, LLC. All rights reserved. The Motley Fool has a disclosure policy.