The Single Most Important Quote From eBay Inc's Latest Investor Call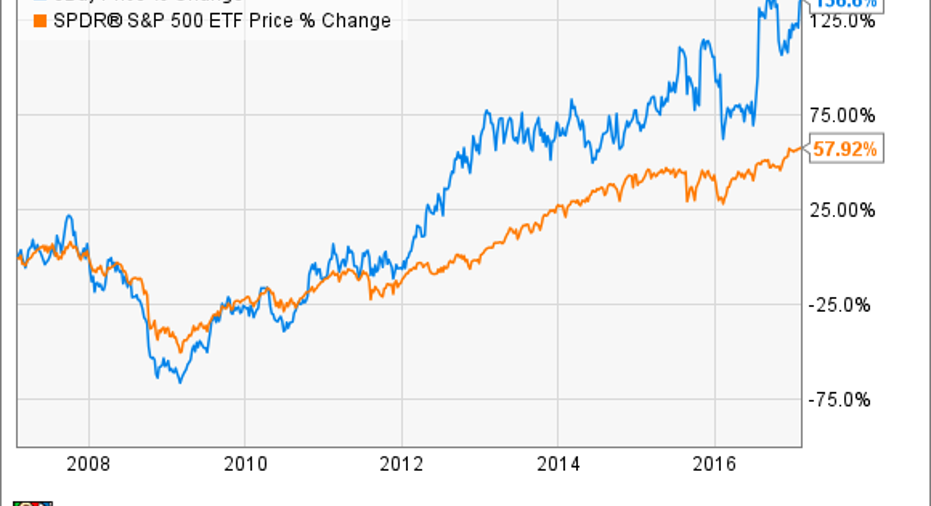 While eBay's (NASDAQ: EBAY) fourth quarter report showed more sluggish growth, there is steady progress that should please long-term shareholders.
Notably, the structured data efforts to better connect buyers and sellers is showing signs of improving the marketplace business. eBay has now processed 180 million pages using machine learning and artificial intelligence to help buyers find what they're looking for more efficiently.
These pages are gaining share of site traffic but made up only 4% of total eBay traffic in the quarter. The company is barely scratching the surface of the improvements structured data brings to the marketplace.
Image source: Pixabay.
In addition, management is moving away from the promotional marketing techniques that plague most retailers and is instead shifting marketing expense to build eBay's brand.During the fourth quarter, the company ran its first TV advertising campaign in two years, and management said it will be more aggressive in 2017.
Short-term pain . . .
Higher marketing expenses and the ongoing investments in structured data contributed to less than a rosy outlook for the first half of 2017. Management expects operating margin in 2017 to soften to a range of 29% to 31%, down from 31.1% achieved in 2016.As for the bottom line, management expects 2017 earnings per share to be $1.98 to $2.03.
In addition to higher operating expenses, a stronger U.S. dollar is expected to cut 6%, or $0.10 per share, from full-year earnings growth. Currency values rise and fall over time, though, so investors shouldn't be overly concerned with such fluctuations.
Other factors contributing to soft guidance are the lapse of incentive fees eBay earned in the past for steering customers to use PayPalon eBay's marketplace platform before the two companies split into separate entities. These fees were categorized as "other revenue" and contributed one point to eBay's revenue growth in 2016.
eBay is also facing a tough year-over-year comparison in the first two quarters of this year over strong 2016 growth from StubHub.
For long-term gains
Instead of trying to offset these headwinds with initiatives to drive higher revenue in the short term, management will use the coming year to make further investments in marketing, to sharpen the brand message, as well as product development to strengthen the company for the long term.
When asked about margin pressure in 2017 on the recent earnings conference call, CEO Devin Wenig had this to say:
Choosing to invest in its competitive moat is the right course of action for eBay. Believe it or not, its stock has outperformed the S&P 500 for the last one-year, five-year, and 10-year periods, and management is making the necessary investments for eBay to continue this streak going forward.
Data source: YCharts.
It may not look the part, but eBay is still very relevant in the world of online shopping, as it's the second most visited e-commerce site in the U.S. The actions management is taking should serve shareholders well as they invest in building the brand at the expense of trying to squeeze out a few more cents of earnings per share. This is very Foolish, and Wenig is clearly more focused on how eBay looks in 10 years -- not the next few quarters.
10 stocks we like better than eBayWhen investing geniuses David and Tom Gardner have a stock tip, it can pay to listen. After all, the newsletter they have run for over a decade, Motley Fool Stock Advisor, has tripled the market.*
David and Tom just revealed what they believe are the 10 best stocks for investors to buy right now... and eBay wasn't one of them! That's right -- they think these 10 stocks are even better buys.
Click here to learn about these picks!
*Stock Advisor returns as of February 6, 2017
John Ballard owns shares of PayPal Holdings. The Motley Fool owns shares of and recommends eBay and PayPal Holdings. The Motley Fool has a disclosure policy.