The Record-Breaking Streak Ends at Proto Labs, Inc.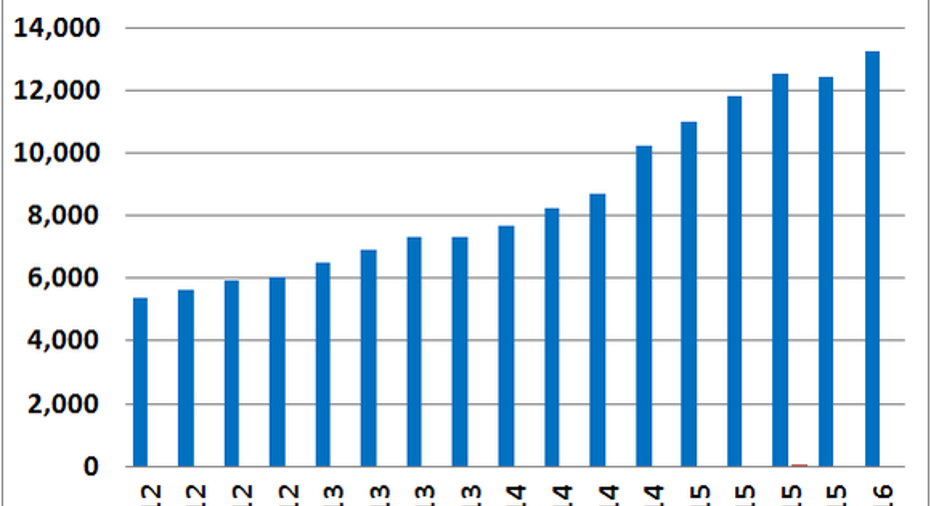 It was bound to happen. This morning, Proto Labs failed to report record revenue for the 15th consecutive quarter. Instead, the quick-turn manufacturer reported that its sales grew by a still-impressive 24% year over year to $72.6 million, which increased earnings 2% to $10.7 million, or $0.40 per share. Excluding Alphaform AG, a German 3D printing service provider acquired during the fourth quarter of last year, Proto Labs' first-quarter revenue increased 16% to $67.7 million.
Proto Labs' earnings fell in line with its guidance of generating between $72 million and $76 million in revenue. According to CEO Vicki Holt, "revenue growth from our legacy injection molding and CNC machining services was tempered by a slowdown in industrial production," which weighed on results.
Still, Proto Labs' first-quarter earnings showed the company is executing well, and its business is growing.
A record worth celebratingIt may not have been a record sales quarter for Proto Labs, but the company did serve a record number of product developers, which suggests continued growing acceptance of its manufacturing services. In total, Proto Labs served 13,249 unique product developers in the first quarter, an increase of 20% annually and 6.7% sequentially.
Additionally, spending per product developer increased by about 3% year over year to $5,477, an encouraging sign that customers are becoming increasingly loyal to Proto Labs' services.
Data source: Proto Labs.
All of Proto Labs' manufacturing services experienced healthy growth, with the most notable being 3D printing, which grew by over 46% excluding Alphaform, and by over 100% with it.
| Manufacturing Service | Q1 2016 Revenue (Thousands) | Q1 2015 Revenue (Thousands) | Change |
| --- | --- | --- | --- |
| Injection molding | $43,169 | $37,618 | 14.8% |
| CNC machining | $18,875 | $16,370 | 15.3% |
| 3D Printing | $9,110 | $4,548 | 100.3% |
Data source: Proto Labs.
Compared to the fourth quarter, Proto Labs' international growth slowed slightly. Excluding the benefit of Alphaform, Proto Labs' sales in Europe increased about 22.2% year over year, while sales from Japan increased about 6.1%. For perspective, Proto Labs' fourth-quarter revenue increased 22% year over year in Europe (excluding Alphaform) and 54% in Japan.
The margin and cash flow storyProto Labs' gross profit margin declined 380 basis points year over year to 54.6%. This was largely driven by Alphaform, which operates at a lower gross margin than the company's average. Operating expenses outpaced revenue slightly and grew by 26.3% to $26.5 million. All told, between a lower gross profit margin and higher operating expenses, Proto Labs' first-quarter operating margin compressed from 27.1% to 20.9% since last year. This could be concerning, considering a company's operating margin directly affects its bottom-line profitability.
Proto Labs generated $16.9 million in cash in the first quarter, 9.9% more than the year prior, and added $11.5 million of said cash to its coffers. At the close of the quarter, Proto Labs had $157.2 million in cash and zero debt on its balance sheet.
Looking aheadIn the press release, Holt noted, "we foresee challenges with the industrial economy over the next few quarters." Judging by Proto Labs' steep double-digit stock decline today, investors may have been disappointed to learn that the company isn't immune to the widespread slowdown affecting the majority of industrial businesses, which previously seemed like it was avoiding the slowdown. Ultimately, Proto Labs' rapid manufacturing model is transactional in nature, meaning a slowdown in industrial activity could negatively impact its business.
The article The Record-Breaking Streak Ends at Proto Labs, Inc. originally appeared on Fool.com.
Steve Heller owns shares of Proto Labs. The Motley Fool owns shares of and recommends Proto Labs. Try any of our Foolish newsletter services free for 30 days. We Fools may not all hold the same opinions, but we all believe that considering a diverse range of insights makes us better investors. The Motley Fool has a disclosure policy.
Copyright 1995 - 2016 The Motley Fool, LLC. All rights reserved. The Motley Fool has a disclosure policy.