The Reason Behind ZIOPHARM Oncology Inc.'s 11% Gain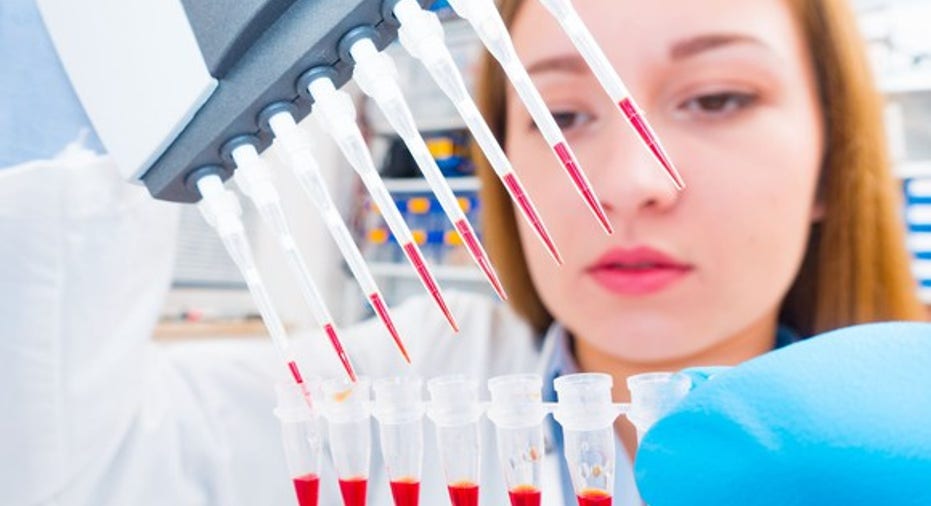 Image source: Getty Images.
What happened
Shares of ZIOPHARM Oncology (NASDAQ: ZIOP), a clinical-stage biopharmaceutical company focused on the development of various immunotherapeutic cancer treatments, surged as much as 11% during Thursday's trading session after the company reported its third-quarter earnings results and provided updated pipeline guidance.
So what
For the quarter, collaboration revenue totaled $1.6 million (remember, ZIOPHARM has no Food and Drug Administration-approved products) compared to $1.87 million in collaboration revenue in the year-ago period. Collaboration revenue came in about $150,000 ahead of expectations.
Operating expenses fell notably, however, as last year the company took a $10 million research and development charge for its graft-versus-host disease programs, which are being worked on with partner Intrexon (NYSE: XON). As such, total operating expenses fell in Q3 2016 to $12.5 million, from $20 million in Q3 2015. This reduction in operating expenses more than overcame the increase in general and administrative expenses, narrowing ZIOPHARM's quarterly loss to $10.9 million, or $0.11 per share, from its net loss of $18.2 million, or $0.14 per share, last year. The $0.11 loss matched Wall Street's expectations.
ZIOPHARM also announced that it ended the quarter with $94.7 million in cash and cash equivalents, which should be enough of a cash runway to get the company into the fourth quarter of 2017.
Image source: Getty Images.
Now what
The big star, as is the norm with clinical-stage biotech companies, was the pipeline update. The more near-term the catalysts, generally, the more excited shareholders get.
Perhaps the most exciting is that updated clinical data is expected to be reported, at the Society for Neuro-Oncology's annual meeting, on lead drug Ad-RTS-hIL-12 in combination with veledimex in patients with brain cancer. The company previously reported 100% survival at the six-month mark, and will be offering updated survival statistics at the 12-month mark. It seems quite likely that this combination (for which Intrexon is a collaborative partner) is headed for mid-stage trials next.
Of course, ZIOPHARM and Intrexon, which is best known for its gene-therapy switching capabilities via RheoSwitch, have a host of preclinical and clinical studies underway. Based on the laundry list of expected milestones provided in ZIOPHARM's quarterly result, there should be no less than a half-dozen catalysts in 2017.
On the other hand, investors should understand that early-stage biotech companies come with a lot of inherent risk and a generally high failure rate. On paper, a targeted therapeutic that can switch your immune system into overdrive and then switch it off sounds great. But we have to see how well it'll perform in clinical studies. ZIOPHARM is also, by its own admission, going to run out of cash by late next year. This could mean a dilutive cash raise is coming.
For the time being, I'd suggest investors monitor ZIOPHARM from the sidelines, and wait for the data from its collaborative immuno-oncology drug platform to mature a bit.
10 stocks we like better than ZIOPHARM Oncology When investing geniuses David and Tom Gardner have a stock tip, it can pay to listen. After all, the newsletter they have run for over a decade, Motley Fool Stock Advisor, has tripled the market.*
David and Tom just revealed what they believe are the ten best stocks for investors to buy right now... and ZIOPHARM Oncology wasn't one of them! That's right -- they think these 10 stocks are even better buys.
Click here to learn about these picks!
*Stock Advisor returns as of November 7, 2016
Sean Williamshas no material interest in any companies mentioned in this article. You can follow him on CAPS under the screen nameTMFUltraLong, and check him out on Twitter, where he goes by the handle@TMFUltraLong.
The Motley Fool has no position in any of the stocks mentioned. Try any of our Foolish newsletter servicesfree for 30 days. We Fools may not all hold the same opinions, but we all believe thatconsidering a diverse range of insightsmakes us better investors. The Motley Fool has adisclosure policy.