The Real Reason Verizon Went Unlimited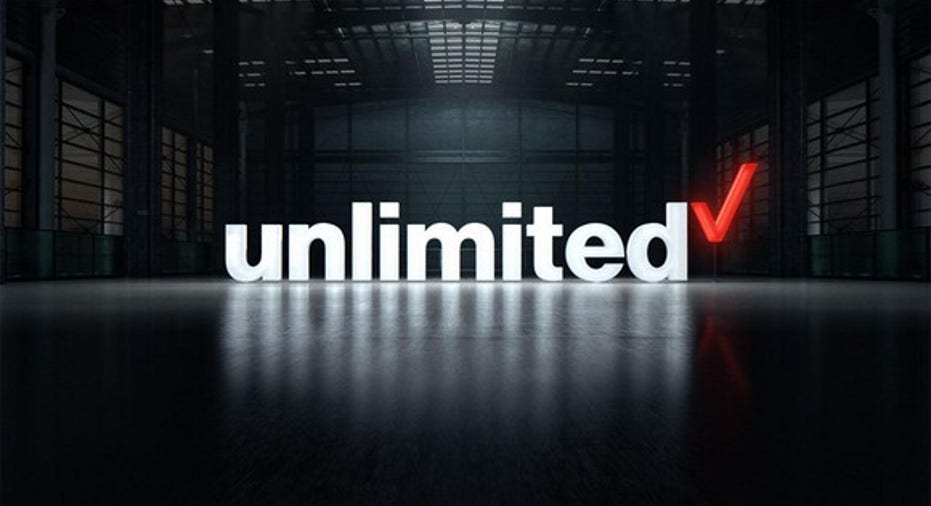 Verizon (NYSE: VZ) was the longest holdout of the four major U.S. wireless carriers when it came to unlimited data plans. While T-Mobile (NASDAQ: TMUS) and Sprint (NYSE: S) released their unlimited plans with aggressive pricing, Verizon fought back by offering free iPhones and other device promotions. However, after disappointing fourth-quarter results, Verizon finally made the decision to go unlimited.
What investors didn't know at the time was how bad Verizon's first quarter was going before it unveiled its new data plan. "Prior to the unlimited launch, we had retail postpaid phone net losses of 398,000 customers," CFO Matt Ellis told analysts on the first-quarter earnings call. That was just halfway through the quarter. Verizon ended the quarter with 289,000 net postpaid phone losses, so the unlimited plan worked to attract new subscribers and retain old ones, but the trajectory was clearly the impetus for unlimited.
The questions for Verizon are: Can it continue its postpaid phone subscriber momentum throughout the rest of 2017, and how will unlimited data plans affect its revenue?
Image source: Verizon.
We'll have to wait and see
Ellis was keen to note that Verizon added 109,000 net postpaid phone subscribers since mid-February, when it introduced the unlimited plan. That "gives us momentum entering the second quarter," he said.
However, when asked specifically about whether market dynamics have gotten better in the second quarter and if Verizon could see an improvement in its net adds, Ellis dodged the question: "We'll have to wait and see," he responded, continuing:
That said, Sprint ended its "Cut Your Bill in Half" promotion. T-Mobile was particularly aggressive last quarter, running a friends and family discount and offering a free line to customers in early March. While there's no telling what the competition will do this quarter, things are starting to cool down.
Verizon's second quarter is historically stronger than its first quarter. In 2015, it added 321,000 postpaid phone subscribers in the second quarter. Last year, that fell to 86,000 net adds. But as Ellis said, we'll have to wait and see what kind of affect the unlimited plan will have on net adds.
Declining revenue per subscriber
The first set of subscribers to switch to Verizon's unlimited plan are those who stand to save some money -- that is, customers who were previously on Verizon's highest data plan. Additionally, unlimited data plans ensure Verizon won't be able to capitalize on data overage fees, which contribute meaningfully to its revenue. Verizon's wireless operating revenue declined 6.1% year over year last quarter.
Verizon uses a metric that masks the affects of these changes -- average revenue per account. ARPA increased to $166.01 in the first quarter compared to $165.03 last year. But connections per account also increased, from 3.0 to 3.08. As such, average revenue per connection actually declined from $55.01 to $53.90.
Ellis elaborated on the earnings call:
It could get worse before it gets better for Verizon investors. The competition remains fierce, but the strength of Verizon's network and brand will help it keep its churn rate low, and the relatively competitive pricing of its unlimited plan could attract new subscribers. The first full quarter of its unlimited plan will be a major test, and we'll see if Verizon can turn things around. Watch for continued declines in revenue and improvements in net postpaid phone additions.
10 stocks we like better than Verizon CommunicationsWhen investing geniuses David and Tom Gardner have a stock tip, it can pay to listen. After all, the newsletter they have run for over a decade, Motley Fool Stock Advisor, has tripled the market.*
David and Tom just revealed what they believe are the 10 best stocks for investors to buy right now...and Verizon Communications wasn't one of them! That's right -- they think these 10 stocks are even better buys.
Click here to learn about these picks!
*Stock Advisor returns as of April 3, 2017.
Adam Levy owns shares of Verizon Communications. The Motley Fool owns shares of and recommends Verizon Communications. The Motley Fool recommends T-Mobile US. The Motley Fool has a disclosure policy.