The Race to the Smart Home of the Future Is On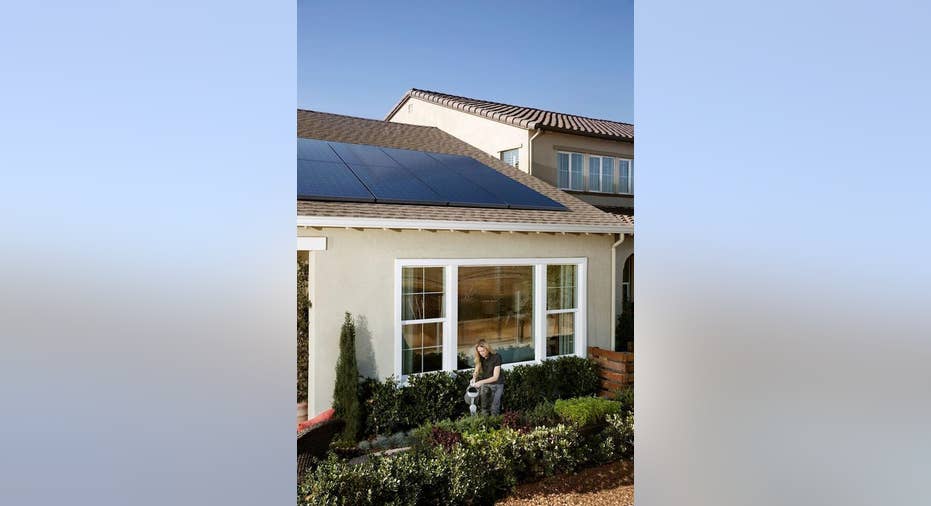 Image source: Nest.
While few people were looking, some of the country's most innovative energy companies have been building an arsenal they're going to unleash on smart-home customers. Devices such as Alphabet's Nest thermostat, August's smart locks, or SolarCity's energy monitoring have scratched the surface of what's possible, but what's key next is building the smart home platform. And that's where things are just starting to get interesting.
The push to build a smart-home platformBefore I get into the new smart energy home, it's important to explain what's unlocking the ability for homeowners to control energy more closely. One of the biggest factors holding back smart homes in the past was the lack of a platform to control all the devices from. Homeowners who wanted to control lights and temperature would have to put in a separate control panel specific to each independent system. But now that (nearly) everyone has a smartphone in a pocket, there's a natural platform to build those control systems on.
That's the idea behind Alphabet's Nest thermostat and Apple's HomeKit. Alphabet sees the Nest thermostat as a central point of control for other connected devices, and Apple thinks HomeKit will create an integrated platform that will put Apple devices in control of smart-home systems.
These platforms allow companies to innovate on top of the platform, which unlocks a world of possibilities.
Image source: SunPower.
The smart home's network of devicesSunPower recently announced partnershipswith Ecobee, a Wi-Fi smart thermostat that's HomeKit-enabled, and AT&T's Internet of Things business. These show a little bit of where the future of home energy is headed.
Howard Wenger, SunPower's President of Business Units said the Ecobee and AT&T partnerships were part of a broader move to be a full energy company. The solar system will be hike the hub with different components being added for customers where they make sense. In this case, AT&T will be added to the connectivity options, which also include Wifi and ZigBee, increasing the connection the home has to SunPower's monitoring system and services. On top of that, SunPower can help control everything from appliances to energy storage, maximizing savings for customers. As a thermostat company, Ecobee will be able to connect to that, using solar energy to cool homes when it's available.
SolarCity and Nest have a similar vision and announced a partnership last year that included 10,000 customers getting free Nest thermostats. And with its own energy monitoring platform and an energy storage partnership with Tesla Motors, it's also building out the capability to offer a more complete energy solution as well.
Between Sun Power and SolarCity, it's now a race to see who can build the right network of home energy capabilities for customers. And they're taking a wide lead over less integrated competitors.
Energy sales of the futureThese home energy partnerships will also change how solar energy and ancillary products are sold. Today, most devices are sold as separate products. If you want to go solar, you talk to SolarCity, SunPower, or someone else. If you want a smart thermostat, you might search online to see what's right for you. And smart appliances are still off in the distance for most homeowners. The problem is, the number of players involved makes smart-home technology very complex for the average homeowner to understand and buy.
In the future, I think it will be more like buying an energy kit with add-ons. You might go to SunPower for a solar-energy system, and depending on your needs, you might also add an energy storage unit or a smart thermostat, or you might even sign up for a demand-response program with your utility to save even more money on the power you buy. Once installed, the system will run itself from SunPower's central command with the help of HomeKit as the platform that connects all of your devices. A similar system could be powered by SolarCity and run a different brand of connected products.
The point is that tech companies and solar companies are creeping deeper and deeper into our homes and the integrated energy infrastructure. That will make homes smarter and could change the way you think about energy forever.
The article The Race to the Smart Home of the Future Is On originally appeared on Fool.com.
Suzanne Frey, an executive at Alphabet, is a member of The Motley Fool's board of directors. Travis Hoium owns shares of Apple and SunPower. The Motley Fool owns shares of and recommends Alphabet (C shares), Apple, and SolarCity. Try any of our Foolish newsletter services free for 30 days. We Fools may not all hold the same opinions, but we all believe that considering a diverse range of insights makes us better investors. The Motley Fool has a disclosure policy.
Copyright 1995 - 2016 The Motley Fool, LLC. All rights reserved. The Motley Fool has a disclosure policy.