The Race to Cure the Zika Virus is On, and This Company May Have the Best Solution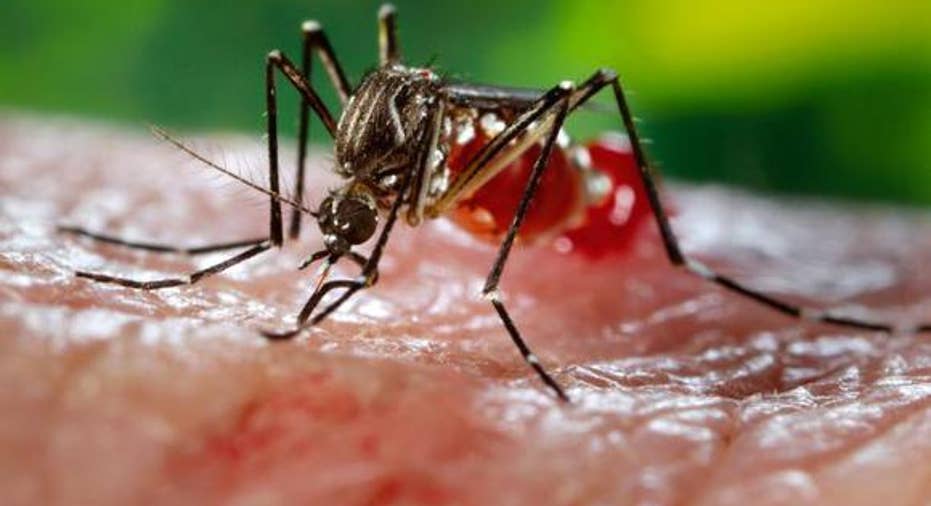 The Aedes aegypti mosquito has become public enemy No. 1. Image source: Centers for Disease Control and Prevention.
The Zika virus has been around for decades, but its prevalence has exploded since 2014. The virus itself, which is spread by the Aedes aegypti mosquito, is believed to cause relatively minor symptoms for adults, including rash, fever, headaches, and joint pain. In fact, only one in five infected will actually develop these symptoms. But, additional research from the Centers for Disease Control and Prevention and other scientists worldwide has shown that the Zika virus may be far worse than expected for both pregnant and non-pregnant persons.
In Brazil's latest tally, 1,113 cases of microcephaly, a condition where the brain fails to fully develop and the head is abnormally small, have been confirmed in babies caused by the Zika virus, with another 3,836 suspected cases under investigation. By comparison, Brazil typically averages about 150 microcephaly cases per year. The World Health Organization also referred to the Zika virus as the "cause" of a rise in Guillain-Barre syndrome, which is where the immune system attacks the peripheral nervous system, causing rapid muscle weakness.
These are now well-known possible side effects of contracting the Zika virus. However, a new series of "neurological mysteries," as described by The Atlantic, have emerged that could be tied to the Zika virus. These may include acute myelitis (spinal cord inflammation), meningoencephalitis (inflammation of the brain and its outer membranes), and acute disseminated encephalomyelitis (inflammation of the brain and spinal cord). In general, if these correlations prove to be more than just flukes, it would suggest that the Zika virus may specifically target nerve cells; and if that's the case, then the CDC is quite justified in calling Zika "scarier" than anyone initially thought.
Image source: Centers for Disease Control and Prevention.
Adding fuel to the fire, Zika could spread at an even quicker rate once temperatures begin rising in the United States. Once suspected to be present in a dozen states, the CDC notes that the Aedes aegypti mosquito is now present in 30 U.S. states. Although it remains to be seen if the virus makes its way into the U.S. on a large-scale basis, the above map from the CDC detailing its spread isn't encouraging.
Last week, The White House suggested a plan to funnel $589 million in funds previously earmarked to treat Ebola to the Zika virus instead, the idea being to have the funds necessary should a Zika outbreak occur. However, Dr. Anthony Fauci, the director of the U.S. National Institute of Allergy and Infectious Diseases, has stated that his agency needs $1.9 billion in funding to adequately fight back if infections surge within the United States.
A race for the cure Given the growing severity of this infectious disease as new data comes to light, there are also a fair number of drug developers looking into a possible Zika virus cure. A cure would not only save some people from the possible side effects of nerve-based disorders, but could be quite profitable for the drug developer as well depending upon how pervasively the disease has spread.
But if you want to count the number of possible Zika players, you'll need to use both hands.
Inovio Pharmaceuticals and GeneOne Life Science announced a partnership back in January to test a DNA-based vaccine to treat the Zika virus. Considering that both companies have solid backgrounds in DNA-based vaccine development, they may be able to bring a candidate to human clinical trials by the second half of this year.
NewLink Genetics has also thrown its hat into the mix via a partnership with Merck . Perhaps best known for its cancer immunotherapy development platform, NewLink has experience in developing vaccines for flaviviruses, and its partnership with Merck (which has the deep pockets) should allow a potential cure to be funneled into clinical trials, assuming it shows promise in preclinical studies.
Image source: GlaxoSmithKline.
Drug giant Sanofi isn't messing around when it comes to the Zika virus either. In early March it announced that it had assembled a team of 80 in-house experts to accelerate the research and development of a vaccine. Sanofi developed the first regulatory-approved vaccine for dengue, a similar mosquito-borne illness, which it believes could help expedite research and development of a Zika virus cure. Similar to Inovio, Sanofi could be in clinical trials by the second half of this year if all goes well.
Go ahead and add GlaxoSmithKline to the group as well, at least from an evaluation perspective. In January, GlaxoSmithKline announced that it was weighing the development of a Zika virus vaccine considering its prior research into dengue. As the two infectious diseases are similar, GSK may be able to lop years off the development process for a vaccine.
We also can't forget about Cerus , which isn't directly involved in curing the Zika virus, but does have its novel and Food and Drug Administration-approved Intercept Blood System. Cerus' Intercept Blood System can be used to proactively combat transfusion-based transmission. Keep in mind that this works well beyond just Zika, but it's an important step to possibly ensuring the disease isn't spread through blood transfusions.
Is this the best solution for beating the Zika virus? However, the best solution might just belong to Intrexon , which has taken a unique approach to combatting the Zika virus.
Last summer, Interxon acquired Oxitec, a company involved in biologic insect controls, for $160 million ($80 million in cash and $80 million in Intrexon's common stock). Oxitec had been working on a number of mosquito-borne disease solutions, including Zika and dengue, but its solution transcends simply giving a patient a vaccine.
Image source: Intrexon.
Instead, Oxitec genetically modified male Aedes aegypti mosquitoes, allowing these mosquitoes to pass along a genetic mutation to the next generation of Aedes aegypti mosquitoes. This new genetic insertion kills the new generation of mosquitoes before they reach the reproductive adult stage. In simpler terms, Oxitec developed a method to dramatically reduce/control the aedes aegypti mosquito population. Efficacy tests in Brazil, Panama, and the Cayman Islands demonstrated a 92% to 99% reduction in the Aedes aegypti mosquito population, which may also translate into a substantial reduction or elimination of other serious mosquito-borne illnesses such as dengue.
Even better, in March the FDA announced that it found Intrexon's genetically engineered male mosquitoes to be environmentally safe, which is another big hurdle cleared.
The big question is whether affected countries will opt for Intrexon's perceived-to-be ready solution or not. Intrexon is counting on plentiful government contracts to drive its Zika virus program growth. Some Wall Street analysts view combating Zika as a $200 million to $400 million annual opportunity for Intrexon. However, coordinated containment efforts by the World Health Organization and other health agencies often stamp out infectious diseases before they have an opportunity to reach pandemic potential. This means even with an effective solution, there's no guarantee that Intrexon's genetically modified male mosquitoes will help the company recoup its buyout costs for Oxitec.
For now all we can do is keep our eyes and ears open for the latest information from the CDC or WHO and wait.
The article The Race to Cure the Zika Virus is On, and This Company May Have the Best Solution originally appeared on Fool.com.
Sean Williamshas no material interest in any companies mentioned in this article. You can follow him on CAPS under the screen nameTMFUltraLong, track every pick he makes under the screen name TrackUltraLong, and check him out on Twitter, where he goes by the handle@TMFUltraLong.The Motley Fool has no position in any of the stocks mentioned. Try any of our Foolish newsletter servicesfree for 30 days. We Fools may not all hold the same opinions, but we all believe thatconsidering a diverse range of insightsmakes us better investors. The Motley Fool has adisclosure policy.
Copyright 1995 - 2016 The Motley Fool, LLC. All rights reserved. The Motley Fool has a disclosure policy.