The Obama Administration's Newly Implemented Plan to Curb Medicare Drug Inflation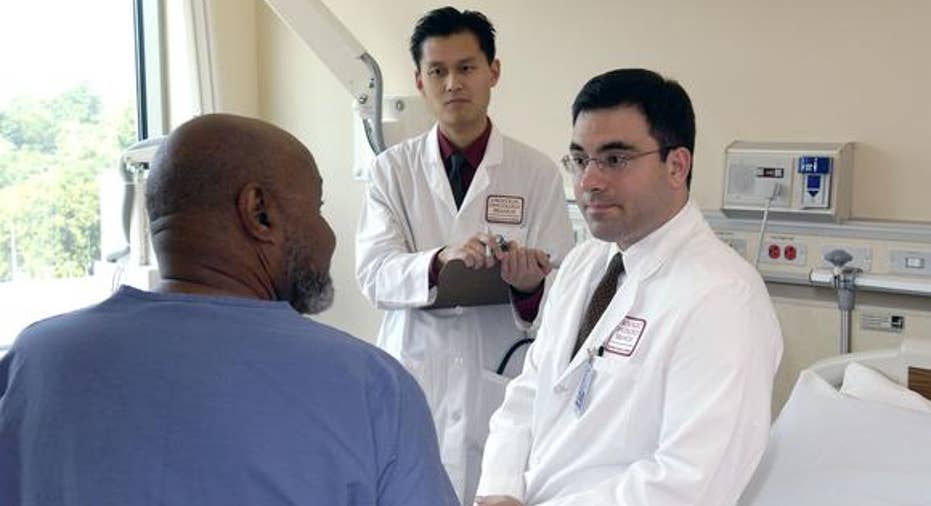 Image source: Flickr user Tinou Bao.
Medicare, the program that's been helping to cover healthcare benefits and expenses for seniors and the disabled for more than 50 years, is struggling mightily. Three major shifts have put the program on an unsustainable path that the Board of Trustees suggests could exhaust the remaining cash reserves of the Hospital Insurance Trust by 2030, or perhaps earlier based on certain expenses.
Medicare's three problems in a nutshell What three concerns is Medicare contending with? First, baby boomers are retiring in increasing numbers. Roughly 10,000 people per day are turning 65 years old, and this trend is liable to continue for the next 15 years. As the older American population swells from its current level of 48 million to a forecasted 79 million by 2035, Medicare will have a considerably larger patient pool to cover. About five in six Medicare enrollees are seniors, whereas the remainder are disabled or end-stage renal disease patients.
Secondly, people are living longer than ever before. The average 60-year-old is looking at a lifespan of about 21 years, and average life expectancies as a whole have risen about nine years since the mid-1960s, according to data from the Centers for Disease Control and Prevention. The longer we live, the more liable we are to be dependent on needing medical care in our golden years.
Finally, inflation tied to all aspects of medical care has been devastating for Medicare and patients alike. Though we've seen the costs of medical procedures rise, it's prescription drug costs, especially specialty and branded-drug costs, that have weighed on the program.
Image source: Alexion Pharmaceuticals.
Traditionally, Part D covers prescription drug plans; however, injected medicines administered on an outpatient basis, or those delivered by durable medical equipment covered by Part B (a.k.a. medical/outpatient insurance) may be covered by Part B. In 2013, according to a Government Accountability Office report released in October, Medicare Part B covered $20.9 billion worth of Part B drug expenses. The majority of inflation associated with Part B has come from drugs that have hit pharmacy shelves in 2007 or later, including a number of specialty cancer, ophthalmology, hematologic, immunologic, and rare-disease drugs. Examples include rare-disease drugs Soliris and cancer immunotherapy Yervoy which sported per-beneficiary annual costs in 2013 of $457,000 and $93,000, respectively.
The government can do little to control when people turn 65, and living longer is a good thing. But what the government can try to control is prescription drug inflation.
The Obama administration's plan to curb Medicare drug inflation After years of discussions and "what ifs," the Obama administration has taken action by implementing a series of experimental changes to the Medicare program designed to help reduce the costs of treating patients, ultimately saving the patients money and Medicare in the process.
Image source: National Cancer Institute.
The way the Medicare program works now is pretty straightforward: Part B pays the average sales price of a drug plus a 6% add-on. This add-on is what's designed to cover the costs of care for physicians and their staff. But there's the idea floating around among the Centers for Medicare and Medicaid Services, which is implementing this experiment, that physicians are being influenced to prescribe the most expensive drug rather than the best drug for a patient to garner the biggest add-on possible. Cancer drugs, for instance, could have tens of thousands of dollars in cost difference between an existing therapy and a new immunotherapy that just came to market.
The solution? The new model, which is being tested in select markets, pays the average sales price of a drug while imposing an add-on payment of just 2.5%, plus a flat-fee payment of $16.80 per drug per day. The CMS's idea behind this change is to see if patient quality and value of treatment can be improved while simultaneously saving Medicare money.
Image source: Centers for Medicare and Medicaid Services.
Although improved patient quality and value are broad goals of the CMS, there are a few specific strategies they're targeting. For one, they hope to substantially reduce patient cost-sharing. If physicians opt for those cheaper medications, then the consumer will be on the line for 20% of a much lower cost (Medicare typically covers 80% of qualified medical expenses, with the consumer picking up the remainder).
This experiment would also help the CMS examine indications-based pricing. The CMS would analyze the clinical effectiveness of certain therapies and, based on price as well, weed out what works and what doesn't so the program only pays for therapies that provide positive results and good value for patients.
Lastly, this model will test the effectiveness of a standard payment rate for groups of similar therapeutic products. No flat fee has been tested like this before -- but if effective, it could dramatically lower program costs.
Will it work?On one hand it could be argued that add-on fees are influencing at least some percentage of physicians. How many? No one has any clue or data that can say one way or another. It could be a very small amount, or quite a lot of physicians who accept Medicare. The key point is that the lure of profits can potentially be an influencing agent for physicians.
Yet there are a handful of possible downsides to this CMS proposal that the American Society of Clinical Oncology, or ASCO, was more than eager to point out.
Image source: National Cancer Institute.
The big issue ASCO has with the new model is that a vast majority of cancer drugs are already "underwater," meaning the physician, even with the current add-on of 6%, is paying more to acquire the drug than Medicare is reimbursing him or her. Additionally, budget sequestration, per ASCO, has reduced the add-on by 1.7%. ASCO claims that under the current system physicians are seeing a 4.3% add-on and under the experimental model would see a minuscule 0.8% add-on over the average selling price of a drug. In other words, ASCO criticizes CMS for attacking the point of care rather than tackling the main cause of inflation: cancer drug prices themselves.
ASCO also criticized some of the inconsistencies inherent in Medicare. For instance, cancer drugs administered through durable equipment or via injection are probably covered by Part B. Comparatively, oral cancer drugs are covered by a Part D prescription drug plan. This can mean two very different costs for the patient.
I see this experiment as a unique way of getting doctors to consciously think about the value of the therapies they're prescribing, but I don't see it having a material impact on reducing Medicare Part B drug costs or in saving patients money. This is a problem that needs to be dealt with at the drugmakers' level, and the CMS appears to be merely scraping around the edges for the time being.
The article The Obama Administration's Newly Implemented Plan to Curb Medicare Drug Inflation originally appeared on Fool.com.
Sean Williamshas no material interest in any companies mentioned in this article. You can follow him on CAPS under the screen nameTMFUltraLong, track every pick he makes under the screen name TrackUltraLong, and check him out on Twitter, where he goes by the handle@TMFUltraLong.The Motley Fool has no position in any of the stocks mentioned. Try any of our Foolish newsletter servicesfree for 30 days. We Fools may not all hold the same opinions, but we all believe thatconsidering a diverse range of insightsmakes us better investors. The Motley Fool has adisclosure policy.
Copyright 1995 - 2016 The Motley Fool, LLC. All rights reserved. The Motley Fool has a disclosure policy.