The New York Times Co. Revenue Falls on Weak Advertising Sales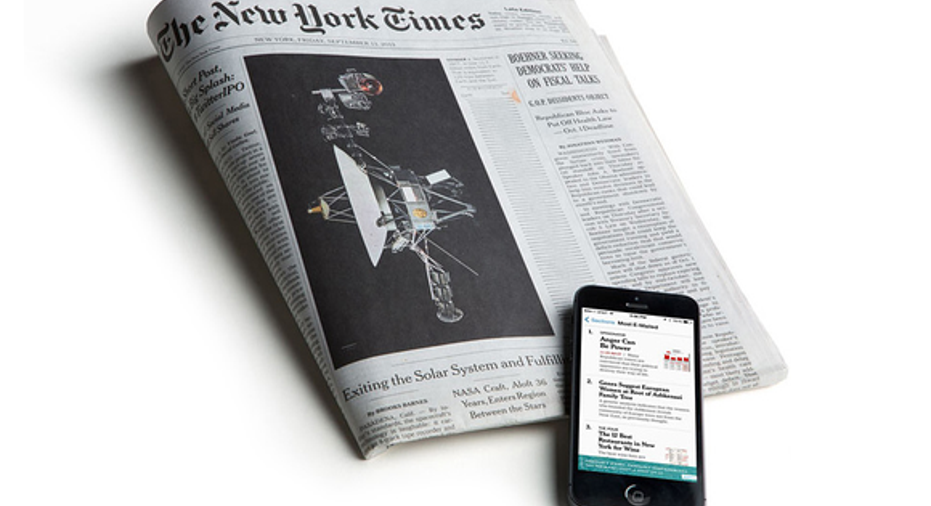 Image source: The New York Times.
The New York Times Co reported first-quarter results on May 3. The venerable newspaper publisher enjoyed solid growth in digital subscribers, but lower advertising sales weighed on the company's results.
The New York Times results: The raw numbers
| Metric | Q1 2016 | Q1 2015 | Growth (YOY) |
| --- | --- | --- | --- |
| Revenue | $379.515 million | $384.239 million | (1.2%) |
| Net loss | ($8.271 million) | ($14.262 million) | N/A |
| Net loss per share | ($0.05) | ($0.09) | N/A |
Data source: The New York Times Q1 2016 earnings press release.
What happened with The New York Times this quarter?Total revenue fell 1.2% year over year to $379.5 million, as a 6.8% decline in advertising revenue negated a 2.4% rise in circulation revenue.
Circulation revenue grew as digital subscription sales and a price increase for home delivery of The New York Times more than offset a decline in the number of print copies sold.
The Times added 87,000 paid subscribers to its digital-only subscription products in the first quarter. Digital-only subscribers totaled 1,357,000 at the end of Q1 -- a 23% increase from the prior-year period. That helped to drive a 14.2% year-over-year rise in circulation revenue from digital-only subscription products to $54.2 million.
"The rate at which we are adding digital subscriptions continues to accelerate," saidCEO Mark Thompson in a press release.
Still, declining advertising sales remain a challenge for the company. First-quarter print advertising revenue fell 9% to $97.9 million. Digital advertising revenue also weakened, declining 1.3% to $41.8 million.
"We had a more challenging quarter in both print and digital advertising in large part due to conditions impacting the entire advertising marketplace," said Thompson.
Operating costs increased less than 1% to $351.6 million, as lower raw materials costs helped to offset higher compensation costs.
All told, operating profit -- adjusted to exclude depreciation, amortization, severance and retirement costs, and other special items -- fell 13% to $51.5 million. And adjusted EPS from continuing operations -- which was helped somewhat by lower interest expense compared to Q1 2015, as well as a lower outstanding share count due to share buybacks -- declined 9% to $0.10.
Looking forwardIn the second quarter, New York Times' management expects total circulation revenue to increase, and total advertising revenue to decrease, at rates similar to that of the first quarter. Additionally, operating costs are projected to increase in the "mid-single digits" on a year-over-year basis as the company streamlines its international print operations and continues to invest in its digital growth initiatives. Thomson added:
The article The New York Times Co. Revenue Falls on Weak Advertising Sales originally appeared on Fool.com.
Joe Tenebruso has no position in any stocks mentioned. The Motley Fool recommends The New York Times. Try any of our Foolish newsletter services free for 30 days. We Fools may not all hold the same opinions, but we all believe that considering a diverse range of insights makes us better investors. The Motley Fool has a disclosure policy.
Copyright 1995 - 2016 The Motley Fool, LLC. All rights reserved. The Motley Fool has a disclosure policy.