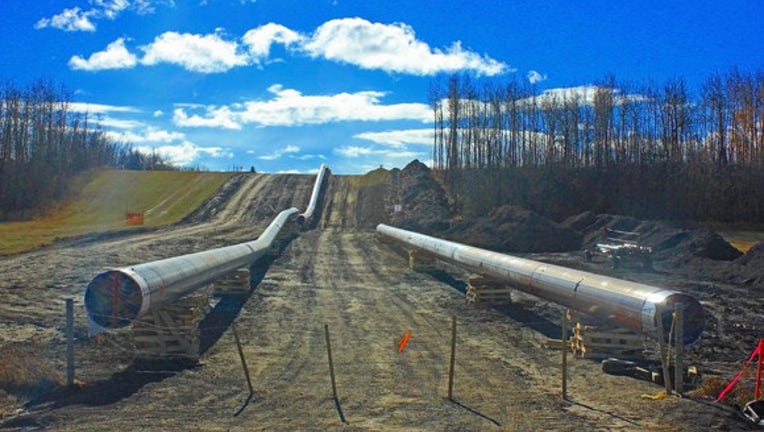 Energy Transfer Partners (NYSE: ETP) recently completed its consolidation transaction with sibling company Sunoco Logistics. However, while the company expects that deal to solve many of its legacy financial problems, that turnaround didn't happen during the first quarter because some legacy issues continued to impact results. That said, with a slew of expansion projects recently entering service -- and several more on the way -- Energy Transfer Partnersappears to be on the cusp of finally reversing that trend.
Drilling down into the results
Energy Transfer Partners reported $1.41 billion of adjusted EBITDA for the first quarter, which is a mere $2 million increase versus last year's consolidated result. Distributable cash flow, on the other hand, was a different story, falling 4.5% to $907 million. Because of that, and an increase in outstanding units due to dilution, the company's consolidated distribution coverage ratio dropped from 1.27 times in last year's first quarter to 1.13 times. However, it is a vast improvement from what Energy Transfer Partners used to deliver on a stand-alone basis, given that its coverage ratio was a concerning 0.87 times last year.
One of the factors weighing on Energy Transfer Partners' results during the first quarter was someweakness at Sunoco Logistics. The former sibling was one of theseveral segments that turned in softer results during the quarter:
Data source: Energy Transfer Partners. Chart byauthor. In millions of dollars.
The primary factor impacting Sunoco's results was its crude oil segment, where segment adjusted EBITDA plunged $77 million, or 34.4%. However, that was entirely due to the impact of last-in, first-out (LIFO) inventory accounting, which positively impacted the first quarter of last year while negatively impacting the first quarter of this year. Without that impact, adjusted EBITDA would have risen $33 million year over year due to recent strategic initiatives.
That said, the company also continues to experience weakness in its interstate transportation and storage segment while also seeing results slide in the intrastate division. As was the case last quarter, the interstate segment's volumes declined due to mild weather, producer maintenance, and production declines, which led to a 9.2% decrease in segment adjusted EBITDA. Meanwhile, lower volumes in the Barnett shale region were the primary driver of the 5.6% slide in earnings from the intrastate division.
However, there were some noteworthy positives during the quarter. The midstream segment, which had been a noticeable weight last year, delivered a 21.7% increase in adjusted EBITDA. Driving that increase was the impact from the acquisition of a stake in PennTex Midstream Partners (NASDAQ: PTXP), higher non-fee-based margin due to rising oil and NGL prices, and improving volumes. The liquids transportation and services segment also turned in a solid quarter, benefiting from the completion of the first phase of the Bayou Bridge Pipeline joint venture with Phillips 66 Partners (NYSE: PSXP) as well as improving NGL volumes across most of its major regions.
Image source: Getty Images.
A look at what lies ahead
More positives should be on the way. That's because Energy Transfer Partners recently put the finishing touches on several major projects. At the end of January, it put the Comanche Trail Pipeline and WAHA Header system into service, and it followed that up by placing the Trans-Pecos Pipeline into service at the end of March. These pipelines will supply increased natural gas exports to Mexico. In addition, the company and its partners Phillips 66 (NYSE: PSX), Enbridge Energy Partners (NYSE: EEP), and Marathon Petroleum (NYSE: MPC) completed construction on the controversial Bakken Pipeline system during the quarter. The companies expect that pipeline to start flowing oil later this month. Because these projects are now in commercial service, each should help provide a boost to Energy Transfer's second-quarter results.
In the meantime, the company expects to complete several more projects later this year. These include the buildout of the Revolution System, Rover Pipeline, and Mariner East 2 in the Northeast, which should all enter service by the fourth quarter. In addition, the company and Phillips 66 Partners also anticipate completing the second phase of the Bayou Bridge Pipeline during the last quarter. While Energy Transfer won't feel the full impact of these growth projects until next year, they should supply some incremental cash flow for the company by year-end.
Investor takeaway
Despite completing its consolidation transaction, Energy Transfer Partners didn'timmediately turn things around during the first quarter. However, the company is starting to put some of its legacy issues in the past. Furthermore, because it recently completed a couple of significant growth projects, there is a reason for investors to finally be optimistic that the company is about to turn the corner and start growing cash flow again later this year.
10 stocks we like better than Energy Transfer PartnersWhen investing geniuses David and Tom Gardner have a stock tip, it can pay to listen. After all, the newsletter they have run for over a decade, Motley Fool Stock Advisor, has tripled the market.*
David and Tom just revealed what they believe are the 10 best stocks for investors to buy right now... and Energy Transfer Partners wasn't one of them! That's right -- they think these 10 stocks are even better buys.
Click here to learn about these picks!
*Stock Advisor returns as of May 1, 2017
Matt DiLallo owns shares of Phillips 66. The Motley Fool has no position in any of the stocks mentioned. The Motley Fool has a disclosure policy.