The Nation's Second-Largest Insurer May Bail on Obamacare in 2018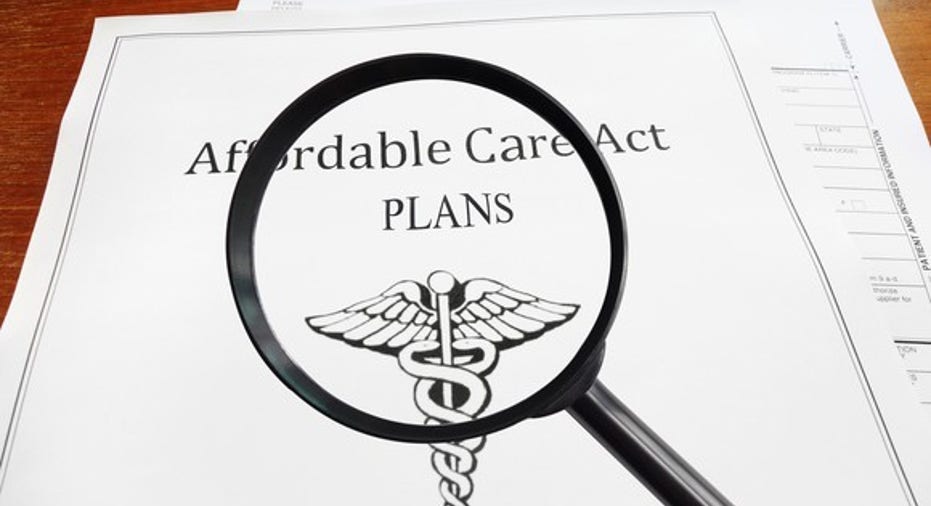 Image source: Getty Images.
The elections may have dominated most of the headlines over the past couple of months, but with those now safely in the rearview mirror, Americans can turn their attention to something of equal importance: health insurance enrollment.
November 1 marked the beginning of the Affordable Care Act's fourth open enrollment period. Similar to last year, open enrollment extends for three months, with consumers needing to select their health plan by mid-December if they want to be covered when the calendar changes to 2017.
Based on data released in October by the Centers for Medicare and Medicaid Services, the ACA's marketplace exchanges had approximately 10.4 million paying customers through the end of June 2016. This was down about 700,000 from the end of March, but not a surprising drop considering the attrition the program faces from consumers changing jobs and finding health insurance through their new employers, as well as consumers simply dis-enrolling by not making their payments.In 2017, Obamacare, as the ACA is more commonly known, is looking to improve upon these figures and push the current 8.9% uninsured rate, according to the Centers for Disease Control and Prevention, even lower.
Image source: Getty Images.
Obamacare looks very different in 2017
However, the dynamics of Obamacare have changed dramatically since last year. The question marks of whether Obamacare was a sustainable program for insurers have given way to a mass exodus from some very big names.
It began with UnitedHealth Group (NYSE: UNH), the largest health insurer in the country, which announced earlier this year that it could lose around $500 million from its ACA plans in 2016, or nearly $1 billion on a cumulative basis over the past two years. The decision was made that these losses were no longer sustainable, with UnitedHealth Group announcing that it was pulling out of 31 of the 34 states it's currently offering coverage in by 2017.
We've seen a similar story, though a different path, taken by both Aetna (NYSE: AET) and Humana (NYSE: HUM). Aetna had agreed to acquire Humana for $37 billion in an effort to reduce its cost and expand its insurance reach. Aetna and Humana touted that combining would allow them to expand their ACA offerings. However, when regulators moved to block the merger, Aetna and Humana "retaliated" in the only way they could: by announcing major coverage pullbacks on their ACA plan offerings in 2017. Humana is reducing its county-based coverage from 1,351 counties in 2016 to just 156 in 2017, while Aetna is slicing its county-based coverage by nearly 70% to just 242.
This marks three of the five national insurers suggesting that Obamacare isn't sustainable, at least as it is now. Well, get ready to possibly add a fourth national insurer to the exodus.
Image source: Getty Images.
The second-largest insurer just threatened to leave Obamacare in 2018
Earlier this month, Anthem (NYSE: ANTM), the company behind the Blue Cross Blue Shield name in 14 states and the second-largest health insurer in the country, announced that it would be taking a long look at its ACA plans in the coming year. If it doesn't see substantial improvement, it could consider pulling back, or pulling out, of Obamacare by 2018. Anthem ended its latest quarter with 889,000 enrollees from the Obamacare exchanges, or 8.5% of total enrollment.
In a quarterly conference call with analysts, CEO Joseph Swedish had this to say:
In his discussion with analysts, Swedish credited premium price hikes of around 20% across the 14 states it operates in, as well as coverage changes to its own plans, as reasons he believes Anthem is positioned to turn a very small profit on its ACA plans in 2018. However, Swedish was pretty forthright about the fact that premium price hikes alone aren't a long-term solution for stabilizing the marketplace exchanges. This is essentially the same stance UnitedHealth, Aetna, and Humana have taken.
Molina Healthcare (NYSE: MOH), a predominantly regional and low-cost insurer, has also had its fair share of gripes with Obamacare -- and the kicker is that it's been successful. Molina's CEO, Mario Molina, went on the offensive in late October calling for changes to the way risk is transferred among insurers. The risk corridor is designed to transfer money from profitable insurers on the ACA to those losing excessive amounts of money because they priced their premiums too low. Molina, being one of those profitable insurers, is seeing its results hurt by this risk transfer.
Long story short, there aren't too many happy campers on the business side of Obamacare.
Image source: Getty Images.
Consumer choices could really thin out
Of course, consumers' choices aren't thinning out solely because most national insurance companies are cutting their offerings. The failure of the aforementioned risk corridor has also played a role.
Out of the $2.87 billion requested by the money-losing insurers operating on the ACA exchanges, only $362 million was paid out. With these money-losing insurers getting reimbursed only a marginal amount for their losses, some chose to shutter their doors. In particular, out of the 23 approved healthcare cooperatives under the ACA, 17 have announced their closure within the past year.
If Anthem were to go forward with its own exodus (and assuming its attempted merger with CIGNA is blocked by the Justice Department), it would leave CIGNA as the only national insurer that hasn't pulled back on its coverage. Essentially, it would leave regional insurers like Molina Healthcare and Centene to pick up the slack. Whether this could be done successfully is really anyone's guess.
The clear implication, though, is that Obamacare isn't perceived as sustainable in its current form, and that's potentially bad news for the consumer unless the federal government can convince insurers otherwise.
10 stocks we like better than Anthem When investing geniuses David and Tom Gardner have a stock tip, it can pay to listen. After all, the newsletter they have run for over a decade, Motley Fool Stock Advisor, has tripled the market.*
David and Tom just revealed what they believe are the ten best stocks for investors to buy right now and Anthem wasn't one of them! That's right -- they think these 10 stocks are even better buys.
Click here to learn about these picks!
*Stock Advisor returns as of November 7, 2016
Sean Williamshas no material interest in any companies mentioned in this article. You can follow him on CAPS under the screen nameTMFUltraLong, and check him out on Twitter, where he goes by the handle@TMFUltraLong.
The Motley Fool recommends Anthem and UnitedHealth Group. Try any of our Foolish newsletter services free for 30 days. We Fools may not all hold the same opinions, but we all believe that considering a diverse range of insights makes us better investors. The Motley Fool has a disclosure policy.