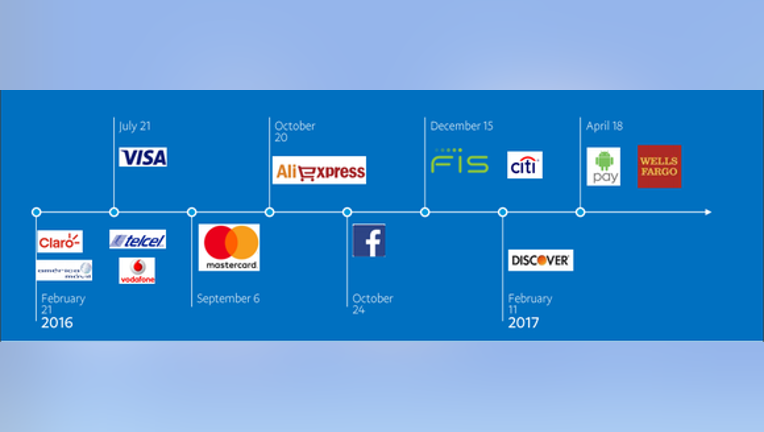 PayPal Holdings Inc.(NASDAQ: PYPL) reported a vigorous start to the year in its first quarter earnings report filed on April 26. Let's first take a birds-eye view of the quarter, then focus on an eye-popping number, as well as several other important details from the filing.
PayPal: The raw numbers
Data source: PayPal Holdings Inc.
What happened with PayPal this quarter?
PayPal added 6 million new active accounts, a significant number of additions, and the single most impressive number in the report. The customer haul represents a 35% increase over new accounts added in Q1 2016, and management tagged it as the largest organic quarterly increase in active accounts in the last three years. Indeed, it's a 20% increase over the 5 million account additions in the previous sequential quarter alone.
The Q1 account "adds" are significant because they're the single best indicator of PayPal's revenue potential. It's understandable for the rate of new PayPal customers to slow as the company matures. Yet active customer adds have now averaged 11% annualized growth for the last six quarters, and if anything, the trend may be accelerating. This type of growth mitigates shareholders' fears that numerous competitors in the payments space will upend PayPal's business model.
The company reported 32 transactions per active account, marking an increase of 12%. PayPal ended the quarter with 203 million active customer accounts, and 16 million merchant accounts.
Total payment volume (TPV), a measure of the total dollar volume of payments PayPal facilitates, rose 23% over the prior year quarter, to $99 billion.
PayPal continues to scale its mobile transactions. During the quarter, 32% of TPV occurred through mobile devices, and mobile TPV rose 51% to $32 billion.
Venmo, the company's social payments app, recognized $6.8 billion in TPV during the quarter -- a nearly 113% increase over Q1 2016.
PayPal repurchased $517 million of its own shares during the quarter. It also announced that its board has authorized a massive $5 billion share repurchase program, to begin once the 2016 share repurchase program, with $488 million of authorization remaining, is completed.
The organization continued to tack on new partnerships to its payments ecosystem. During the quarter, PayPal announced an agreement with Wells Fargo & Co (NYSE: WFC), which allows Wells Fargo debit and credit card holders to use PayPal to make contactless in-store payments. PayPal also extended its relationship withAlphabet Inc'sGoogle, adding PayPal as a payment method in Android Pay for online, in-store, and in-app payments.
In fact, PayPal has embarked on a frenzy of deal making over the last five quarters, as it teams up with potential payments adversaries to expand its reach. The following graphic from the company's first quarter investor presentation provides a great visual representation of the pace of partnership additions. It also demonstrates the variety of wide-reaching merchants, card issuers, banks, and social platform companies that PayPal is pulling into its ecosystem:
Image source: PayPal Holdings, Inc.
Transaction take rate, which is the percentage of revenue PayPal records per transaction it facilitates, declined 14 basis points from the prior year quarter, to 2.62%. This is due to a higher percentage of Venmo person-to-person payments, on which PayPal doesn't generate revenue.
PayPal's take rate has declined since 2015 as it processes a higher percentage of payments through its Braintree subsidiary (which has a higher transaction expense than the overall company). However, over the last three quarters, PayPal's take rate appears to have stabilized in a range of between 2.62% and 2.65%.
Management reported that the organization's pending purchase of TIO Networks Corp. (TSXV: TNC) is on track to close in the second half of 2017. The acquisition of the kiosk payment vendor will give PayPal broad access to "unbanked" customers in North America.
Image source: Getty Images.
What management had to say
CEO Dan Schulman made two observations during the company's earnings conference call with analysts that illuminate PayPal's future potential. The first is related to the customer additions discussed above:
The second is the sense that PayPal's recent approach to competition has yielded many advantages early on:
The two trends reinforce each other. As PayPal continues to pull in new customers, competitors see a benefit in cooperation versus battling for market share. And as it turns adversaries into collaborators, the company gains access to a bigger universe of potential customers.
Moving forward
PayPal's extremely healthy trends in customer acquisition, engagement, and TPV have given management the confidence to raise the company's 2017 outlook. While still within a 15% to 17% growth rate, the company now projects full-year revenue to land between $12.52 billion and $12.72 billion, an increase from the former band of $12.45 billion to $12.65 billion.Diluted earnings per share are now expected to fall between $1.28 and $1.33, versus a previous range of $1.26 to $1.31. These bumps may seem modest given the platform's acceleration in customer growth, but of course, shareholders should remember that it's early in the year yet.
10 stocks we like better than PayPal HoldingsWhen investing geniuses David and Tom Gardner have a stock tip, it can pay to listen. After all, the newsletter they have run for over a decade, Motley Fool Stock Advisor, has tripled the market.*
David and Tom just revealed what they believe are the 10 best stocks for investors to buy right now... and PayPal Holdings wasn't one of them! That's right -- they think these 10 stocks are even better buys.
Click here to learn about these picks!
*Stock Advisor returns as of May 1, 2017
Suzanne Frey, an executive at Alphabet, is a member of The Motley Fool's board of directors. Asit Sharma has no position in any stocks mentioned. The Motley Fool owns shares of and recommends Alphabet (A shares) and PayPal Holdings. The Motley Fool has a disclosure policy.