The Long-Term Trend That Makes CVS Health an Awesome Buy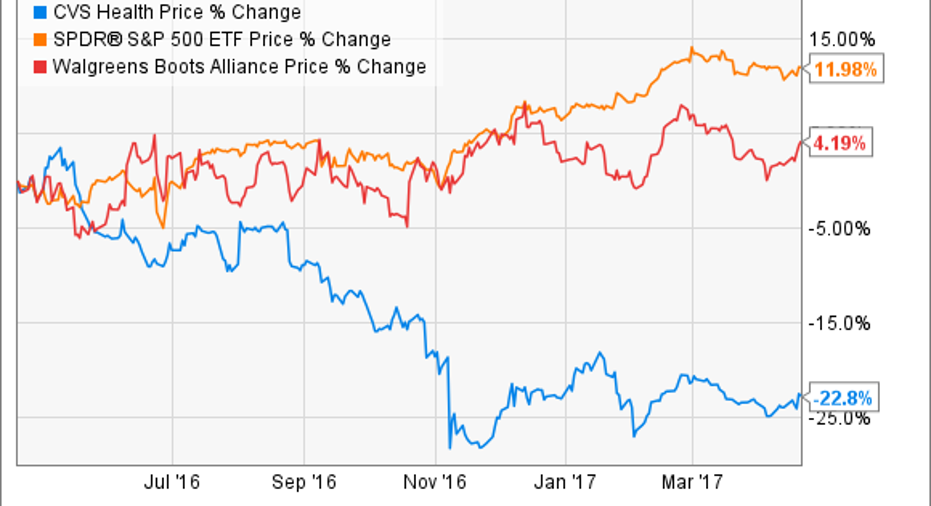 Buy-and-hold investingworks best when a long-term trend is working in a company's favor and better yet when the stock is being held back by temporary circumstances. I believe that's the exact situation with CVS Health (NYSE: CVS) today, which is why I think this is a terrific stock for patient investors to consider buying.
Image source: CVS Health.
The business
CVSHealth is best known as a retail pharmacy chain, but the company is really two distinct business units that operateunder a single roof.
First, CVS owns more than 9,700 retail pharmacy stores that are spread throughout the U.S. and Puerto Rico (and Brazil, too). Beyond selling basic convenienceitems and offering pharmacy services, CVS also operates the nation's largest chain of in-store clinics. These MinuteClinic provide patients with quick and low-cost access to a slew of basic medical services. MinuteClinics have proven to be a big hit with consumers, and they help keep CVS Health's stores top of mind whenever a minor illness strikes.
Second, CVS also runs one of the largestpharmacy benefits management(PBM) businesses in the country. PBMs act as middlemen between providers of healthcare benefits -- think employers, unions, governments -- and drug manufacturers. CVS uses its immense buying power to negotiate hefty discounts on drugs and then passes along the savings to customers. CVS also manages the process for its customers and takes a small fee for its service.
When combined, these businesses helped CVS ring up more than $177 billion in total revenue and more than $8 billion in free cash flow in 2016.
The tailwind
According to census.gov, between 2012 and 2050, the U.S. is going to see considerable growth in the number of citizens aged 65 and over. As of 2012, there were slightly more than 43 million Americans that fit into this age cohort. However, this figure is projected to eclipse 83 million by 2050, which represents a near double.
Image source: Census.gov.
That growth rate promises to be a huge tailwind to the entire healthcare industry since there is a direct correlation between age and spending on healthcare. In 2010, the Center for Medicaid and Medicare Services showed that per-capita spending for adult females and males between age 19 and 64 was $6,892 and $5,353, respectively. However, these figures nearly tripled to $19,110 and $17,530 for females and males who are over age 65.
The combination of an ever-growing pool of patients in need of care and higher spending per person promises to be a boon to CVS Health's long-term growth trajectory.
The (temporary?) headwind
Given the above figures, you might naturally assume that CVS Health would trade at a big premium to the S&P 500 in general. After all, not every business in the index can claim such a massive trend working in its favor.
Unfortunately, CVS Health's investors haven't been treated well over the past year at all. The company's stock has actually plunged more than 22%, which badly lags the performance of both the S&P 500 and the company's arch rival,Walgreens Boots Alliance (NASDAQ: WBA).
What gives? You can blame the downfall on the loss of two major pharmacy accounts in 2016. Last year, CVS let investors know that Walgreens Boots Alliance managed to steal away Tricare and Prime Therapeutics as customers. The move is expected to transfer roughly 40 million prescriptions from CVS Health to Walgreens in 2017, which is a substantial volume hit. In response, CVS Health's management team projected that adjusted earnings per share in 2017 were going to be flat.
The news spooked investors, leaving us where we are today.
A tempting valuation
While the customer deflection was most certainly bummer news, CEO Larry Merlo still believes the company is capable of producing double-digit profit growth over the long term. How? He laid out a four-point plan that includes new product launches, cost-cutting,partnering with other PBMs and health plans, and using excess capital for M&A and share repurchases.
For what it's worth, Wall Street appears to agree that the company's long-term growth trajectory is still intact. Right now, analysts are projecting that CVS Health's profits will grow by more than 11% annually over the next five years.
And yet, despite all of the above, CVS Health's stock can currently be purchased for less than 13 times forward earnings! Mix in a growing dividend that currently yields 2.5%, and I think CVS Health could be a great place to put capital in today's overheated market.
10 stocks we like better than CVS HealthWhen investing geniuses David and Tom Gardner have a stock tip, it can pay to listen. After all, the newsletter they have run for over a decade, Motley Fool Stock Advisor, has tripled the market.*
David and Tom just revealed what they believe are the 10 best stocks for investors to buy right now...and CVS Health wasn't one of them! That's right -- they think these 10 stocks are even better buys.
Click here to learn about these picks!
*Stock Advisor returns as of April 3, 2017.
Brian Feroldi has no position in any stocks mentioned. The Motley Fool recommends CVS Health. The Motley Fool has a disclosure policy.