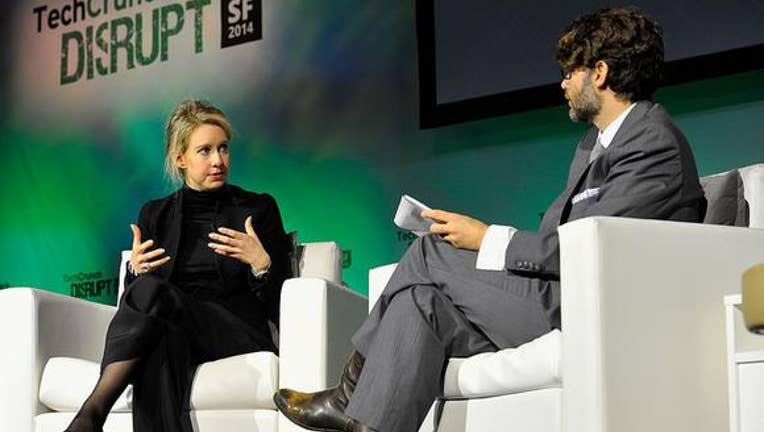 Theranos founder, chairman and CEO, Elizabeth Holmes at TechCrunch Disrupt, Sep. 2014.Image source: TechCrunch, republished under CC BY 2.0.
U.S. equities are little changed in late morning trading on Tuesday. TheS&P 500and theDow Jones Industrial Average (DJINDICES: $INDU)are down 0.13% and 0.23%, respectively, at 11:40 a.m. ET. Shares of Valeant Pharmaceuticals International Inc , are bouncing back today, down 1.42%, following yesterday's drubbing after outgoing CEO J. Michael Pearson was subpoenaed to testify before Congress.
From the macro to the particular: Two companies in the healthcare sector have, in the past several months, provided striking example of the importance for stock-pickers of doing one's own research and not relying on prestigious labels. Recent headlines show that prestige alone doesn't deliver returns.
Take private medical testing group Theranos, which was valued at $9 billion based on a compelling story: It was disrupting the process of obtaining blood tests with its "nanotainer" technology.
However, the first independent test pitting Theranos against its two largest publicly traded competitors, Laboratory Corp. of America Holdings and Quest Diagnostics, carried out by researchers at Mount Sinai hospital, found the accuracy of Theranos' tests to be significantly sub-standard.
Theranos' CEO, Elizabeth Holmes, had a great story: A smart, driven and attractive Standord droput (prestige association No. 1), she managed to assemble a very impressive group of early investors (including former Oracle CEO Larry Ellison) and board members.
For an investor, a company's association with other prestigious companies or institutions can be reassuring when one is carrying out one's due diligence. That is normal and even, to a certain extent, rational. Prestigious institutions -- whether corporate or non-profit -- are brands that have acquired customers' or stakeholders' trust and goodwill through a history of providing a consistently high-quality product or service.
However, investors performing due diligence need to look beyond any association with a prestigious company or institution. More importantly, we must guard ourselves from being blinded by the prestige such that we are unable or unwilling to assess a person or a company on their own merits along the criteria that matter most (hint: character matters crucially).
More from The Motley Fool
That was an error many shareholders of Valeant Pharmaceuticals have been unable to avoid. But who can blame them? The reassuring signs were everywhere: Then-CEO Mike Pearson, who was behind the company's "innovative" growth strategy, was a former partner of strategy consultancy McKinsey, the proverbial "smartest guys in the room."
Meanwhile, Valeant's former chief financial officer, Howard B. Schiller, was a former Goldman Sachs banker (Goldman is the McKinsey of the investment banking world).
High-profile, successful investors flocked to back Valeant and Pearson, including Bill Ackman of Pershing Square Capital Management, ValueAct Capital Management, and the Sequoia Fund.
None of these associations is enough to make Valeant (or Theranos) a great business, though, and that's the crux of the lesson for investors: No matter how impressive the credentials of the people involved appear, always focus on the business. If it appears mediocre, or if you can't understand it, don't invest.
The article The Lesson of Theranos and Valeant: You're Investing in a Business, Not Prestige originally appeared on Fool.com.
Alex Dumortier, CFA, has no position in any stocks mentioned. The Motley Fool owns shares of and recommends Valeant Pharmaceuticals. Try any of our Foolish newsletter services free for 30 days. We Fools may not all hold the same opinions, but we all believe that considering a diverse range of insights makes us better investors. The Motley Fool has a disclosure policy.
Copyright 1995 - 2016 The Motley Fool, LLC. All rights reserved. The Motley Fool has a disclosure policy.