The Latest: Weinstein's former assistant details harassment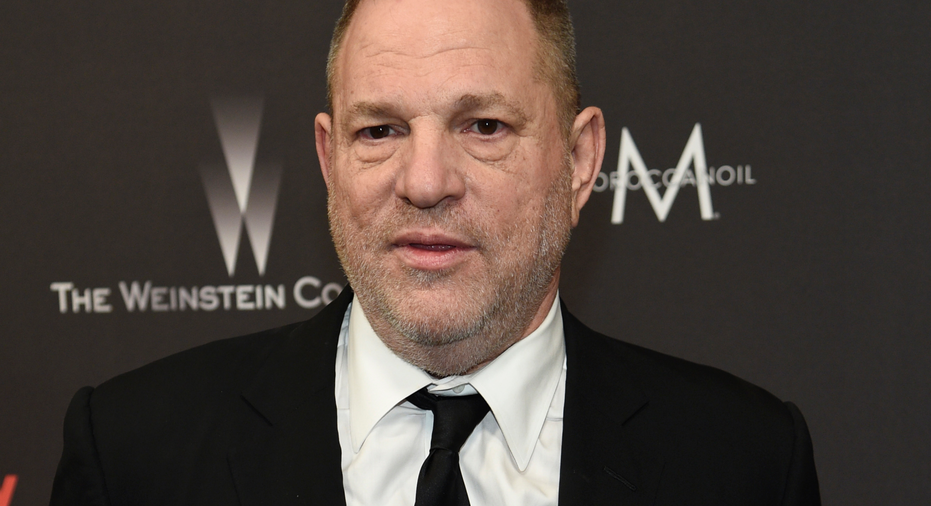 The Latest on sexual harassment in Hollywood (all times local):
7:45 p.m.
A former assistant to Harvey Weinstein is willingly breaking a non-disclosure agreement to speak out about the sexual harassment she says she was subjected to while working for the movie mogul at Miramax Films in the late '90s.
Zelda Perkins tells the Financial Times in an interview published Monday that she experienced regular sexual harassment from Weinstein, including him walking around naked in front of her, during her time as his assistant in London.
Perkins says she left the job after a female colleague who she declines to name claimed she was sexually assaulted by Weinstein in 1998. Lawyers at the time advised taking a settlement of £250,000 to be split between the two women and signing a confidentiality agreement which she was not allowed to keep a copy of.
She says she is speaking out in hopes of shedding light on the agreements that powerful figures use to keep sexual harassment victims quiet.
A message sent to Weinstein's representative, Sallie Hofmeister, was not immediately returned. Hofmeister has repeatedly denied Weinstein had any non-consensual sex.
___
3:25 p.m.
A fired Nickelodeon producer facing allegations of sexual harassment is expressing regret over his behavior.
Chris Savino, creator of the animated series "The Loud House," posted the apology on his Facebook page.
Savino wrote Monday that he's "deeply sorry" and ashamed that his words and actions unintentionally created an uncomfortable environment.
He says he's learned difficult but valuable lessons, adding that he respects the bravery of the women who have spoken out.
Savino has been accused of sexual harassment by up to 12 women, according to the website Cartoon Brew, which reports on animation industry news.
Last week, Nickelodeon said it took allegations of misconduct seriously and that Savino was no longer working with the children's TV channel.
___
1: 40 p.m.
New York state's top prosecutor has launched a civil rights investigation into The Weinstein Co. following sexual assault allegations against Hollywood producer Harvey Weinstein.
Attorney General Eric Schneiderman announced the probe Monday. His office says it issued a subpoena seeking all company records
The Democratic attorney general says his office wants to know whether any New York employees were subjected to pervasive harassment or discrimination at the company, which has an office in New York.
Weinstein was fired Oct. 8 by the company he co-founded after allegations of sexual assault and harassment spanning decades were exposed by The New York Times and The New Yorker.
More than three dozen women have publicly accused the entertainment mogul of abuse. Weinstein has denied allegations of nonconsensual sex.
___
11 a.m.
ABC News says Ashley Judd will sit down with anchor Diane Sawyer for her first television interview since the actress-activist went public with allegations against movie executive Harvey Weinstein.
The interview will air Thursday on ABC News platforms including "Good Morning America," ''World News Tonight with David Muir" and "Nightline."
Judd, an early accuser of the now-disgraced Weinstein, has described an incident two decades ago in which she said he invited her to his hotel room, greeted her wearing a bathrobe and asked if she would watch him shower.
In recent weeks, dozens of women have accused him of sexual assault and harassment.
Weinstein has also been fired from the production company he founded with his brother.