The Latest: Washington rail line operating after derailment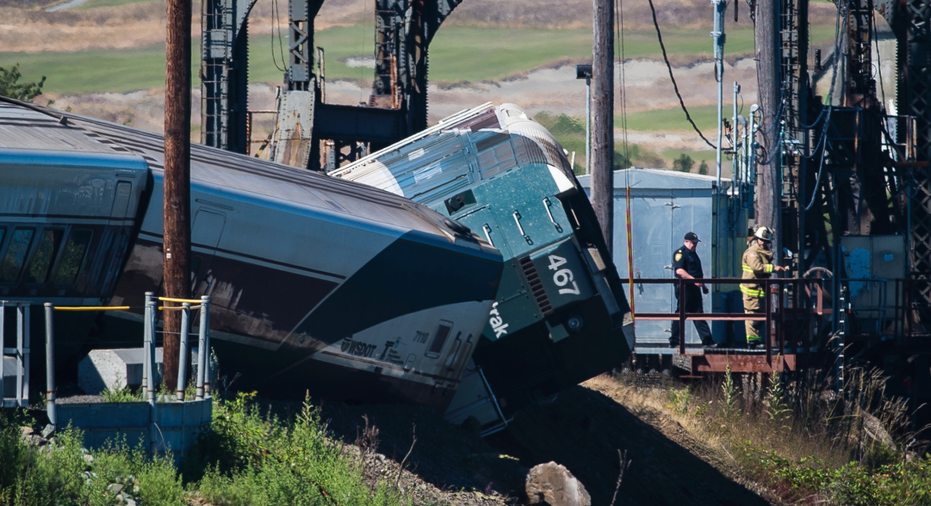 The Latest on the Amtrak train that derailed in Washington state (all times local):
10:05 a.m.
A rail line in Washington state was operating after a passenger train derailed, but slower speeds are in place.
Amtrak spokeswoman Vernae Graham said Monday that there will be some delays.
The company and BNSF Railway are investigating why the locomotive and baggage car of the Amtrak Cascades train carrying 267 passengers derailed Sunday near the town of Steilacoom.
There were only minor injuries.
Graham says Train 506 was moved to the side during the investigation. Passenger belongings from the baggage car are being gathered and will be returned.
She says Amtrak doesn't yet know how fast the train was going at the time of the derailment, but the speed limit in the area is 50 mph (80 kph).
___
4 a.m.
Several people suffered minor injuries after parts of an Amtrak passenger train derailed in Washington state, authorities said.
The locomotive and the baggage car of the Amtrak Cascades train derailed Sunday about 45 miles (72 kilometers) south of Seattle near the town of Steilacoom, Amtrak and the Pierce County sheriff's office said.
The train, which was carrying 267 passengers, derailed near the Chambers Bay golf course, which was the site of the 2015 U.S. Open.
Mitchell Crowley, of Redmond, told the Seattle Times that he was on one of the four cars that went off the track.
"I was in the farthest back, didn't go very far off the rails," the 18-year-old said. "I did get to have that exciting experience: Brake, brake, brake and tipping over."
Crowley said the car he was on tipped about 15 degrees.
All passengers were evacuated and provided with alternate transportation, the company said. The train runs between Vancouver, Canada, and Eugene-Springfield, Oregon.
The cause of the derailment is under investigation, Amtrak said.
The railroad tracks on which the locomotive derailed was reopened shortly before 6 p.m. for service at limited speeds, Amtrak said.
The Gig Harbor Police Department said one of its patrol boats was helping environment officials put in pollution-control booms to block fuel from the derailment from leaking into a nearby body of water. The department posted a photo Sunday afternoon on its Twitter account showing the work.