The Latest: Volcano ash plume rises to 12,000 feet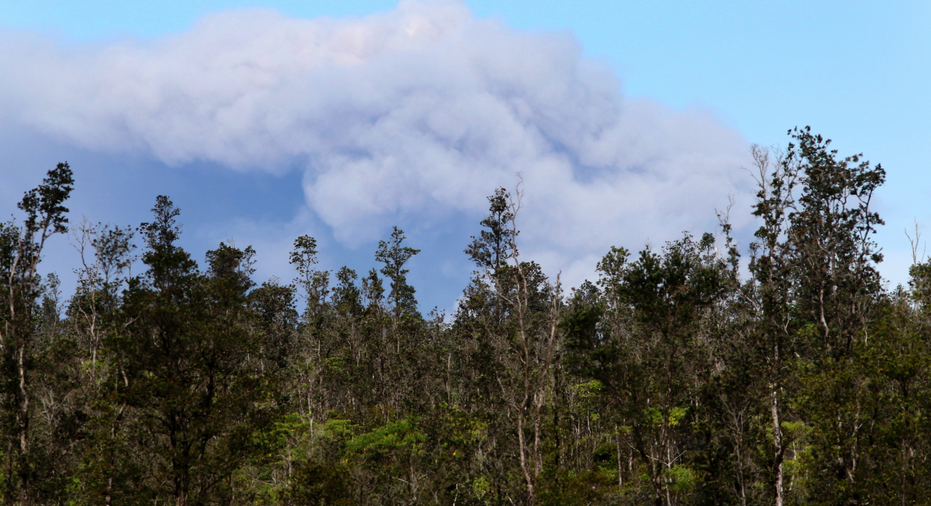 The Latest on the eruption of Kilauea volcano on the Big Island of Hawaii (all times local):
3:15 p.m.
The Hawaiian Volcano Observatory says an ash plume from within Kilauea volcano's summit crater has risen as high as 12,000 feet above sea level.
Ash has been wafting continuously from a vent in the crater, Halemaumau, and drifting southwest, causing ashfall and volcanic air pollution to be reported as far as 18 miles away.
Authorities have issued an ashfall advisory for the island's southernmost district until 6 p.m.
Ormat Technologies, which owns a geothermal energy plant in the area, says there is a low risk of lava impacting the facility.
The plant, Puna Geothermal Venture, was shut down after Kilauea first erupted on May 3, and provides roughly one-quarter of daily energy demand on the Big Island.
___
7 a.m.
Hawaii transportation officials are working to reopen a highway that was closed along a 2-mile (3-kilometer) stretch over fears that cracks in the road could be related to lava fissure activity.
Workers will put metal plates over the cracks on parts of state Highway 130 near the Leilani Estates subdivision to maintain two lanes of traffic. Officials hope to reopen the highway Tuesday morning to local traffic.
Officials also reported Tuesday that a new lava fissure opened in the Lanipuna Gardens subdivision near Leilani Estates. Nearly 20 fissures have opened up in those two subdivisions, destroying more than two dozen homes since the eruption began May 3.
Lava from another fissure that opened over the weekend is making a path for the ocean, about 2 miles (3 kilometers) away. Officials say no homes or roads are threatened by the lava flow advancing at a rate of about 20 yards (18 meters) per hour.
Geologists warn Kilauea's summit could have an explosive steam eruption that would hurl huge rocks and ash miles into the sky.
___
3:40 a.m.
As volcanic fissures keep opening up on Hawaii's Big Island and spewing out lava, homeowners are desperately trying to find out if their insurance covers possible losses.
Lava has consumed about two dozen homes near the volcano over the last week and about 2,000 people are evacuated from the danger zone.
Few insurance companies issue policies in the area and homeowners need special coverage to be protected from lava damage. It can cost more than $3,000 per year.
Few insurance companies will issue policies for homes in Leilani Estates because it is in an area deemed by the U.S. Geological Survey to have a high risk of lava.
Some homeowners believe fire coverage will suffice for homes burned by fire from the lava. And a list of frequently asked questions from the Hawaii Insurance Division supports that idea, saying that lava damage may be covered "as a fire peril."