The Latest: UK treasury chief withdraws inflammatory comment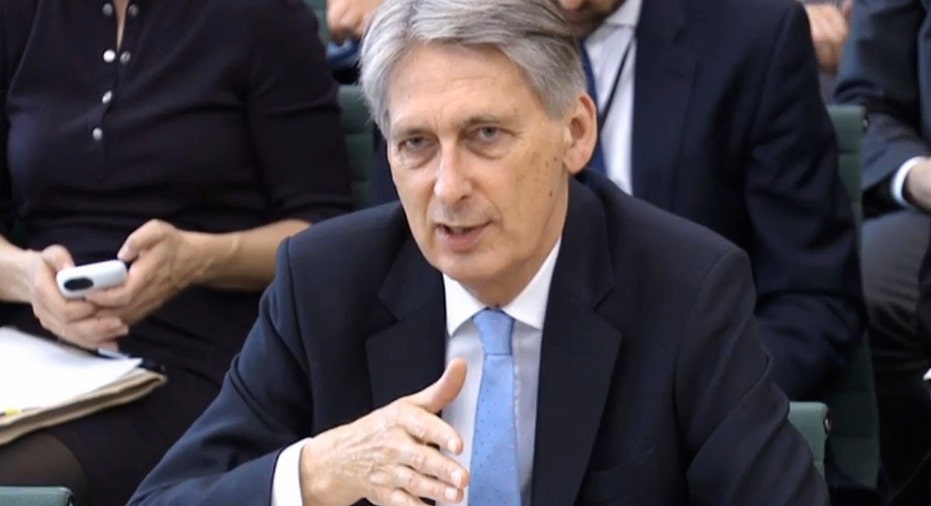 The Latest on the Brexit talks between the European Union and United Kingdom(all times local):
5:40 p.m.
Britain's finance chief has quickly backed away from comments that risked inflaming the Brexit talks, saying he regretted describing the European Union as "the enemy" during a television interview.
Chancellor Philip Hammond retreated from the potentially volatile comments moments after they were aired, saying on Twitter that "in an interview today I was making the point that we are united at home. I regret I used a poor choice of words."
Hammond's comments in an interview with Sky News came hours after European Commission President Jean-Claude Juncker suggested delays in the talks were due to Britain's failure to resolve questions about its financial commitments to the bloc.
Hammond says "we will work with our friends and partners in the EU on a mutually beneficial Brexit deal."
___
5:35 p.m.
Britain's Treasury chief Philip Hammond has described the European Union as the "enemy" in talks over the country's departure from the 28-nation trading bloc.
Hammond has been sharply criticized by members of his own government for his dour approach to Brexit, but dismissed as "bizarre" the notion that he is talking down the British economy.
He told Sky News that while he understood emotions were high, he insisted he fully backed plans for Britain's exit. The real opponents were in Brussels, he said.
He said while attending a meeting of the International Monetary Fund: "The enemy, the opponents are out there, they're on the other side of the negotiating table. Those are the people we have to negotiate with, negotiate hard to get the very best deal for Britain."
___
12:05 p.m.
European Union leaders are set next week to launch preliminary talks without Britain on the outline of the future EU-UK relationship once Britain leaves the bloc in 2019.
In a draft summit statement seen Friday by The Associated Press, the leaders order EU ministers and EU Brexit negotiator Michel Barnier "to start internal preparatory discussions" on future ties.
This would allow the EU to move quickly on elements like trade relations if negotiators make "sufficient progress" by December on the terms of the EU-U.K. divorce agreement.
Negotiations are moving slowly. EU leaders insist progress must be made on Britain's divorce bill, the rights of citizens hit by Brexit and the future state of the Northern Ireland-Ireland border.
They refuse to talk about future relations, including trade, until that happens.