The Latest: UK envoy hails 'significant step' in Brexit deal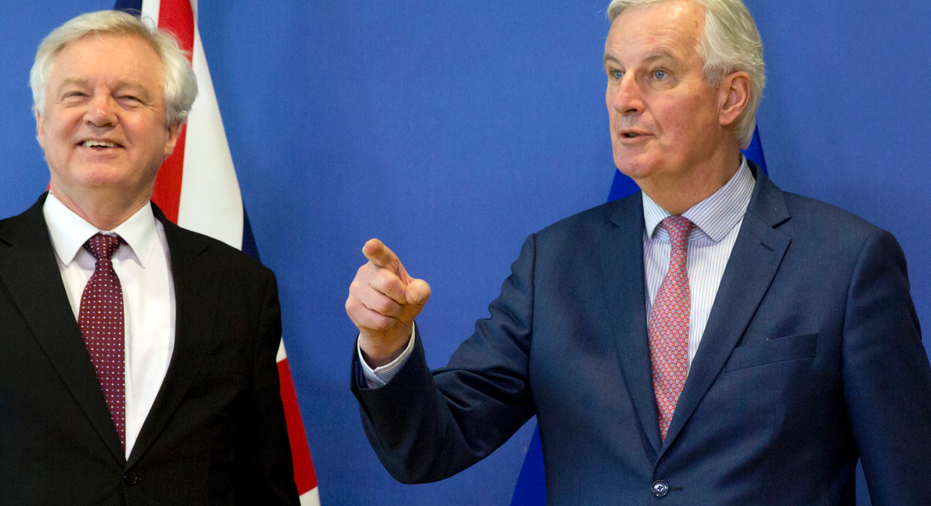 The Latest on the Brexit negotiations (all times local):
1:15 p.m.
British envoy David Davis is hailing progress in Brexit talks in recent days as a "significant step" toward a final deal.
Davis told reporters in Brussels that he is confident that the progress will be endorsed by European Union leaders when they meet on Thursday and Friday.
He said that British and EU negotiators agree that international agreements should continue to apply to Britain as now during the transition period after Brexit late next March.
Davis said the two have agreed to set up "a joint committee" to resolve any disputes during the transition period, which is expected to last for just under two years.
___
1:05 p.m.
European Union negotiator Michel Barnier says the EU and Britain have agreed a large part of the treaty that will govern the U.K.'s departure from the bloc next year.
Barnier told reporters that the negotiators working day and night recently had agreed on "a large part of what would constitute the orderly withdrawal of the United Kingdom."
He said that the two sides have also reached agreement on a transition period to help ease Britain out of the EU once it officially leaves on March 29, 2019. He said it would be "of a limited duration."
___
10:35 a.m.
A group representing European carmakers is urging Brexit negotiators to urgently address issues affecting the auto industry and prevent "potentially disastrous implications" for its supply chain.
Britain is due to leave the European Union at the end of March 2019, but its post-Brexit relationship with the EU has yet to be worked out. EU leaders are set to approve an outline for future negotiations with Britain at a summit later this week.
The European Automobile Manufacturers' Association, or ACEA, said Monday it's concerned about whether cars approved by U.K. authorities can still be sold in the EU after Brexit, and vice versa. It called for both sides to recognize each other's vehicle approvals.
It also said that any new customs checks "would add cost, cause delays and threaten productivity."