The Latest: Tusk: No sufficient progress in Brexit talks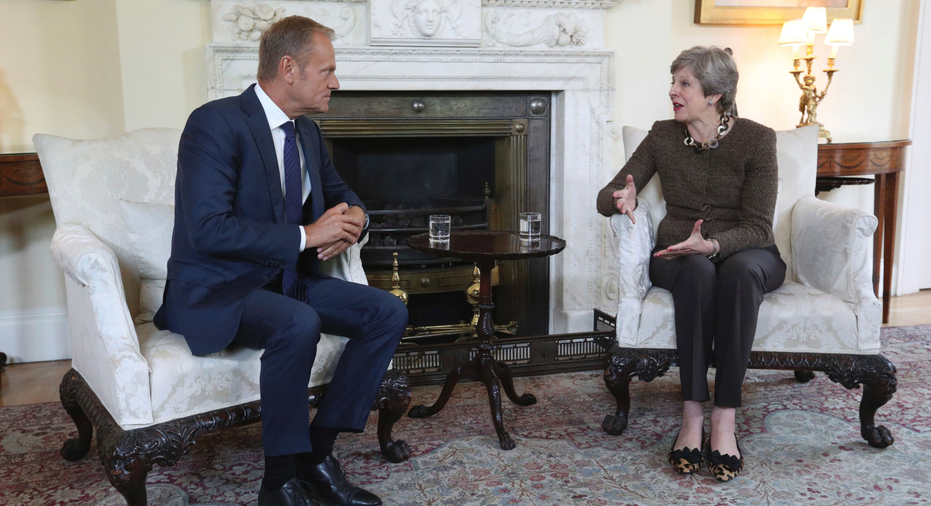 The Latest on Brexit negotiations (all times local):
2:15 p.m.
European Council President Donald Tusk says Brexit talks haven't yet made sufficient progress to move on to the second stage desired by Britain.
But Tusk says he is "cautiously optimistic" that the divorce negotiations can move forward.
After meeting British Prime Minister Theresa May on Tuesday, Tusk said he believed Britain had finally abandoned an unrealistic "having a cake and eating it" approach to leaving the EU.
Britain wants to start discussing future relations with the bloc, but EU officials say that can't happen until sufficient progress has been made on the terms of the divorce.
In a bid to break the logjam, May said last week that the U.K. would be willing to pay into EU coffers during a two-year transition phase after Brexit in March 2019.
Tusk said Tuesday at Downing Street "there is not sufficient progress yet, but we will work on it."
___
11 a.m.
Britain's foreign secretary says his government will ensure the rights of Romanians living in Britain are protected after Brexit — though he didn't give details.
Boris Johnson said the 500,000 Romanians currently in Britain are "hugely valued members of our society," and that "we would be crazy to let them go back to Romania" in an interview published Tuesday by Romanian national news agency Agerpres.
The rights of Europeans living in Britain are one of the key issues in the talks over Britain's exit from the European Union.
Johnson, who's on a two-day visit to the Czech Republic, Romania and Slovakia, said Britain wants to continue attracting talented, ambitious and innovative people after Brexit.
___
9:15 a.m.
British Prime Minister Theresa May is preparing to meet with the president of the European Council as she tries to break the deadlock in negotiations on leaving the European Union.
May holds talks Tuesday with Donald Tusk amid the fourth round of Brexit negotiations in Brussels. The meeting comes just days after May proposed a two-year transition period to smooth Britain's departure from the bloc.
EU negotiator Michel Barnier says he is "eager" to understand how May's speech will be turned into a negotiating strategy. The EU wants guarantees on financial commitments, citizens' rights and the Irish border before discussing future trade relationships.
Brexit Secretary David Davis says the UK is "committed" to reaching a solution and "there are no excuses for standing in the way of progress."