The Latest: Trump sees 'good' ties with Mexico's new leader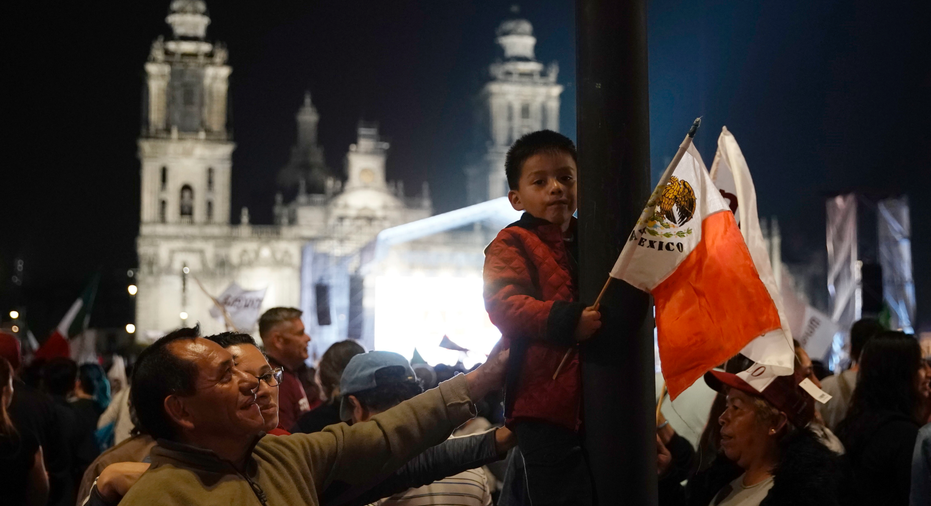 The Latest on Mexico's presidential election (all times local):
1:30 p.m.
U.S. President Donald Trump is predicting a positive relationship with Mexican President-elect Andres Manuel Lopez Obrador.
Trump says he "had a lot of good conversation" with the leftist leader Monday for about 30 minutes, a day after Lopez Obrador's victory.
Trump says "I think the relationship will be a very good one."
Speaking during a meeting with Dutch Prime Minister Mark Rutte, Trump says he and Lopez Obrador discussed border security and trade.
He says: "We talked about trade, we talked about NAFTA, we talked about a separate deal, just Mexico and the United States."
Trump said this weekend that he was delaying efforts to renegotiate NAFTA until after the November midterm elections.
___
Noon
U.N. Secretary-General Antonio Guterres has congratulated Mexico on its election.
U.N. deputy spokesman Farhan Haq said Monday the secretary-general "congratulates the people of Mexico for the civic exercise of participation in the largest elections that the country has celebrated."
Haq said the U.N. chief "expresses the readiness of the United Nations to work with the new administration continuing a longstanding tradition of excellent cooperation between Mexico and the United Nations."
___
10:40 a.m.
Mexican bank Banorte expects the party led by President-elect Andres Manuel Lopez Obrador to have a majority in both houses of Mexico's Congress, but says it's not likely to get the two-thirds advantage needed to change the constitution.
A bank analysis published Monday also says it expects the leftist to maintain solid economic fundamentals, with responsible fiscal policy and respect for the autonomy of the Mexican central bank.
Lopez Obrador has repeatedly promised just that, though some businesspeople have been skeptical.
Lopez Obrador won a resounding victory in Sunday's presidential race. He takes office Dec. 1.
___
9:45 a.m.
The Mexican peso and the country's main stock index are both down about 1 percent following the crushing victory by leftist Andres Manuel Lopez Obrador in the country's presidential elections.
But analysts at Banco Base attribute the peso's drop against the U.S. dollar to broader global movement in favor of the dollar amid speculation about interest rates in the United States.
The peso was trading at 20.11 per dollar on Monday morning.
Investors had been expecting a victory by Lopez Obrador, who had a longstanding lead in polls.
___
8:50 a.m.
Venezuela's socialist government is welcoming the election of Mexican leftist Andres Manuel Lopez Obrador, who has spent most of the past dozen years trying to shake off allegations he'd steer Mexico toward a Venezuelan model.
Venezuelan President Nicolas Maduro has sent a tweet calling Lopez Obrador's presidential election victory "the triumph of truth over the lie." He also says it opens what he calls "the broad boulevards of sovereignty and friendship" between the two countries.
Foes of Lopez Obrador have tried in all three of his campaigns for president to portray him as a leftist in the mold of the late Hugo Chavez, who created a socialist system that's now in economic chaos. Lopez Obrador has insisted he'll follow his own policies and has reached out to try to reassure the business community.
The Venezuela tactic had some success against Lopez Obrador in 2006 and 2012, but voters on Sunday ignored it and elected him overwhelmingly. He takes office Dec. 1,
___
8:40 a.m.
Mexico's President-elect Andres Manuel Lopez Obrador says he supports reaching a deal to renegotiate the North American Free Trade Agreement with the United States and Canada. Those talks have been stalled over the Trump administration's demands for higher U.S. content and a "sunset clause" in the 1994 trade agreement.
Lopez Obrador says he'll propose that his own team of experts be included in the talks. The winning candidate said he will make that proposal in a meeting Tuesday with current President Enrique Pena Nieto.
Lopez Obrador told the Televisa network Monday that he will respect the current team of negotiators, and let them continue representing Mexico until he takes office Dec. 1.
Lopez Obrador said he wants to have information on what's being discussed and "to help as much as we can."
___
8:30 a.m.
Mexico's president-elect Andres Manuel Lopez Obrador has thanked U.S. President Donald Trump for sending a message of congratulations, and says he'll contact the U.S. leader to "reach an understanding."
Lopez Obrador said in an interview with the Televisa network Monday that Trump's tweet the night before "was very respectful," and he added: "That is what we always want to maintain with the U.S. government, that there be mutual respect."
In his words, "We are never going to disrespect the U.S. government, because we want them to respect us." And he said, "We are conscious of the need to maintain good relations with the United States."
The Mexican leftist achieved a landslide victory in Sunday's presidential vote.